Hey you all ONE fans, have you ever wished to fully customize your LINE client to fit your virtual singer tastes? Well, seems 1st Place got something for you: a new LINE theme!
An Adorable LINE Theme Featuring ONE!
IA and ONE haven't got much new content for their fans and LINE users lately, but today we were really amazed to see they just released a new theme for this messaging client!
【ONE INFO】ONEの人気楽曲『#おねがいダーリン』をテーマした、LINE着せかえが本日より配信スタート!!

背景や、パスワード入力画面など各所に登場するかわいいONEの着せかえをどうぞご利用下さい!!

LINE着せかえページはコチラhttps://t.co/WoGQSsJLmZ#ONE #CeVIO #LINE #LINE着せかえ pic.twitter.com/tLIqFTGyxD

— 1st [email protected]豊洲PITワンマン決定 (@1st_PLACE0302) July 4, 2019
This time we find the younger sister of the duo introducing an adorable, orange and sparkly, interface based off of one of her most popular songs: "ONEgai Darlin'" by Nanahoshi Orchestra!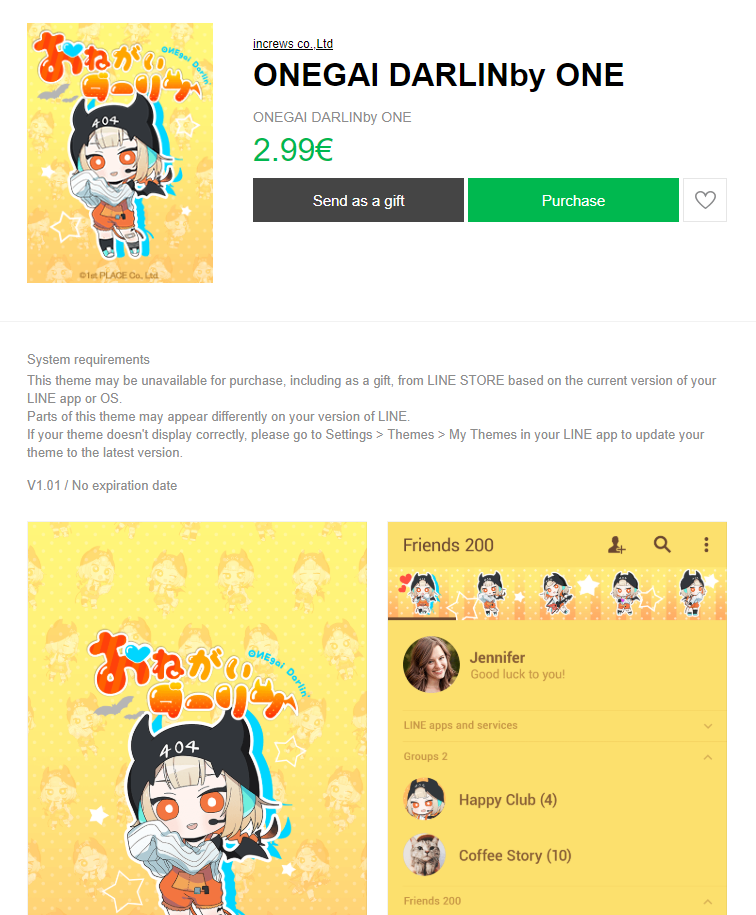 Priced 2,99€ (which should be 2,99 USD for NA users), this theme will give your client an adorable yet refreshing look!
You can find it here!
And f you also wanted some matching stickers, click here. They got you for it as well!
Sources
Aren't you amazed by the amount of cuteness this theme shows? Because we immediately fell in love with it!
Don't forget to stay tuned with us on VNN for more awesome ARIA content!
IA World Page on Facebook
1st PLACE on Facebook
1st PLACE on Twitter
IA Project Website
Product Page