The famous Chinese cosmetic brand, PECHOIN, has announced a new collaboration with Luo Tianyi on Weibo, and released a teaser for their latest Luo Tianyi-themed cosmetic series. The cosmetic series will be available for preorder on TMall starting on October 20th. By sharing the Weibo post and tagging 3 of your friends, fans will be given the opportunity to enter their giveaway event, where there will be five special gifts from VSinger up for grabs. The teaser also includes a series of posters drawn by TID, featuring the lovable Japanese Tianyi and 3 new illustrations of her wearing Chinese dresses. With such eye-appealing packaging, it's the perfect opportunity for any Tianyi fan (or even non-fans!) to get something new and different!
The Luo Tianyi cosmetic product series is as follows (from left to right): Lipstick, Toning Cream, Perfume, Mask, Hand Lotion and Body Lotion.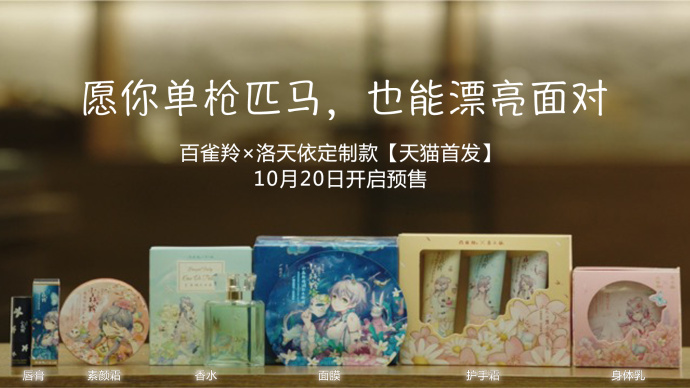 Anyone interested in purchasing the product can preorder at PECHOIN's online shop on TMall. The first 1000 people to pay the full amount after the preorder will receive a "buy 1 product and get 5 free" offer!
Promo Video
The promo video made for the collaboration was uploaded on Bilibili as well as PECHOIN's TMall. The original song featured in the video, "漂亮面对(Face it with Pretty)" was composed by RYUJA and Poker, and tuned by Moving Point. In the promo video, Tianyi is a magical fairy in a mysterious forest, bringing fairness to ladies who are overwhelmed with work.
[bilibili src=15524168]
The complete track can be heard on Mucic163. (VPN is needed for fans outside of China)
About PECHOIN
PECHOIN is a China-based skin care brand with a long history. Founded in Shanghai in 1931, their products are marketed around themes like "natural herb," "nursing," and "nutritious." PECHOIN has had collaborations with various companies including Disney and Tezuka Productions by launching cartoon-themed children skincare products.
Links