In China, our favorite diva from the starry sky created by Quadimension, Stardust, is finally celebrating her birthday! The team of course couldn't help but celebrate their virtual singer accordingly by using some merchandise! Let's check them out!
Happy Birthday to the Star's Diva!
Offering us a similar assortment of merchandise to HaiYi, plus an exclusive CG collection including all of the released Stardust animated videos up to now, those offers are the best way you can celebrate her special day at its fullest!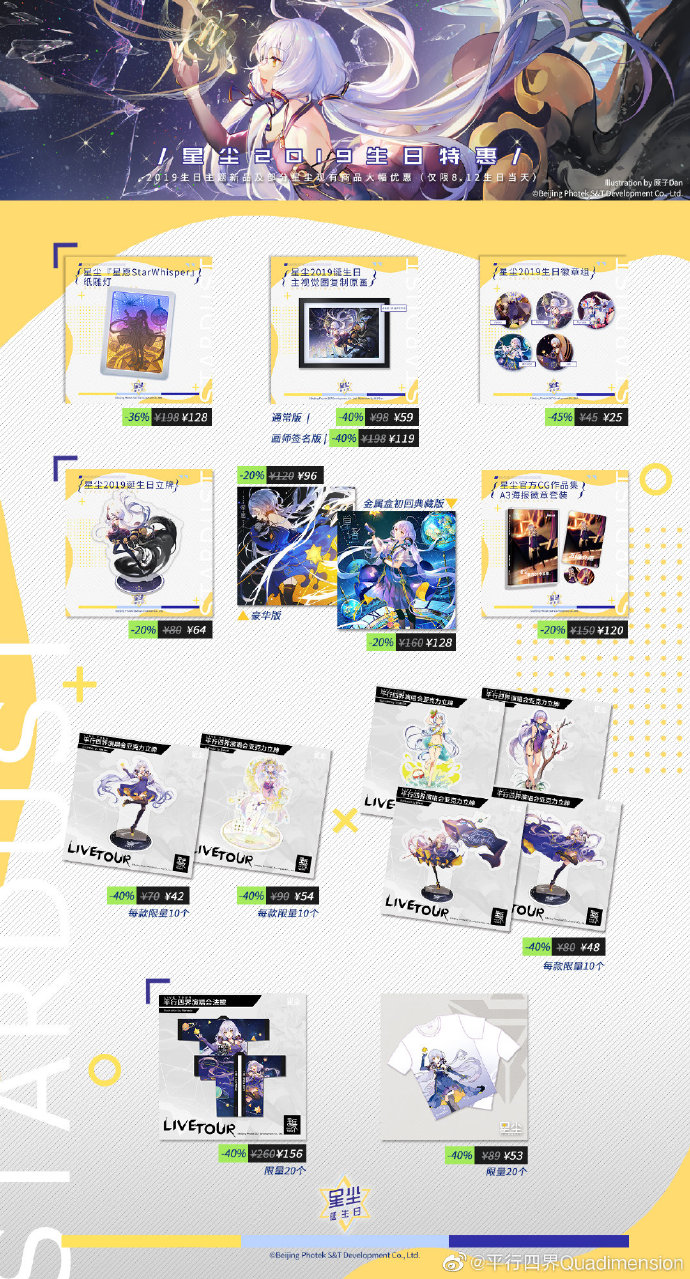 The team is giving us a chance to celebrate our favorite star child with new merchandise and various iconic goods put in sale for her birthday! Let's have a close look!
Stardust Birthday 2019 Merchandise
Similarly to what happened back during HaiYi's special day, her big sister got some new merchandise as well, following more or less the same item variety! This year's main visuals have been provided by the talented ATDan.
There are so many awesome goods we can choose between, let's have a look at them together!
Main Visual Painting – 98 RMB or 198 RMB for the autographed version. Currently in sale for 59 RMB or 119 RMB for the autographed version.
Character Stand – 80 RMB. Currently in sale for 64 RMB.
Can Badge Set (illustrated by nineo, ATDan, Hanasa, fuziCHOCO and ASK) – 45 RMB. Currently in sale for 25 RMB.
"星语 Star Whisper"-themed Paper Carving Light – 198 RMB. Currently in sale for 128 RMB.
Will pick up something? If so let us know what you decided to grab!
Stardust Official CG Collection Vol. 1
This time around we also got a very special blu-ray around, Stardust's Official CG Collection Vol.1, which reunites 7 3DPVs made by EDR and 5 Song PVs.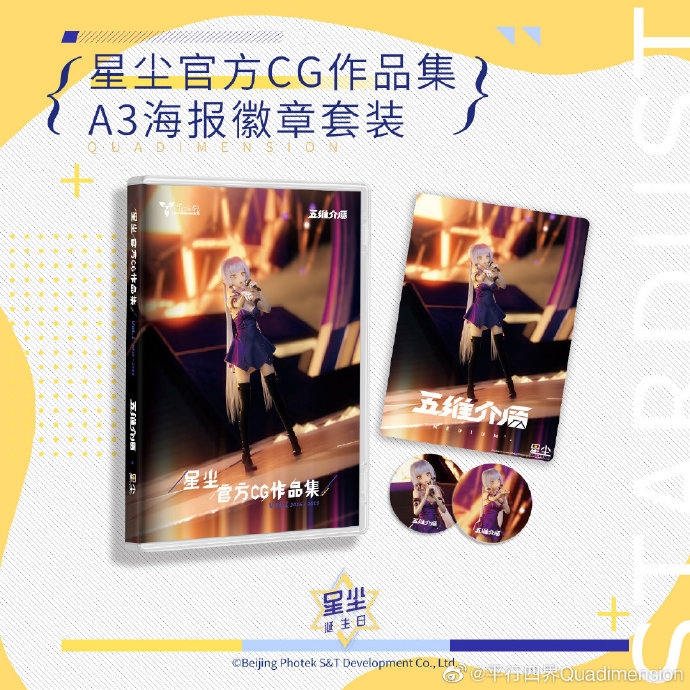 Originally priced 150 RMB and Currently in sale for 120 RMB. This blue-ray will include the following videos.
3DPV
星之海 StarOcean
亚特兰蒂斯 Atlantis
PVs
You will also receive a A3 Poster, a set of two badges and 2k wallpapers for both desktops and mobile!
This collection even got announced alongside one of the above CGPVs, finally uploaded to Stardust's Bilibili channel: Signal Scream by ZOMiG!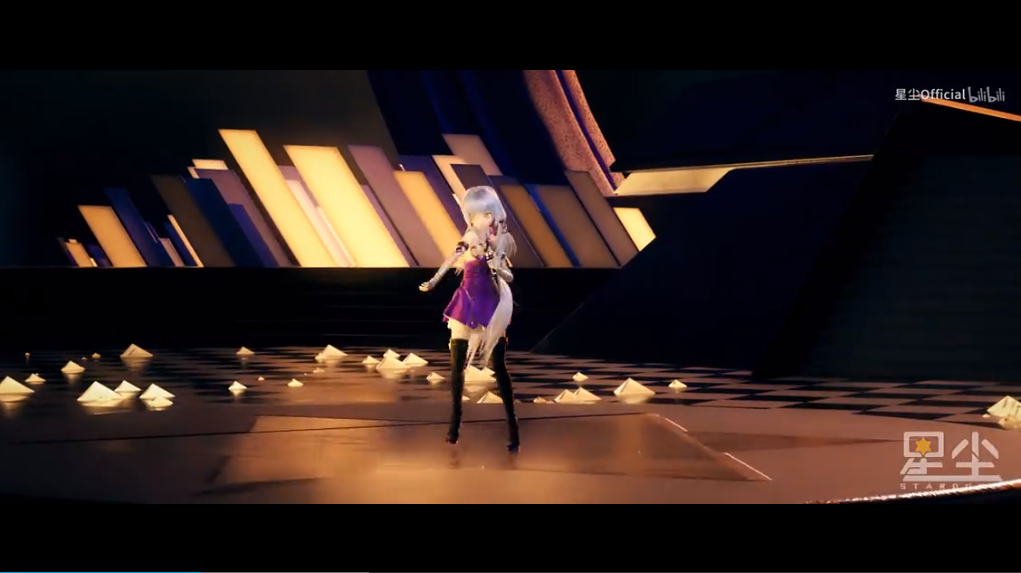 Click on the picture to open the video on Bilibili. If it doesn't work, you can click here instead!
Returning Items
But there is more! Some items are making a come back with a discount! Let's have a look!
Albums
If you didn't have the chance to get those amazing albums starring Stardust!
Here is the price for each album!
"星愿 Starwish" Album – 120 RMB. Currently in sale for 96 RMB.
"星语 Star Whisper" Album – 198 RMB. Currently in sale for 120 RMB.
Those sales are the perfect chance for all the Stardust fans to grab two of her most popular yet amazing albums!
Live Tour Merchandise
Next we have some of Stardust's Live Tour merchandise, such as some of the themed acrylic stands and her own happi!
Most of the acrylic stands are priced 80 RMB and currently in sale for 48 RMB, the only one with a different price is the one illustrated by Ekita Xuán, which was originally priced 90 RMB but is on sale for 54 RMB. As for Stardust's Happi, you can get it for 156 RMB instead of its original price of 250 RMB.
Standard Goods
And if you were looking for more official merchandise, maybe without a precise theme to follow, here we have something for you!
During this temporary discount, Stardust's official character stand will be priced 42 RMB instead of 70 RMB. As for her T-shirt, featuring Ideolo's official artworks and available in S/M/L/XL sizes, it is available for 53 RMB instead of 89 RMB.
Where to buy
All of the above items can be purchased via Quadimension's Taobao store by clicking here! Be fast because most items might go sold out in a moment!
Dakimakura Time!
Last but not least, Quadimension also announced two adorable dakimakura portraying Stardust in both her standard or bikini outfits
Each dakimakura's price changes based off of the fabric you choose, 90 RMB for Peachskin, 96 RMB for Plush ad 175 RMB for 2-way fabric. You can find them below!
The standard version also allows you to choose which side the laying Stardust illustration should be!
As for the pillow, it is not included with the pillowcase and can be purchased by clicking here!
Happy Birthday, Stardust!
And after introducing you to all those amazing items, we would like to wish Stardust an happy birthday, inviting you to discover more about her and Quadimension with the links below.
And don't forget to follow us on VNN for more news about your favorite virtual singers!
Quadimension is on Youtube and Weibo
You can also find Stardust on Weibo, Twitter and Youtube
Quadimension's Taobao Store