It's now time for some more Snow Miku 2019 news about its 10th anniversary. We cannot forget about Snow Miku's Caravan that will bring in all of those limited goods around Japan, stopping near some Animate shops!
Snowy Travel Through Animate Shops!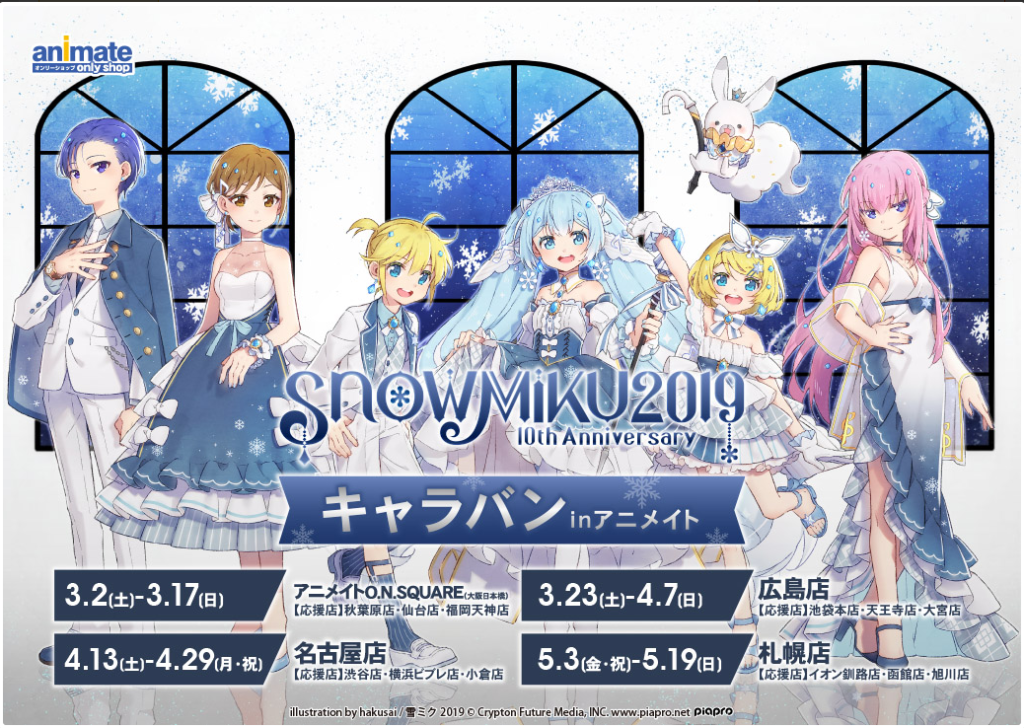 Starting from March until the end of May, Snow Miku's caravan will pay a visit to various Animate stores all around Japan, bringing some adorable goods to all her fans! This is a perfect chance for everyone to take a look at her merchandise and, eventually, even buy some to bring home!
Available Merchandise
Bring some of the magical winter atmosphere of our beloved snow princess home with her merchandise! These Snow Miku goods are limited and will probably sell out fast, so if you ever get a chance, don't forget to take at look at her own caravan!
Animate Only Shop Items
All of these goods feature hakusai's illustration and are limited edition items from the Animate Only Shop! You may want to be fast enough to grab them at the caravan locations!
10th Anniversary Commemorative Set (Sacoche + a 7 charm set): 4,000 JPY
Character Badge Collection (6 variants available): 400 JPY each (chosen randomly), 2,400 JPY for 1 box (a set of all 6)
A4 Clear Files (6 variants available): 400 JPY each
Acrylic Stands (6 variants available): 1,500 JPY each
*All of the prices don't include taxes!
Snow Miku 2019 Event Items
These awesome goods are only available during the 2019 Snow Miku event, but you are also able to get them at her own caravan now! Of course, there is a limited quantity of items this time as well, so you might need to be fast enough to get your hands on them!
Snow Miku 2019  Clear File Complete Set (art by KEI): 3,241 JPY
Rubber Strap Collection (arts by CHANxCO): 556 JPY each (picked randomly), 5,556 JPY for 1 box (all 10 pieces)
Rabbit Yukine 2019 Plush Strap: 1,389 JPY
Stand Glasses Case (art by KEI): 1,945 JPY
Snow Miku BIG Acrylic Stand (art by KEI): 1,800 JPY
Face Towel: 1,389 JPY
Shopping Bag (art by KEI): 926 JPY
Mini Nobori (art by KEI): 741 JPY
Big Photo Towel (art by ancotaku): 5,556 JPY
Omamori (art by KEI): 926 JPY
Big Clip (art by Naoki Saito): 926 JPY
Snow Miku 2019 10th Anniversary Visual Book: 2,315 JPY
Sweets Can (with Gateaux) (art by Naoki Saito): 1,157 JPY
Stained Metal Charms (2 variants: Pink Gold (KEI)/ Silver (Hechima): 1,389 JPY each
Snow Miku 2019 Plushie – Snow Princess ver. : 4,000 JPY
Snow Miku Milky (art by KEI): 1,852 JPY
Lamé Acrylic Charms (Art by Naoki Saito): 741 JPY each (picked randomly), 8,889 JPY for 1 box (all 12 pieces)
Tsumamare Keychain: 556 JPY
Book Type Smartphone Case (2 variants: KEI/Hechima): 3,241 JPY
Double-sided Decorated Power Bank (2 variants: KEI&ancotaku/Hechima&Yuu): 5,556 JPY
Silver Card Case: 3,612 JPY
Snow Miku Coffee (art by KEI and Eku Uekura): 2,000 JPY
*All of the prices don't include taxes!
Purchase Bonuses
For each 1,500 JPY you will spend buying Snow Miku merchandise, they will give you a random illustrated card featuring one of the ten snow Miku's we got to know every year! Will you be able to get them all? Let us know!
*Beware that they will give out those cards until they run out of it, you may need to be fast!
Dates and Locations
Now the most important thing, of course, is the location that you will find the caravan and the time span they will be there! Snow Miku will travel along Japan for  more than two entire months, so it shouldn't be too hard to find her around if you are paying a visit! Click the name of the store to open their location on Google Maps!
Main Stores
Additional Stores
*Additional stores will only sell the previous collaboration event items, not the new merchandise!
Sources
All of the fans of Snow Miku will absolutely love to get their hand on her merchandise, especially in case they manage to pay a visit to Japan! Let us know what you think of this snowy travel of our beloved princess, and don't forget to stay tuned with us on VNN for more updates on your favorite Virtual Singers as well!