It's now time for a new collaboration involving Snow Miku and his trusted pet rabbit Yukine! This time we have the two iconic winter mascots joining forces with Dosanko-kun, in honor of their upcoming summer festival!
A Summer Festival with a Hint of Winter!
Snow Miku and Yukine will then collaborate with Dosanko-kun and his crew during Dosanko Chōnakai Summer Festival, held in Sapporo starting July 27th until the 28th!
#またぎのもみじちゃん のタグが抜けていましたので、改めて告知です。
ファンの皆様お許しくださいm(_ _ )m#どさんこ町内会夏祭 限定コラボグッズを公開しましたhttps://t.co/TtCEaefNB2 …#初音ミク#雪ミク#ラビット・ユキネ#やべーべや#ジンくん#コアックマ#アックマ#どさんこくん pic.twitter.com/pfyPO8K2ZT

— どさんこ町内会 夏祭! (@stv_fes) July 9, 2019
No event would be the same without merchandise and, in fact, they also announced a limited series of products made just for this collaboration! Let's check them together!
Those adorable illustrations surely make a perfect appearance as goods, don't they? Let's check the price list!
Muffler Towel – 2,000 JPY
T-shirt – 2,500 JPY
Can Badges (32 variants) – 300 JPY each (picked randomly)
Acrylic Keychains with stand (7 variants) – 800 JPY each
Clear file – 250 JPY
All of these goods are actually limited to the festival and might get sold out very fast, so if you manage to attend the event and grab your favorite. it's truly your lucky day!
Other Products
Alongside the goods we showed you above, there are some additional ones you can buy!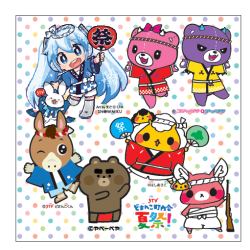 You will also able to find Tapioca drinks priced at 500 JPY, which also includes stickers of each character as a bonus, and even a Dosanko-kun ham steak priced at 700 JPY if you're feeling hungry all of sudden!
Source
We are eagerly waiting to see more awesome collaborations as this one! It truly brightens up our day!
As always, don't forget to stay tuned with us on VNN for more virtual singer news!
Hatsune Miku is on Facebook (English and Japanese), Twitter (English and Japanese), Youtube and Weibo
You can follow Snow Miku on Twitter, too, alongside her cute Rabbit Yukine!
Check out STV's Dosanko Chōnakai Summer Festival on Twitter or its official website!