It is always a pleasure to welcome a new vocalist to the synthesized world, and today we hereby give our most warm one to SRP's mascot Yume Lyra, which debuted with her English VCCV voicebank for UTAU today!
About SRP
Synthesized Reality Productions is a fan-run VOCALOID concert project that brings VOCALOID concert experience to Western con-goers. While the experience isn't quite as high tech as Miku Expo, it's also something smaller and more affordable for cons. They love bringing to life VOCALOIDs that many fans know and love.
Who is Yume Lyra
Yume Lyra is one of the two mascots representing SRP, and the very first one to finally get a voicebank!
She is a fun loving, yet incredibly accident-prone girl. Despite her clumsy ways, she still loves performing on stage with all of her VOCALOID friends!
Profile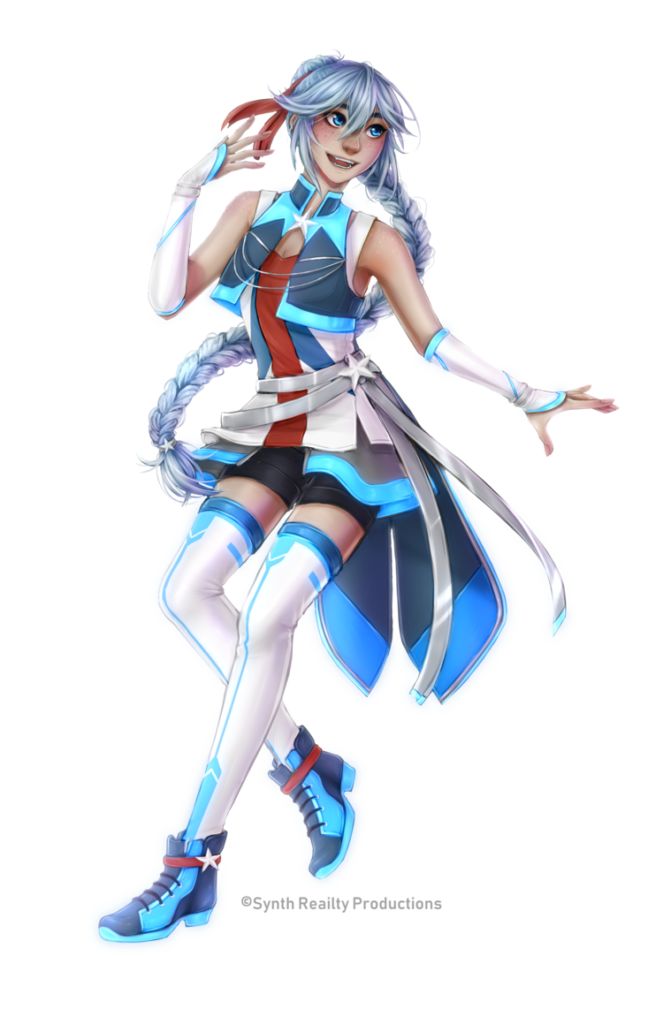 Name: Yume Lyra
Gender: Female
Age: 16 years old
Birthday: December 1st
Zodiac Sign: Sagittarius
Nationality: Japanese-American
Hometown: San Francisco, California
Blood Type: B+
Height: 5'5" (165 cm)
Weight: 120 lbs (54 kg)
Eye Color: Blue
Hair Color: Powder Blue/Gray
Favorite Food: Burritos, Sandwiches, Sushi
Likes: Cats, singing, dancing, video games, the rain, cooking
Dislikes: Bullies, homework, mornings
She definitely embodies the enjoyment of being a virtual singer lover, doesn't she!
Release and Demo Song
Her latest and first voicebank to be released is an English VCCV one for UTAU, and it even includes vocal fry features to it! You can hear her in action in her demo song below.
Originally composed by CircusP with his UTAU Ishiame Aido, "Monochrome" is the song they choose to showcase Yume's voice, thanks to Yin/Yang-P's amazing ust file! Doesn't she sound amazing on this tune?
You can download her voicebank directly from SRP's website by clicking here!
Welcome to the Virtual Singer World, Yume!
We wish Yume to have an happy journey as virtual vocalist, and cannot wait to hear more works featuring her amazing voice!
Stay tuned with us on VNN for more amazing news!
You can find SRP on Facebook, Twitter, Youtube and their official website!