Rana's official Twitter has uploaded several images of the new merchandise sold at the "Studio Rana" event in Nakano. It is being held today on April 23rd until tomorrow on the 24th. All the merchandise will feature Rana, V4 flower, and Unity-chan's illustrations, which are made by Shindo Kamichi, Rana's official illustrator.
Some of the new merchandise includes: an art book, acrylic stand, acrylic chain, earphone jack, smartphone case, USB memory, clear file, mug cup, and mobile battery. All of them are sold exclusively at Studio Rana's event, and so far there hasn't been any announcement about international sales for them. Therefore, they will have a high collectible value for Rana, flower, and Unity-chan's fans.
A collaboration for the three VOCALOIDs is also being held on YAMAHA's VOCALOID shop. Recently, they announced a "Studio Rana Campaign", where customers buying/upgrading Rana V4, V4 flower, or Unity-chan's software on the VOCALOID shop between April 22nd~28th will be given FREE wallpapers featuring the main visual of Studio Rana's event, illustrated by Shindo Kamichi. Details about the campaign can be viewed on the website.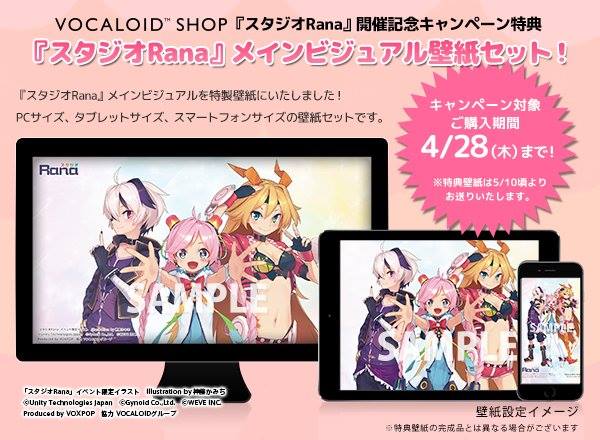 A live report and the events held at Studio Rana can be viewed via live stream on NicoLive:
Saturday, April 23rd: http://live.nicovideo.jp/watch/lv260468221 and http://live.nicovideo.jp/watch/lv260574071
Sunday, April 24th: http://live.nicovideo.jp/watch/lv260468764