Every Wonder Festival is bound to please and this summer's was no different. Summer WonFes 2016 not only provided us with some awesome new Miku figures to look forward to, but also covered the VOCALOID spectrum all the way to China! There was quite a bit of Miku but Luka, Rin, and Len took the stage on top of that. In addition, IA and ONE made an appearance as well as Stardust. It was a super busy WonFes!
Hatsune Miku Figures
As always, there's lots of Miku figures! For image sources, click the names in the bulleted list. All of our Miku figure information is from MikuFan. They uploaded a nice gallery of all the Miku figures on Facebook.
Magical Mirai 2016 Miku Nendoroid – No price or release date announced.
Snow Miku 1/8 Scale – No price or release date announced.
Hatsune Miku: Heart Hunter Ver. 1/7 Scale – No price or release date announced.
Racing Miku 2016 1/8 Scale – Price Unannounced. Will be available this autumn.
Hatsune Miku: Rage of Bahamut (unknown scale size) – No price or release date announced.
Racing Miku 2016 Prize Figure – Set for October 2016 release.
2D Dream Fever Miku 1/8 Scale – No price or release date announced.
Thailand Racing Miku 2015 1/8th Scale – No price or release date announced.
Hatsune Miku: Project Diva X Ver. Prize Figure – Set for December 2016 release.
---
Previously Announced Figures
Some figures were announced a while ago but appeared at WonFes so that they could be shown off in all their glory. In addition, we finally got prototypes of several highly anticipated figures!
1/12 Scale Kagamine Rin and Len Swimsuit Versions
Last WonFes, we saw a teaser silhouette of these two in what appeared to be swimsuits. It's been confirmed that they are part of the 1/12 scale 'SMALL & STYLISH', or S-style for short, line. There's no release date known at the moment. However, Kagamine fans can look forward to affordable figures of these two! The S-style figures retail for around $30 USD, give or take a few dollars.
Image Source: Twitter
@phaius66
MEIKO Figma
MEIKO fans have only been waiting a year for this prototype! She was announced during Summer WonFes 2015 and has finally come to life! While the prototype isn't painted yet, there's still progress!
Image Source: Twitter
@phaius66
KAITO and MEIKO Hanairogoromo Ver.
We saw teasers of these two just a few days ago, and now their faces have finally been revealed! These two are set to release in May 2017 with pre-orders opening July 29th and remaining open until some time in September or until the pre-order limit is reached.
Image Source: Twitter
@odatsuyoshi
1/8 Scale Stardust
The much-anticipated 1/8 scale Stardust figure finally has a painted prototype. We covered the original prototype reveal in May and now we're happy to show the update to the project! There's no known release date for this figure at the moment. However, we'll be sure to keep fans updated.
Image Source:
Weibo User VC相关推广站

Image Source:
aminews Twitter
1/4 Scale Megurine Luka V4X
Luka fans, rejoice! There's finally a prototype for the 1/4 scale Luka V4X figure. This unpainted version was even displayed next to the 1/4 scale Miku V3 figure. There's no set release date for this figure at the moment but Luka fans should start saving. The 1/4 scales are rather pricey.
Image source: Twitter
@phaius66
1/8 Scale IA ROCKS and ONE
These two figures have been teased for quite a while now. They were finally given a release date though! They'll be available in 2017. At the moment, the prices are to be determined.
Image Sources: Twitter @haruto153 (
IA
) (
ONE
)
Kagamine Rin and Len Dollfie Dream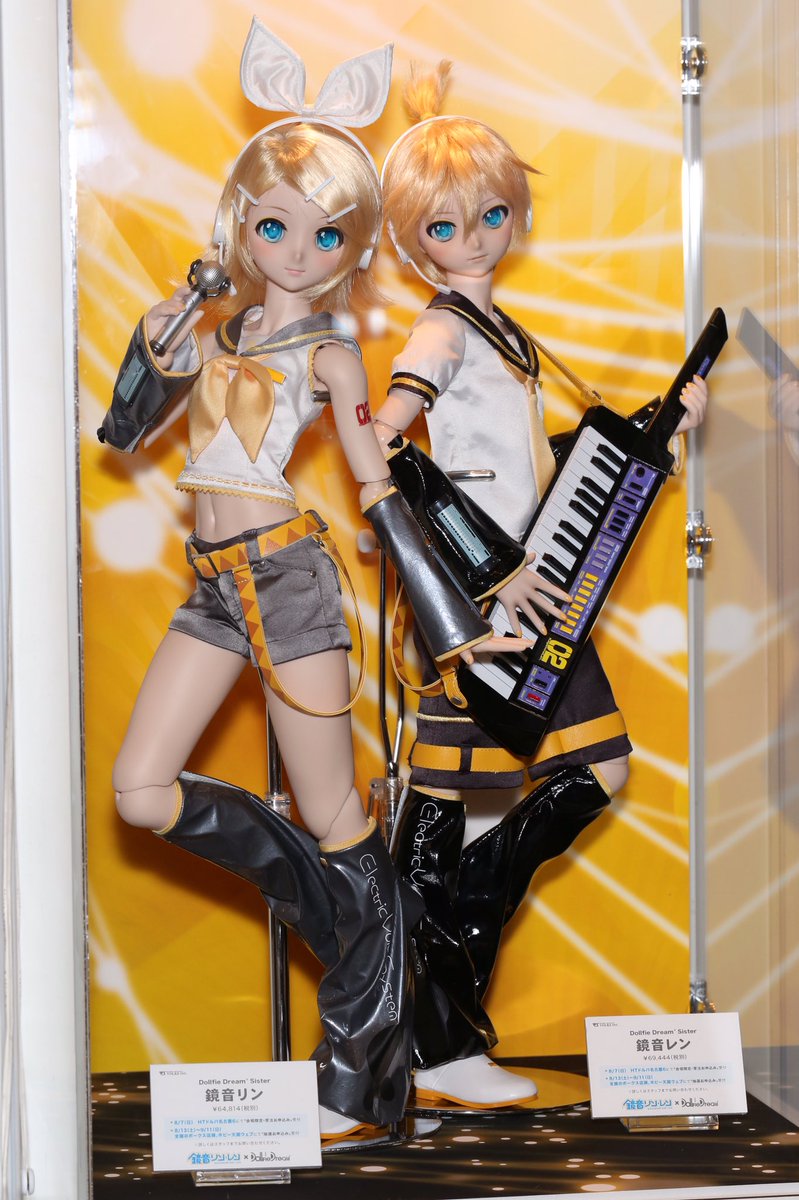 We've covered the Kagamine Dollfies before but they made an appearance at WonFes. It's interesting to see the two when not photographed specifically for product photos. A lot of information has been released about these two as well. You can see Rin's product page in English here and Len's here.
The two dolls are set to ship in October. Fans interested in purchasing them can check out our article here for more information on them as well as how to get them if you don't live in Japan.
Rin will cost 70,000 yen (plus a fee) while Len will cost 75,000 yen (plus a fee) for overseas buyers.
In addition, the body suits for those who don't want to put the "02" decals on their Dollfies will cost another 3,000 yen plus a fee.
At the moment, there's no word on how much these fees will be.
---
New Figure Announcements
There weren't many new figures outside of the realm of Miku. However, there's another figure for Luka fans and even a Nendoroid Co-De for Len lovers.
The 1/7 scale Megurine Luka Temptation ver. along with the Nendoroid Co-De Kagamine Len Trickster (Tricker) ver. were on the wall of upcoming projects. While there aren't any prototypes for them yet, fans of these two VOCALOIDs can look forward to the planned releases.
Image Sources: Summer WonFes 2016 Online Gallery (
Luka
) and Twitter @me_yamaneko (
Len
)
---
Prize Figures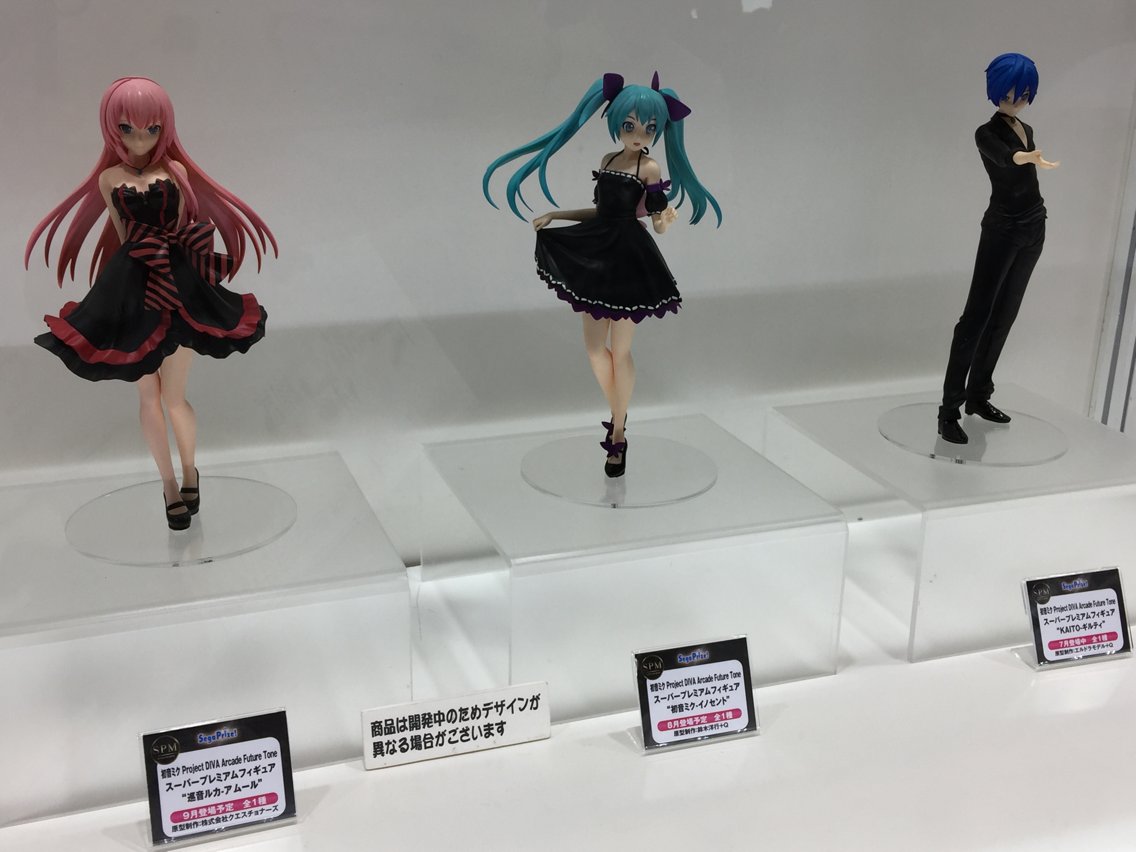 Sega has quite the prize figure lineup this time around! Here's the list with pictures shown below it. Click the names of the figures to go to the image source.