On March 4th, 2017, the 8th Tohoku Zunko Stamp Rally kicked off in Shiroishi City! From now until April 23rd, participants will be challenged to travel to 15 locations throughout Shiroishi and Sendai, getting a special stamp card stamped at each location; the more stamps they collect, the better the prize they can receive! And all the while, they'll be unraveling the mystery of who stole Zunko's beloved edamame beans, finding clues that will get them closer to nabbing the culprit who would commit such a nefarious act with each successive stamp!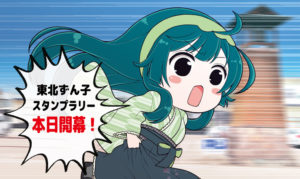 About the Tohoku Zunko Stamp Rally
The Tohoku Zunko Stamp Rally is a special event held several times a year (at no set date or interval) all around Shiroishi City of the Miyagi Prefecture, located in the Tohoku Region of Japan. A stamp rally is a game in which participants are challenged to visit various locations within a set amount of time, getting a card stamped at each location as proof of their visit, and then collecting a prize at the game's conclusion, with the best prizes going to those whose cards have been stamped the most. This stamp rally, of course, is themed around the VOICEROID and VOCALOID character Tohoku Zunko, who was created to support relief efforts for victims of the Great East Japan earthquake in 2011.
Previous Stamp Rallies
Each stamp rally is part of a larger story featuring Zunko!
Here is an overview of the previous Tohoku Zunko stamp rallies and their themes:
Tohoku Zunko's "Legend of the Shiroishi Warrior Princess" 8/9/2013~9/9/2013 
Tohoku Zunko's "Legend of the Shiroishi Warrior Princess, Chapter 2" 10/3/2013~11/18/2013
Tohoku Zunko Chapter 3: "Zunko's Stroll Through the Shiroishi Hot Springs" 1/14/2014~2/14/2014 
Tohoku Zunko Chapter 4: "Zunko's Summer Vacation" 7/19/2014~8/31/2014 
Tohoku Zunko Chapter 5: "Zunko's Shiroishi White Snow" 1/31/2015~3/1/2015 
Tohoku Zunko Chapter 6: "Zunko's Summer Vacation" 7/18/2015~8/30/2015 
Tohoku Zunko Chapter 7: "Zunko's Find-the-Signs-of-Cherry-Blossom-Blooming!" 3/12/2016~4/26/2016 
Current Stamp Rally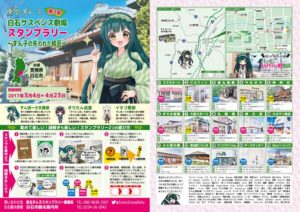 And that brings us to the current stamp rally, entitled "Tohoku Zunko Chapter 8: A Shiroishi Suspense Thriller: ~The Mystery of Zunko's Lost Edamame~ Stamp Rally." The event draws more and more participants with each successive stamp rally, capping at a whopping 480 participants in the 7th rally, including a couple from Ireland who were on their honeymoon! The newest stamp rally with its premise of solving a mystery and helping Zunko get her precious edamame back is sure to be the biggest one yet!
Background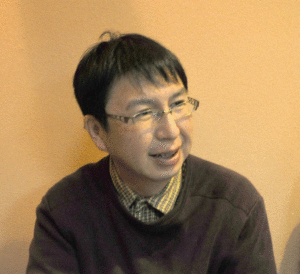 The brains behind the Tohoku Zunko Stamp Rally is 47-year-old taxi driver, Kenichi Tanaka. Tanaka became known around Shiroishi City for driving a taxi cab with a Hatsune Miku-themed car wrapping, calling his vehicle an "ita-taxi" (a play on the term itasha). Both Tanaka's cab, as well as an ita-bus from his company, will be sporting Zunko-themed car wrappings throughout the stamp rally. His goal is to liven up Shiroishi and draw more people to the city with a regular Zunko-centered event, fully utilizing her status as a copyright-free character for use by any Tohoku-based company to promote the region.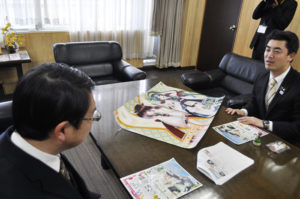 Prior to the stamp rally, Tanaka paid a visit to Shiroishi City mayor, Yuichi Yamada, to inform him of how he plans on conducting the event. It was thanks to this courtesy call that the stamp rally was approved, along with posters, banners, and the ita-bus running throughout the city to promote the event. In this author's opinion, it was most likely the Tohoku Zunko kokeshi doll stamp that Tanaka gave to the mayor that — quite literally — sealed the deal!
In an interview with Ryoko Yomiuri magazine, Tanaka proudly declared that "2017 will be Zun-chan's year," likely referring to the recently completed anime, Zunda Horizon (which stars Zunko) and to her rising popularity as an iconic Tohoku and VOCALOID character.
Rallying Support for the Stamp Rally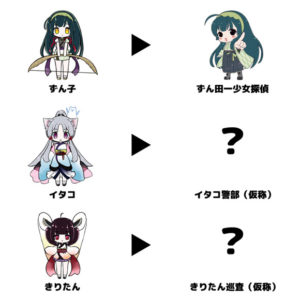 Setup for the stamp rally was funded by an incredibly successful crowdfunding effort that raised a grand total of ¥1,325,500 JPY (about $13,255 USD), meeting all four of its stretch goals! Thanks to the donations, not only is the event fully funded but also the organizers were even able to create brand-new, original designs for Zunko and her sisters to use for promotional purposes.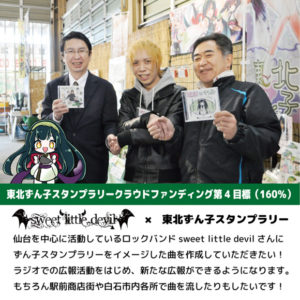 Furthermore, the organization team was able to score a record deal with Sendai-based rock band, sweet little devil (a.k.a. Toruru), who recorded the official Tohoku Zunko Stamp Rally theme song, entitled "Cherish (チェリッシュ)." The song is part of the compilation album, Haru BesToruru ~Kotorubi yori~ (春べすとるる~ことるびより~), which was awarded to high donors in the crowdfunding campaign, and can be heard playing at the shopping center in front of the Shiroishi City JR station throughout the whole stamp rally period. What a way to greet the incoming participants!
This article was but a brief introduction to the Tohoku Zunko Stamp Rally. Now that the event is in full swing, and reports of the sights and sounds of the stamp rally are being tweeted on Twitter at all hours of the day, you can expect many more updated reports from VNN. So Zunko fans should all stay tuned!
Information Sources
"Tohoku Zunko Stamp Rally" Official Site
"Tohoku Zunko Stamp Rally" Official Twitter
"Tohoku Zunko Stamp Rally" Official Facebook
GREEN FUNDING Crowdfunding Page
Ryoko Yomiuri