Having a very special gaming PC is something every gamer dreams of, but what about Hatsune Miku fans?  Well, the two interests might intersect in some cases, and Thermaltake and TSUKUMO (Project White) decided to show us a potential combo between Hatsune Miku and the gaming PC world at Crypton Future Media's Niconico Cho Kaigi 2019 booth.
Gaming with the Virtual Diva!
Never wondered what Hatsune Miku's room would look like if she was a gamer girl? Thanks to this collaboration and to iXima's artistic skills, seems we get a glimpse of a new side of our beloved virtual diva. This marvelous illustration will be the real key for Thermaltake and TSUKUMO during the event, where they will also introduce more collaboration products!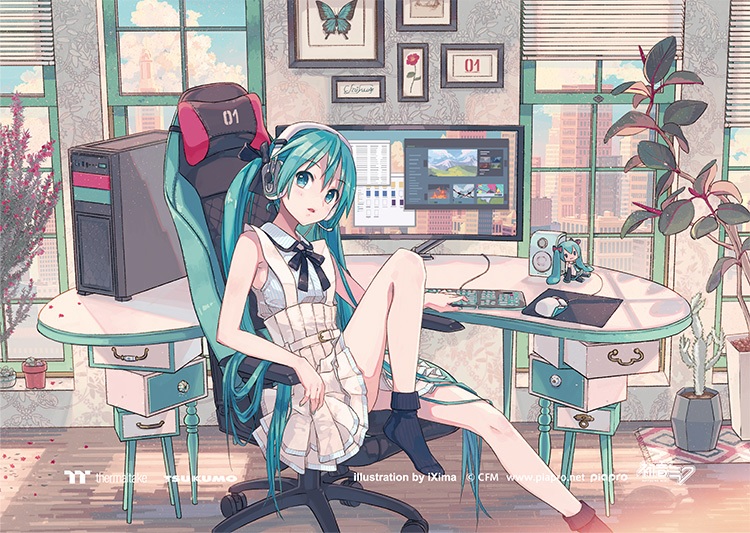 But there is more! If you happen to attend the Niconico Cho Kaigi 2019 and manage to pay them a visit, you will also get a novelty gift from them. What could it ever be? Who knows, but we would like to discover it with you all!
Niconico Cho Kaigi' 2019 will be held at Makuhari Messe on April 27th and 28th. Down below you can find its location!

In case you manage to attend, hope you have fun during this event!
Sources
Don't forget to follow us on VNN for all your Virtual Singers needs!
4Gamer Press Release
TSUKUMO (Project White) Website
Thermaktake Website
Niconico Cho Kaigi 2019 Website