The Tohoku sisters surely have lots of interesting events incoming and the next one will be held at World Baked Cheesecake & Cheese Kitchen on June 29th, where you will able to enjoy not only a DTM Live and Talk, but also a delicious based off of the three mascots of SSS!
Be Enchanted by Tohoku Zunko!
The event focuses on a two hour DTM Live (featuring Tohoku Zunko) and a tTalk session with two experts such as ARA and sound9th, which will not only talk about Vocaloid and Zunko's charm, but also aim to teach you the secret of such synthesizer world!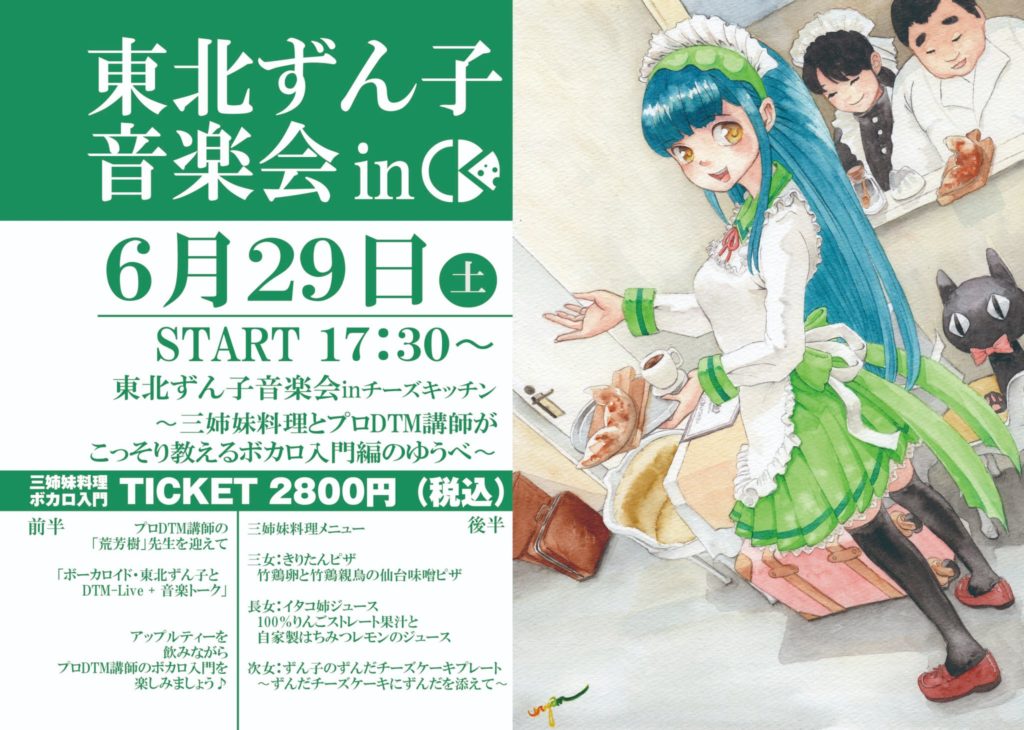 The entrance ticket fee is priced 2,800 JPY. During their lecture you will also be provided a refreshing cup of apple tea!
Tohoku Sisters Menu
But there is more for Tohoku Sisters to enjoy: such as the delicious menu themed after Tohoku Zunko, Itako and Kiritan! Here are the details!
Kiritan Pizza – A Pizza made with Taketori eggs and Sendai miso.
Itako Sister Juice – A 100% apple straight juice, with homemade honey and lemon juice.
Zunko's Zunda Cheesecake – A Zunda cheeskake served with Sendai's peculiar soybean paste.
Location
The event will be held at World Baked Cheesecake & Cheese Kitchen (shortened as Cheese Kitchen) on June 29th at 5:30 PM (JST). Here is a map to its location!
Are you planning to attend this event? Then you should definitely make a reservation! You can do it online by clicking
here
.
Don't forget to stay tuned with us on VNN for more updates!
You can find Tohoku Zunko on Facebook, Twitter and her official website.
Reservation page