September 2017 saw quite a lot of activity for Tohoku Zunko! Let's take a look at some of the news surrounding everyone's favorite zunda-loving VOCALOID and VOICEROID character from this past month.
Zunda Party 4
Held at the Kawakuchi Station Citizens' Hall FRIENDIA on September 9th, the dojin event Zunda Party 4 saw many Tohoku Zunko enthusiasts and creative circles gather to introduce and sell their wares!
One such participant was the producer さといも (Satoimo), who was on-site to sell their newest album, ずんずんBox2 (Zunzun Box2), whose crossfade trailer you can check out below!
Also present were sound9th and るっこら (Rucola), distributing their own newly-released album, ずんだらいふEP (Zunda Life EP) and its accompanying artwork and keychains! You can check out the crossfade trailer for the album by clicking here.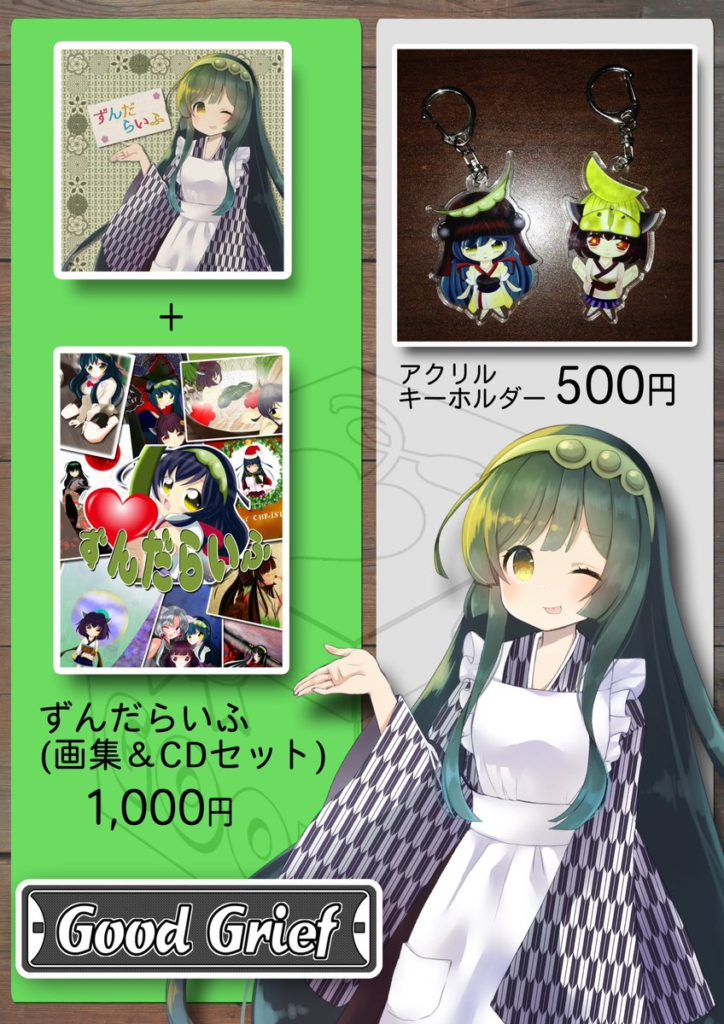 Many artists attended Zunda Party 4 as well. For example, きいとま (Kiitoma) was there with copies of their new publication, 葉桜 (Hazakura), a dojinshi manga that is about both Zunko and kokone!
You can read samples of the 葉桜 manga on きいとま's official pixiv page!
9/9 ずんだぱ~てぃ4で配布するずんここ本のお品書きとサンプルです。
サークル:きいろいとまと屋 スペース:09 
本のタイトル:「葉桜」 1冊:200円
当日までと当日もてんやわんやしていると思いますがよろしくお願いします。 pic.twitter.com/9bMOmCAZPH

— きいとま (@KiitomaShinon) September 5, 2017
"Here's the catalogue and some samples of my Zun-koko book, which I'll be distributing at Zunda Party 4 on 9/9.
Circle: きいろいとまと屋 (Kiiroi Tomato-ya), Space: 09
Book title: "葉桜" (Hazakura), Price: 200 yen
It'll be pretty hectic in the days leading up to and on the event day itself, but I hope everyone likes it."
And here's a quick rundown for several of the many other participants of Zunda Party 4 and their wares. Check out each person's social media and artist pages for larger images!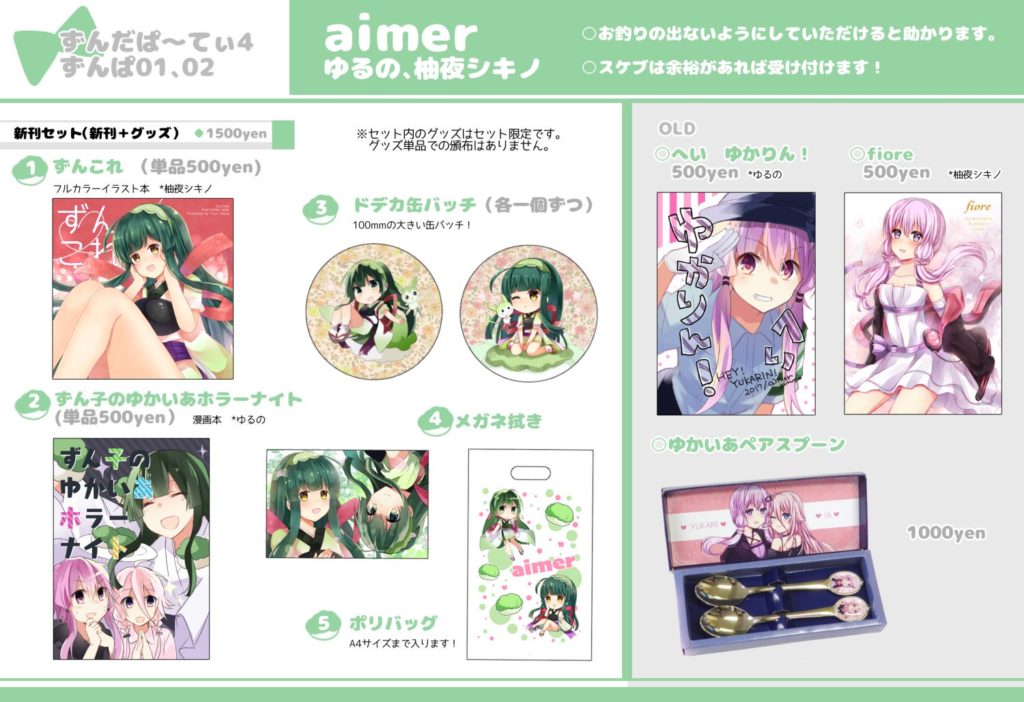 Zunkore illustration book, Zunko's YukaIA Horror Night manga, can badges, glasses cloth, and polyethylene bags by 柚夜シキノ (Yuya Sikino) and ゆるの (Yuruno). Also for sale were their Hey Yukarin! and fiore illustrations books, and YukaIA spoons.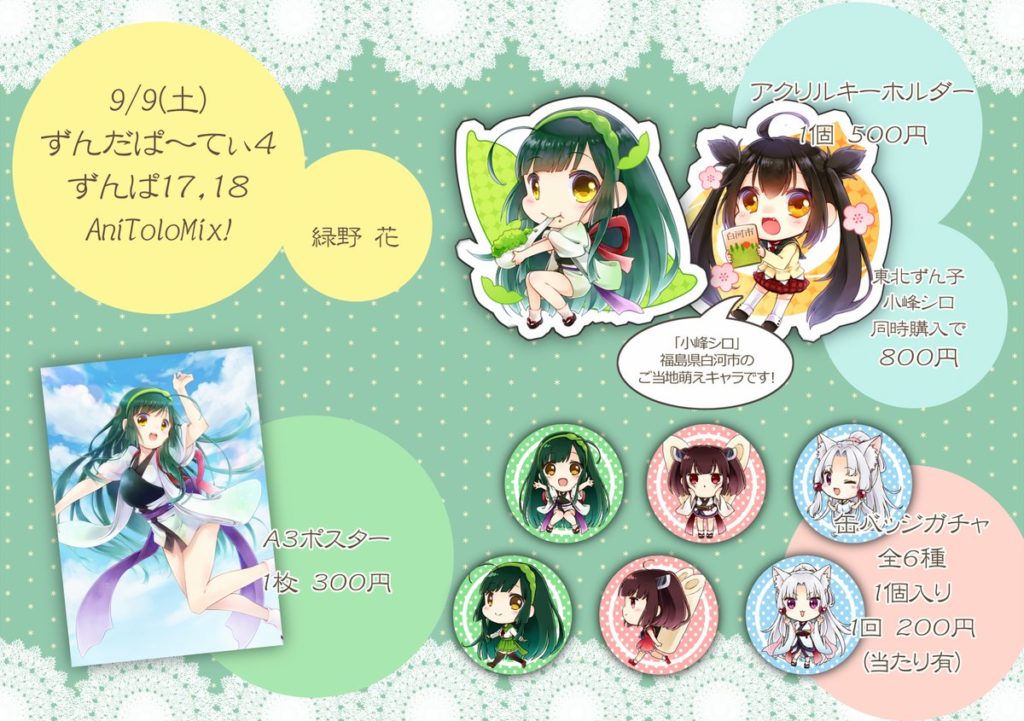 A3-sized poster, acrylic keychains, and can badges from 緑野 花 (Midorino Hana) and AniToloMix.
Mini colored paper, acrylic keychains, and comics featuring various characters by 最大公約数 (Saidai Kouyakusuu).
Dojinshi manga 運命の廻槍矢 ("Spinning Spear-Arrow of Destiny") by マトゥシ (Matwusi), featuring Zunko and Shikoku Metan.
Zunko karuta cards by 吉椿 (Kicchin).
Acrylic keychain, can badges, and dojinshi manga Zunda-ful Life by 御前伶 (Ryo Misaki), and dojinshi manga Zunpero by wolf.
And speaking of Ryo Misaki, new LINE stickers featuring their artwork of the Tohoku sisters are now available for purchase on the LINE Store for just $0.99 USD! Find and purchase them here!
Zunda Party 4 was truly eventful, but the organization committee is already gearing up for Zunda Party 5! The next event is scheduled for February 25th, 2018 at the Kyoto Pulse Plaza, and a promotional illustration has been provided by お茶の前 (Ocha no Mae). Look forward to more Zunko festivities next year!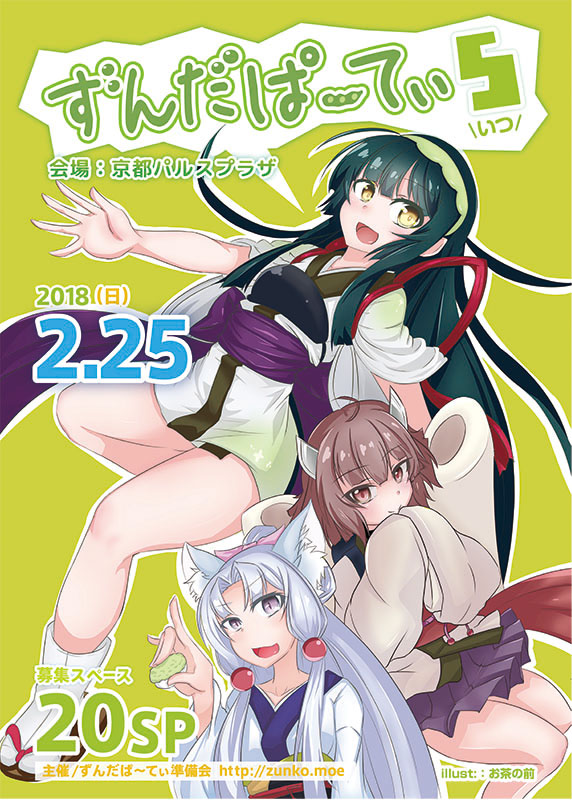 New Tohoku Zunko Products on the AHS Store
If you've watched and become a fan of Zunda Horizon, then you'll be happy to hear the Zunda Horizon OST is now available! This soundtrack compiles no less than 33 tracks from the anime musical!
The Zunda Horizon OST is up for purchase on the AHS Store and Online Shop mag for ¥3,240 JPY (about $28.80 USD)
Furthermore, although there exist many Zunko dojinshi works out there, there is only one that is recognized as the official Tohoku Zunko dojinshi, and it is now available for purchase as well! The Tohoku Zunko Official Dojinshi Vol 1.: Tohoku Zunko no Ayumi is an A4-sized, 30-page and fully colored manga about all three of the Tohoku sisters.
The Tohoku Zunko Official Dojinshi Vol 1.: Tohoku Zunko no Ayumi is up for purchase on the AHS Store and Online Shop mag for ¥1,620 JPY (about $14.40 USD).
Also, if you happen to be near their respective locations, the MAUSU Shop in Shinjuku, PLUM LIVE SHOP in Akihabara, and of course the mag Co-working Space in Sendai all reportedly have both the soundtrack and dojinshi available for sale at their stores as well.
Tohoku Zunko VR App Now Available
So Zunko had made it in the worlds of VOICEROID, VOCALOID, manga, and even anime, so what's next? Web and mobile app designer, Entap Inc., believes that she can make it in the world of mobile games next, and has created and released Tohoku Zunko VR!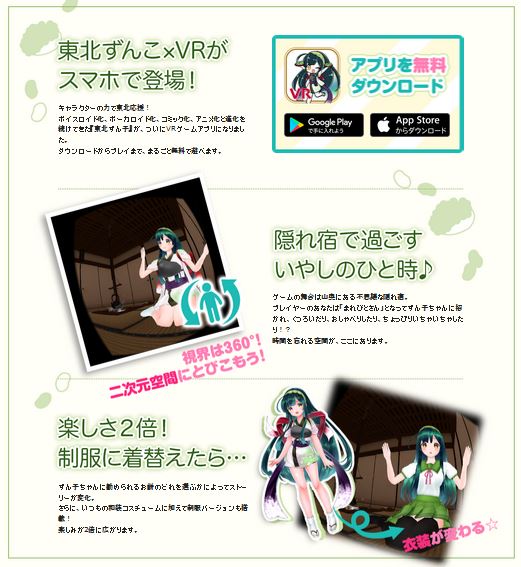 In the game, you play as a spirit whom Zunko summons to an abandoned home that she discovers in the mountains. From there, the story will progress in one of three different ways depending on what type of mochi you accept from Zunko. The goal of the game is to communicate with and form bonds with Zunko, making it an app that one can get lost in and pass the time with. Zunko can even change from her standard outfit to her school uniform at any time in the game.
Development for the game was funded by a very successful crowdfunding effort on GREENFUNDING. High donors could receive rewards such as a Zunko sticker cover for Google Cardboard, a Tohoku sisters blanket, a Zunko mouse pad, an autographed wall tapestry by Zunko's voice provider, Satomi Sato, and even a dakimakura cover.
Tohoku Zunko VR is available for free download on Google Play and the App Store, and requires Google Cardboard to play.
Crowdfunding for Tohoku Zunko Glass Cups Now Underway
Speaking of Tohoku Zunko crowdfunding efforts, there is another one that is currently in progress on CAMPFIRE. This one was set up by the Tohoku-based company, Glassworks MOVE, in order to fund the manufacturing of glass cups with Zunko's likeness etched into them. The cups are 64mm by 110mm in size, and plan to sell for ¥2,500 JPY (about $22.00 USD).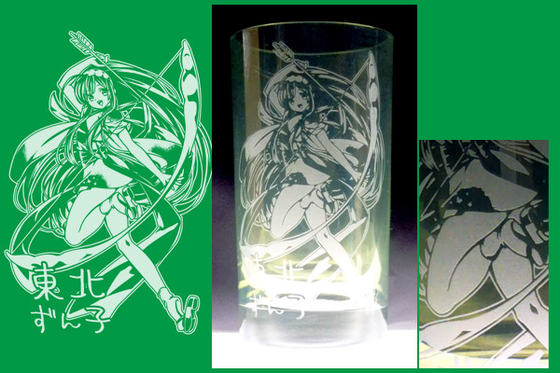 Glassworks MOVE explains that, ever since Tohoku was devastated by the Great East Japan Earthquake and Tsunami of 2011, the market for fragile and easily breakable products like glassware has dropped considerably in the region. Their hope with this crowdfunding effort is to help revitalize the market through Zunko's popularity, and gain support for it from her fans all over the world.
Rewards for donors to the project are as follows:
¥3,000 JPY route: 1 glass cup (green)
¥5,000 JPY route: above reward ,plus a 55mm x 55mm mini glass with Zundamon's etching
¥10,000 JPY route: above rewards, plus a clear glass cup
¥50,000 JPY route: above rewards, plus a glass plate bearing their logo (110mm in diameter), a T-shirt (available in M, L, and XL sizes), and a jinbei and geta set (available in L and XL sixes)
You can support the crowdfunding project by visiting the CAMPFIRE page here.
Tohoku Zunko's 6th Anniversary Zunda Horizon Screening & Talk Show Announced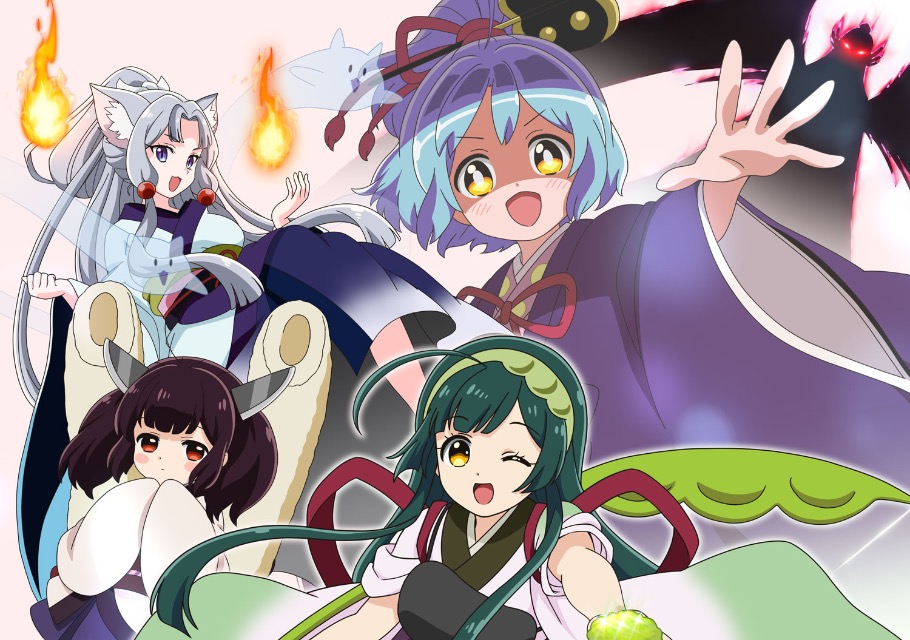 September 2017 was no doubt a big month for Zunko fans, but we already know of one big event coming up in October: her 6th birthday on October 27th!
To celebrate, another special screening of Zunda Horizon and a talk show with the voice cast is planned to take place on the big day. Details for the event are as follows:
Event Sponsors: NIFTY Corporation
Venue: 4th floor of the Tokyo Culture Culture in Shibuya
Ticket Price: ¥5,000 JPY (about $44.50 USD)
Date & Time: October 27th, 2017
Doors open at 5:30 pm JST
From 5:30 until 6:20 pm JST, a shop will be set up to sell original Zunko merchandise.
The event is planned to begin at 6:30 pm and conclude at 9:00 pm JST.
Attendees will also have the chance to be selected to receive a special prize, which will be announced at the event itself
Guest Speakers:
Ibuki Kido (voice of Tohoku Itako)
Nozomi Nishida (voice of Kyushu Sora)
Rika Momokawa (voice of Chugoku Usagi)
Koyuki Tanaka (voice of Shikoku Metan)
Yuina Ito (voice of Zundamon)
After Party: 9:30 to 10:30 pm JST
Tickets for the after party will be sold for ¥2,800 JPY (about $25.00 USD) at the event venue.
Attendees to the after party will receive a special postcard set for free, and have the chance to be selected for a special prize that will be announced at the event.
Tickets can be purchased on the official event page.
Conclusion
Thus concludes our roundup of all things Tohoku Zunko that took place during the month of September, 2017. VNN will continue coverage of her ever-expanding world, so Zunko fans should all stay tuned!
Information Sources
Zunda Party organization committee's official Twitter
AHS Store and Online Shop mag
Tohoku Zunko VR GREENFUNDING page and app page
Tohoku Zunko Glass Cups CAMPFIRE page and Glassworks MOVE's Official Twitter
Tohoku Zunko's 6th Anniversary Zunda Horizon Screening & AHS Livestream Talk Show event page