An amazing new arcade rhythm game will be coming to Japanese games rooms: it's name is "WACCA" and will include some popular jams from our favorite singing carrot lover!
☀マーベラスさんが発表したアミューズメント施設向け🎧音楽ゲーム「WACCA」🎮が、いよいよ7/18に稼働❗第1弾としてGUMIが歌う🎤「 #マトリョシカ / #ハチ」「 #フラジール / #ぬるり 」がリリースに合わせて登場します❗ぜひ遊んください❣https://t.co/fVc2HKqEX5#WACCA#GUMI pic.twitter.com/YrD6cxTVoj

— GUMI from Megpoid (@GUMIfromMegpoid) July 4, 2019
WACCA will be available in Japanese arcades July 18th (JST) with popular GUMI songs such as "Matryoshka" by Hachi and "Fragile" by nulut available for play!
The cabinet will feature a 360° touch panel with colorful LED lighting.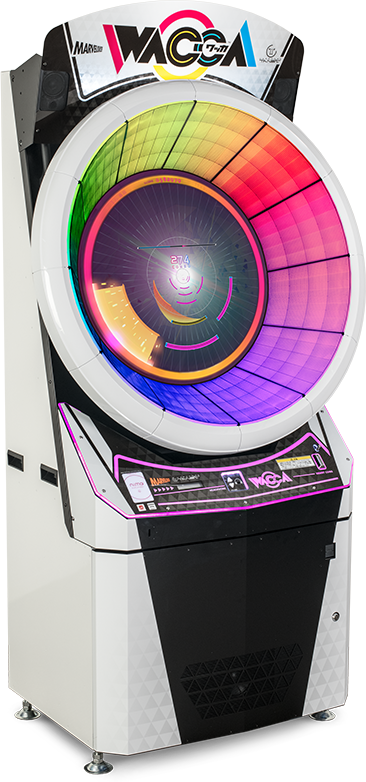 This new arcade game is developed by Marvelous, and will feature artists from the record label HARDCORE TANO*C such as REDALiCE, t+pazolite, DJ Genki, P*Light, Massive New Krew, and USAO. More artists are planned for feature updates.
The short video by Marvelous shows a little bit of gameplay, music, and the artist.
EXPERIENCE WACCA
WACCA will be available for the public at these locations. The times are in Japan Standard Time.
June 23rd (Sunday) 11:00 ~ 18:00
Sanagi Shinjuku
(3-35-6, Shinjuku, Shinjuku-ku, Tokyo)

June 29th (Saturday) 11:00 ~ 18:00
VLANDOME Ichibancho Shopping Arcade in front of ZARA
(3-5-12 Ichiban-Cho, Aoba-ku, Sendai City, Miyagi Prefecture)

June 30rd (Sunday) 11:00 ~ 18:00
Solaria Terminal Building's Lion Square
(2-1-1 Tenjin, Chuo Ward, Fukuoka city, Fukuoka Prefecture)

July 7th (Sunday) 11:00 ~ 18:00
Namba City's Galleria court
(5-1-60 Namba, Chuo Ward, Osaka City, Osaka Prefecture)
SOURCES
WACCA Website
MARVELOUS
HARDCORE TANO*C
REDALiCE
t+pazolite
DJ GenkiP
*Light
Massive New Krew
USAO