You might remember Luo Tianyi's collaboration with Whisper and its sanitary pads we talked about some time ago. Well, they are making a comeback with some news!
A Two Year Collaboration Anniversary!
Luo Tianyi has been collaborating with Whisper for two years now, and with BML 2019 getting closer, they decided to launch a new promotional campaign for their most recent sanitary pads!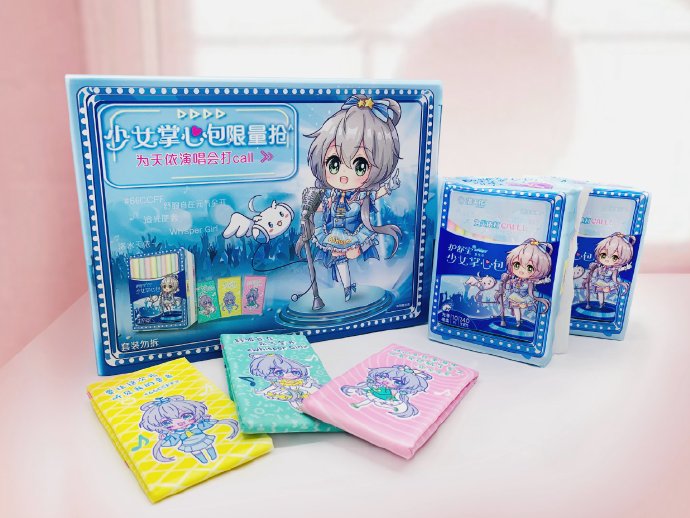 We know these kind of products are quite.. unusual for fans to see, but considering how adorable she looks in her collaborative merchandise, you might want to give it a shot!
Support Packages Incoming!
First of all, they are going to sell some very special supporting packages through many WATSONS stores in Mainland China.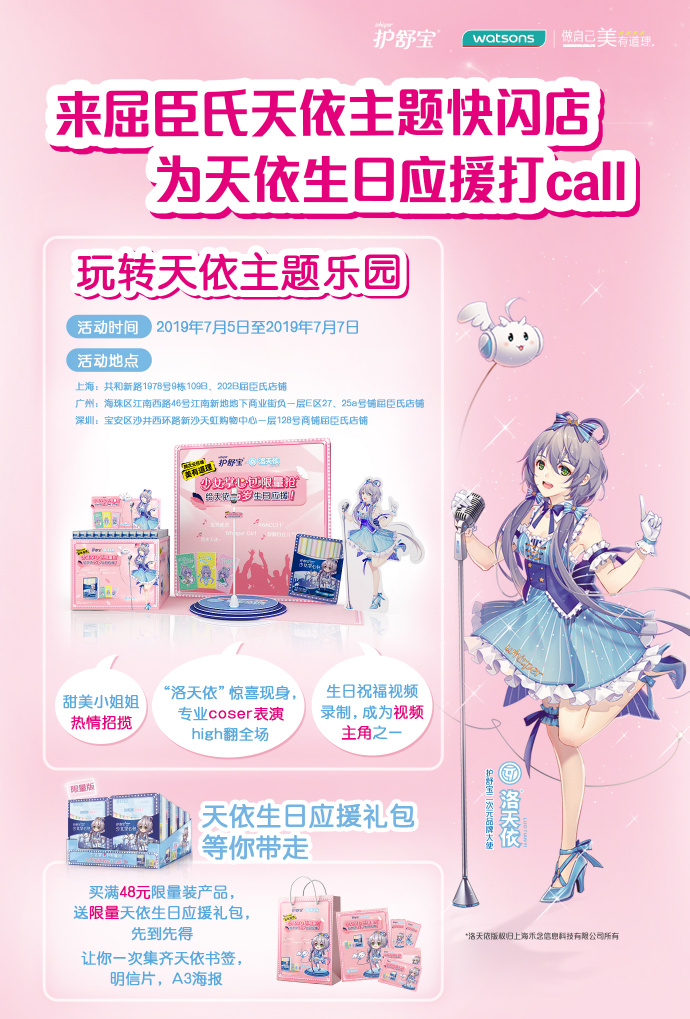 If you happen to hang around one of those stores, know that you can get a support package for this collaboration for only 48 RMB!
The package will include an A3 poster, a postcard and a bookmark!
There are more than 600 stores all around the country, so it's very hard for us to give you a full list, but check out their Weibo post as it has a full listing of the locations!
Scan and Get Merchandise!
Next we have an interesting campaign that uses AliPay and Tianyi's sanitary pads packaging as a way to win some exclusive merchandise!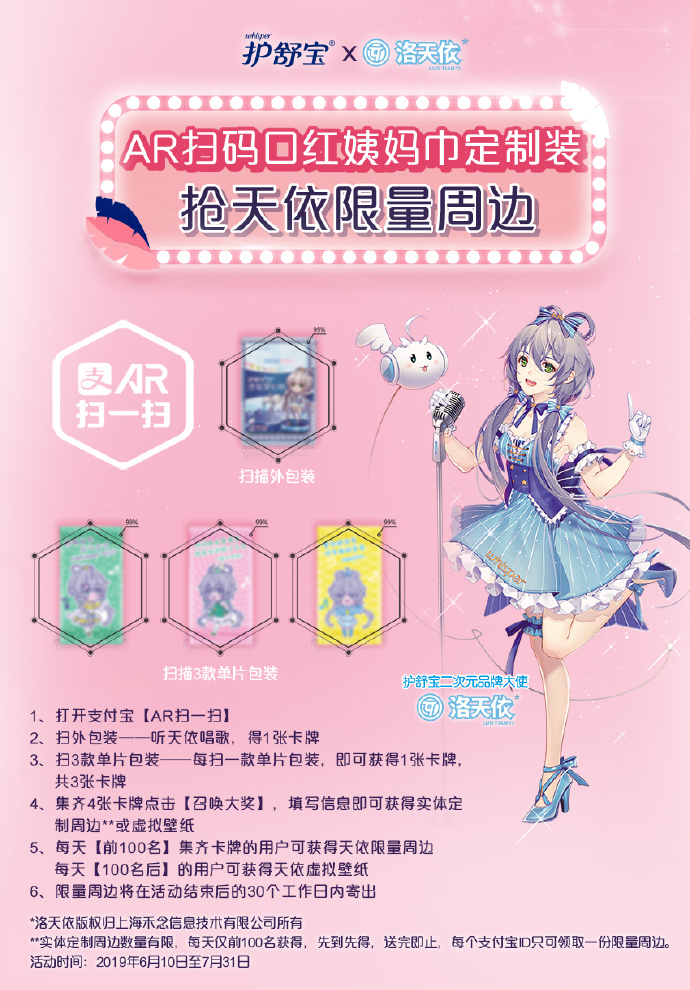 All you have to do is use AliPay and scan the sanitary pad packaging! For each scanned one you will get a card, and when you get four cards, you will be eligible for some merchandise!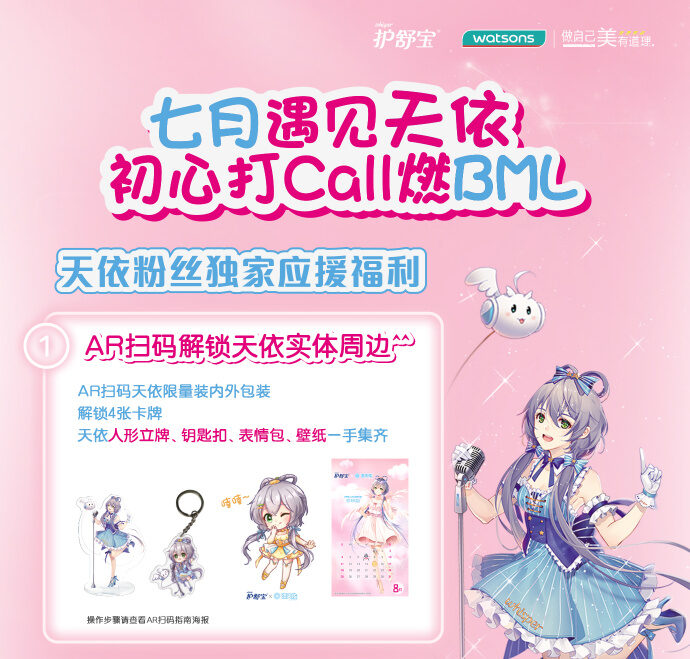 The very first 100 people that collect four cards each day will get some merchandise, while the others will get a wallpaper to download!
Win a Ticket!
Last but not least, there is a lottery that gives fans the chance to win a BW ticket!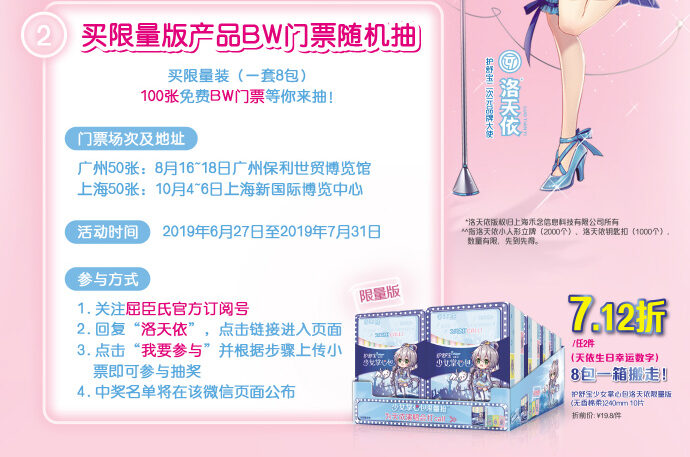 Participating is really easy: buy one package out of 8 sanitary pads and upload your receipt to Watson's official account on WeChat. You might be one of the lucky people to win a ticket!
This offer will end on July 31th so be fast!
Sources
Though this collaboration was quite unusual, we still enjoy hearing more abut it, especially considering how adorable the goods are!
Stay tuned with us on VNN for more news and updates about your favorite virtual singers!
Luo Tianyi is on Facebook, Twitter and Weibo
Vsinger also is on Facebook, Weibo and Youtube
Whisper not only has a Weibo account, but also an official website
Announcement Post made by Tianyi on Weibo