While this collaboration took place on the Japanese server last month, global fans finally have a chance to join in as well! This collab started on July 5th and will continue until the 25th. So if you're a Crypton VOCALOID fan and want to join an MMORPG, here's your chance! The Valkyrie Connect x Hatsune Miku collaboration is the perfect place to start.
About Valkyrie Connect
"'Valkyrie Connect' is a high fantasy RPG that combines Norse mythology with a unique Japanese anime flavor. Created by the all-star team that made Ateam's hit "Unison League", "Valkyrie Connect" rocketed up the Japanese sales charts shortly after release and was chosen as one of Google Play's top games of 2016 in Japan.

Players assemble a collection of heroes, villains, gods and more to fight in full 3D real-time battles. The co-op Connect Battles are the game's signature feature, and require players to fight alongside one another in real time to take down massive bosses. With a simple battle system perfect for mobile devices, complex party composition, and excellently written characters, "Valkyrie Connect" has earned its place at the top. Additional updates and coming content will continue to cement it as the premier RPG for mobile devices!" — Official Press Release
About the Collab
The collaboration is split into three parts, called seasons. In addition, each season offers different goods! So be sure to stay tuned to VNN whenever a new season starts!
The season time frames are as follows:
First Season: 7/5 (after maintenance) – 7/12 at 6:00 (UTC)
Second Season: 7/12 at 6:00 (UTC) – 7/18 at 6:00 (UTC)
Third Season: 7/18 at 6:00 (UTC) – 7/25 at 6:00 (UTC)
In addition to everything going on in the game, there's a special Facebook Campaign going on at this post here. Be sure to like the post to help everyone reach the set goals!
"**CAMPAIGN RULES**
Availability: Until 7/26 (Wed.) 06:00 UTC

■Lottery for SUPER POPULAR Heroes!
All you have to do is comment on this post with your Valkyrie Connect player ID number for a chance at one of three super-popular heroes: Valkyrie Verdandi, Omnipotent Odin, or First Boy Ymir! WOW! If you want one of them in particular, be sure to include the name of the hero you want in your post! 5 lucky players will get one of them in their in-game Gift Box on 7/27 (Japan time)! The winners will be revealed here on Facebook around the same time!

■Like Rewards for All Players
We'll be making several posts about the collab before 7/26 (Wed.)! Be sure to LIKE all the collab posts (marked with "MIKU COLLAB POST" at the top) for a chance at amazing rewards for all players! All players will receive the following rewards when we reach the below Like counts across ALL Hatsune Miku collab posts. If we reach the below milestones, there may be a chance at MORE and BETTER rewards for ALL PLAYERS!

1,500 total likes: 50 Diamonds, 2★ Fusion Knife & Ring
3,000 total likes: 50 Diamonds, 300 Stamina
5,000 total likes: 50 Diamonds, 2★ Skill Knife & Ring
7,500 total likes: 50 Diamonds, 500,000 Mana
10,000 total likes: 100 Diamonds, Miku Key Strap" — Valkyrie Connect Facebook
Free Item!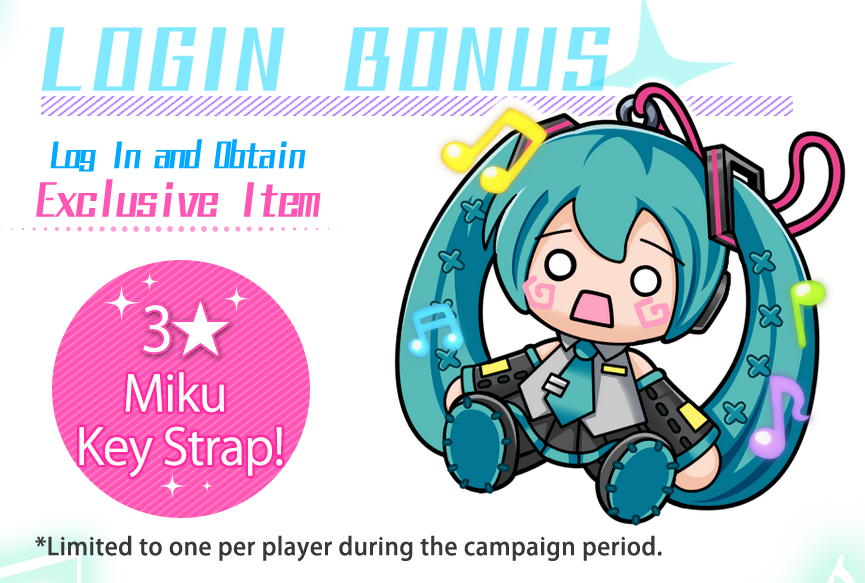 Anyone who logs in before July 25th will receive a special 3* Rarity Miku Key Strap for free! It gives an 8% boost to the MATK and EVA of whatever unit is wearing it!
VOCALOID Units!
Miku, Rin, Len, and Luka all make an appearance during this collab! Unfortunately, KAITO and MEIKO aren't present in this collab. Like every other unit in the game, the VOCALOIDs have lines voiced by a voice provider. Unlike the others, though, the VOCALOIDs are voiced by their own voice banks!
Season 1 Units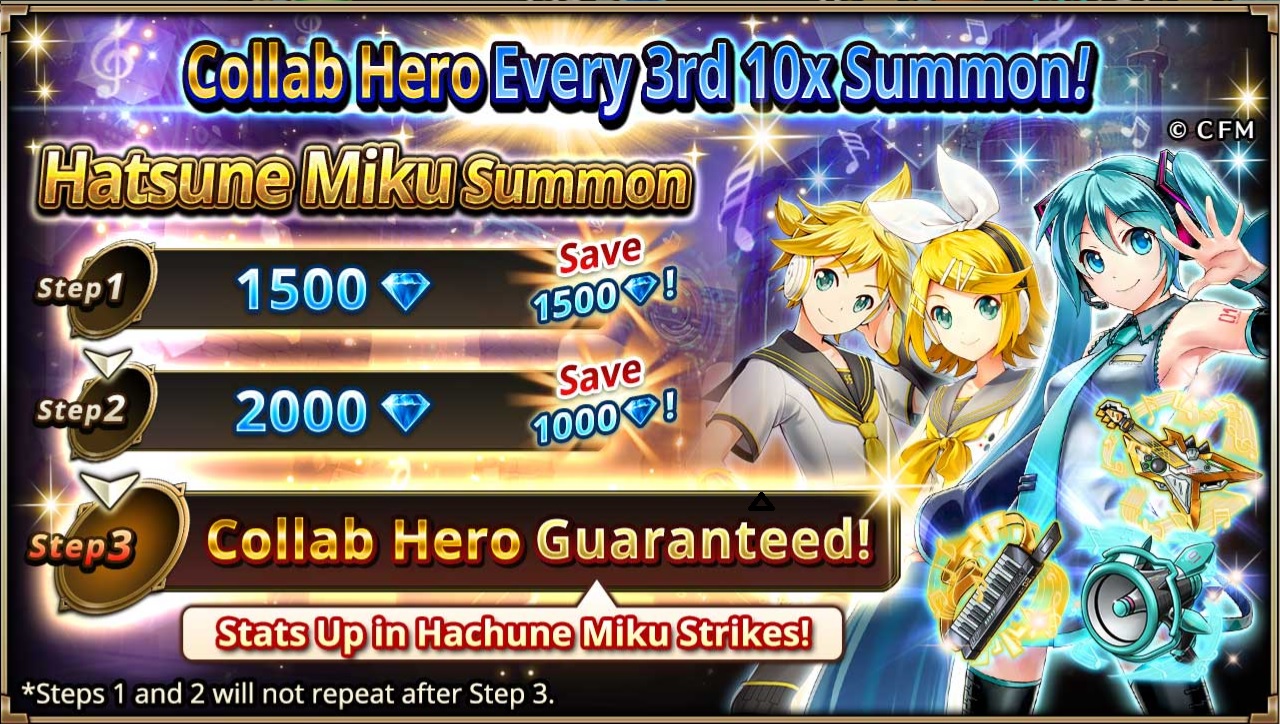 The Season 1 units are Miku, Rin, and Len! There's even a special discount for the summoning with the third pull guaranteeing one of the three collab heroes! These units also receive stat bonuses in the special "Hachune Miku Strikes" campaign.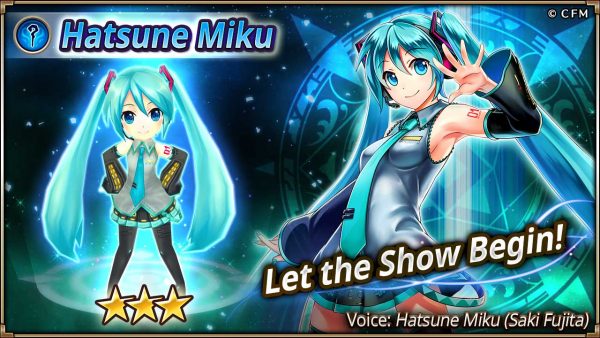 | | |
| --- | --- |
| Properties | Therian, Female, Magic, Grounded, Fimbulvetr |
| Skill | 150% Earth MATK damage to nearest 3 enemies, skill guage 10% up to all your heroes. |
| Sp Gear | 120% Earth MATK damage & ATK, MATK 20% down for 2 turns to nearest enemy row. |
| Costume | Quick & 5% MATK up for 2 turns to your 3 highest MATK heroes |
| Level 60 Max Stats | HP 24482, ATK 2279, MATK 5753, DEF 2300, MDEF 4084, SPD 2691, EVA 3040, ACC 2535 |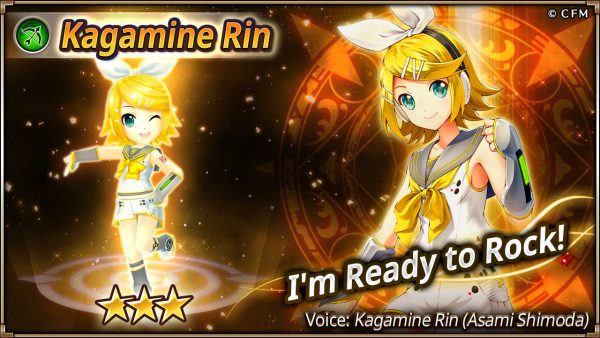 | | |
| --- | --- |
| Properties | Therian, Female, Ranged, Grounded, Divine Wrath |
| Skill | 170% Light MATK damage and Paralyze for 3 turns to the nearest and farthest enemies. *Paralyze effect applies only to humans. |
| Sp Gear | 130% MATK damage and paralyze for 1 turn to the farthest enemy. |
| Level 60 Max Stats | HP 27226, ATK 2690, MATK 3402, DEF 2315, MDEF 2558, SPD 3943, EVA 3455, ACC 3296 |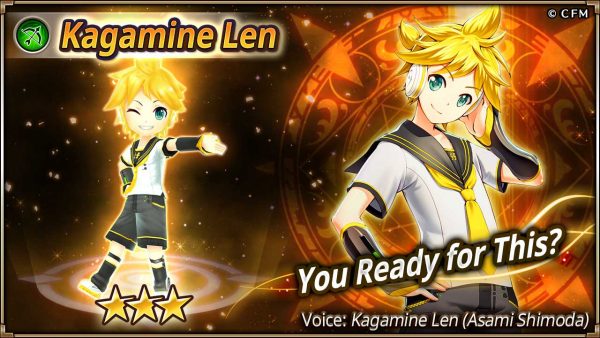 | | |
| --- | --- |
| Properties | Therian, Male, Ranged, Grounded, Divine Wrath |
| Skill | 30% Light ATK damage 5 times & DEF 30% down for 3 turns to the nearest enemy row |
| Sp Gear | 120% ATK damage to the nearest enemy row, ATK 10% up for 2 turns to yourself. |
| Level 60 Max Stats | HP 27787, ATK 3496, MATK 2479, DEF 2674, MDEF 2673, SPD 3783, EVA 3179, ACC 3318 |
Other Units
Of course, those three aren't the only units up for grabs. More units will be available as the event progresses. In addition to Miku, Rin, and Len, Luka and a special Valkyrie Miku will also be available soon. We'll reveal more information on them when Season 2 begins!
Events
Of course, no game collaboration is complete without events! This collaboration is no different and offers two exciting events for fans to enjoy during the whole collaboration.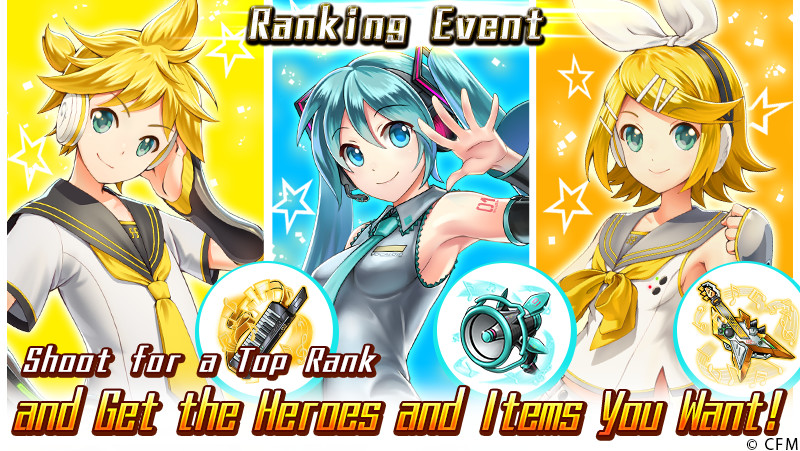 In addition, participating in these collaboration events will net players "Diva Pts." These will factor into their ranking against all other players in the game! Players will be rewarded with a number of "Diva Brooch" items based on their ranking at the end of three ranking terms. These "Diva Brooch" items can be exchanged for collaboration heroes and gear that can otherwise only be obtained in the limited-time summon, making this a great opportunity for players to get the heroes and gear they want the most!
"Hachune Miku Strikes!"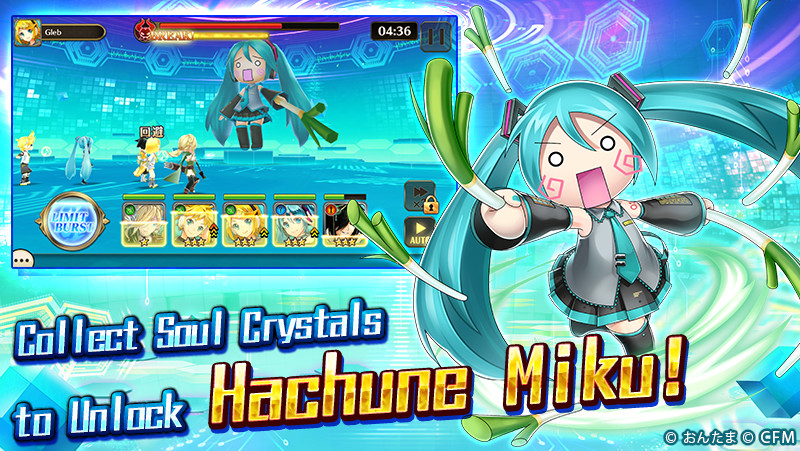 "The cute Hachune Miku appears as a Connect Boss! Defeat her to collect souls to unlock her as a playable hero, and collect tokens to purchase exclusive gear!" — Game's Event Description
Those who participate in the event (hosting or joining) will receive Hachune Miku Souls and Hachune Miku Tokens. The Souls are used to unlock and promote Hachune Miku, while Tokens can be traded for Souls and powerful exclusive gear.
Tokens can be traded until 8/9 at 6:00 (UTC).
What's that music playing in the background? Why, it's "39" by sasakure.UK and DECO*27!
"Concert Tower"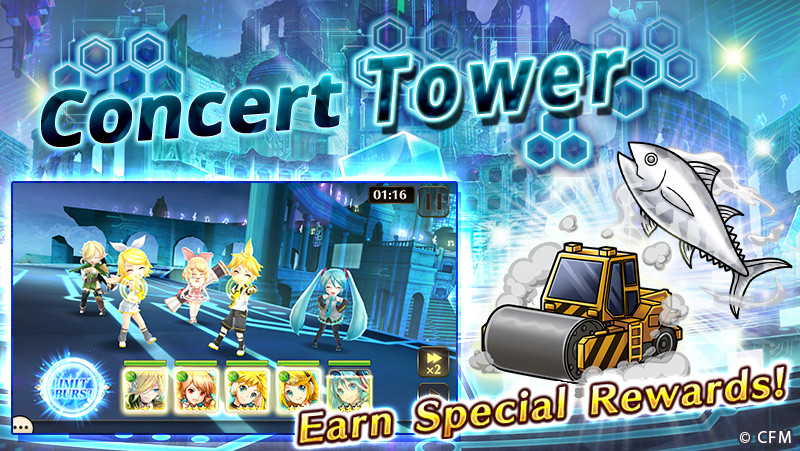 Progress through the Concert Tower for exclusive gear! You can receive Concert Tickets from moving through the levels and these tickets can be used in the Hatsune Miku Trader for great rewards!
Having Hatsune Miku or Hachune Miku in your party will reduce the time needed to restore your heroes by 25% each.
In addition, reaching specific floors and opening chests you occasionally earn after battles will unlock special gear! These three star rarity "Frozen Tuna" and "Bulldozer" items are sure to come in handy!
And of course, the Concert Tower comes with a catchy tune as well: "Streaming Heart" by DECO*27!
Gear!
As mentioned earlier, Concert Tickets from the "Concert Tower" event, Diva Brooches, and Hachune Miku Tokens can be used to exchange for gear!
Diva Brooch Exchange
Rin's Guitar X (Sp.): 2,000 Brooches
Len's Keyboard X (Sp.): 500 Brooches
Miku Megaphone X (Sp.): 2,000 Brooches
Rin's Guitar (Sp.): 500 Brooches
Len's Keyboard (Sp.): 500 Brooches
Miku Megaphone (Sp.): 500 Brooches
Hatsune Miku's Soul (x20): 5,000 Brooches
Kagamine Rin's Soul (x20): 5,000 Brooches
Kagamine Len's Soul (x20): 5,000 Brooches
Miku Key Strap: 1,000 Brooches
Concert Ticket Exchange
Frozen Tuna: 10,000 Tickets
Bulldozer: 10,000 Tickets
Token Exchange
Hachune Miku's Soul: 1,000 Tokens
Hachune Leek: 1,000 Tokens
More Information
As always, be sure to follow VNN for updates! We'll be sure to let everyone know what's happening in Season 2 once it begins. Until then, check out Valkyrie Connect in the Google Play Store and the App Store.
Sources
Valkyrie Connect Official Facebook
Official Website
Press Release
Valkyrie Connect Reddit