Anime Festival Asia Indonesia is one of the most anticipated yearly events by anime & J-culture fans in Indonesia. This year, the event was held again at Jakarta International Expo, Kemayoran, on September 16~18th, 2016. It featured live performances of many popular Japanese artists in the "I ♥ ANISONG" concert, special appearances by anime seiyuus & famous cosplayers, merchandise booths, and other Japanese & anime-related items. This year, VOCALOID fans got a special treat with the presence of 1st Place who brought their artist Lia, IA merchandise, and the concert screening "IA First Live in Japan ~PARTY A GO GO~" at AFAID Main Stage.
This year, we (Kuroi and Aria) from VNN Indonesia were able to come and attend almost all of the VOCALOID-related events held there. Here is the full report.
1st Place's Booth
This year, 1st Place came to AFAID and opened a booth selling various IA, Lia, & and Kagerou Project goods like: music albums, T-shirts, keyholders, metal badges, clear files, tote bags, etc. The booth looked pretty catchy with all the IA T-shirts hanging around it, a giant poster of KagePro, and a TV screen displaying clips of IA's concert. Unfortunately, I couldn't find any ONE goods sold at this event.
By the way, do you remember IA's plushie which often shows up in IA's recent Facebook posts? The plushie was present at this event and we had a chance to take pictures of it. If you are looking forward to collect it, we have good news. 1st Place's staff mentioned to us that the plushie will begin accepting orders around November this year! (Date subject to change.)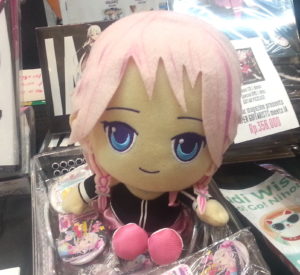 IA & Lia's albums and goods received a really good response from fans in Indonesia. IA's albums sold out on the first day and they restocked it again on the second day. On the second day of AFAID when the visitors number reached its peak, 1st Place's booth was always crowded with fans eager to buy their goods from morning to evening. 1st Place's staff mentioned that they were quite surprised and happy with the great response from Indonesian fans towards IA and Lia. Many fans buying the IA merchandise while leaving their messages also expressed their love and wish for IA to come to Indonesia.
Signing Session with Lia
On the second day of AFAID, a signing session with Lia was held at 1st Place's booth, right before the "I ♥ ANISONG" concert started. The signing session only applied to the first 50 buyers of Lia'a album, where they could have Lia sign their albums and also take a picture together. It was quite the long queue, showing great enthusiasm from fans for Lia.
EXIT TUNES' Booth
This year, EXIT TUNES came back to AFAID bringing their VOCALOID, EDM, and utaite artists album collections, as well as several VOCALOID merchandise. You could find albums such as Vocalo Genesis, Vocalodream, Vocalonexus, Vocalospace, Vocalofantasy, MAYU LOVES ~First~, and their latest addition, Entrance Dream Music 3.
VOCALOID albums and merchandis at EXIT TUNES' booth sold rather nicely. On the third day of AFAID, a very little number of VOCALOID albums and merchandise were left on their table; however, Entrance Dream Music 3 didn't sell quite as well, since only a few copies were sold. We thought this may have happened because they put the album separate from the other VOCALOID albums on the EDM section, where most of the goods were non-VOCALOID albums. This may have caused fans to overlook it.
On the third day of AFAID, we suggested 1st Place to move the particular album to the VOCALOID section desk, and they accepted our suggestion. Unfortunately, we didn't have time to check again whether the album's sales went better afterwards. Overall however, the VOCALOID albums and merchandise sales at the booth were a smashing success! (The same thing cannot be said for their non-VOCALOID albums, unfortunately.)
"I ♥ ANISONG" Live Concert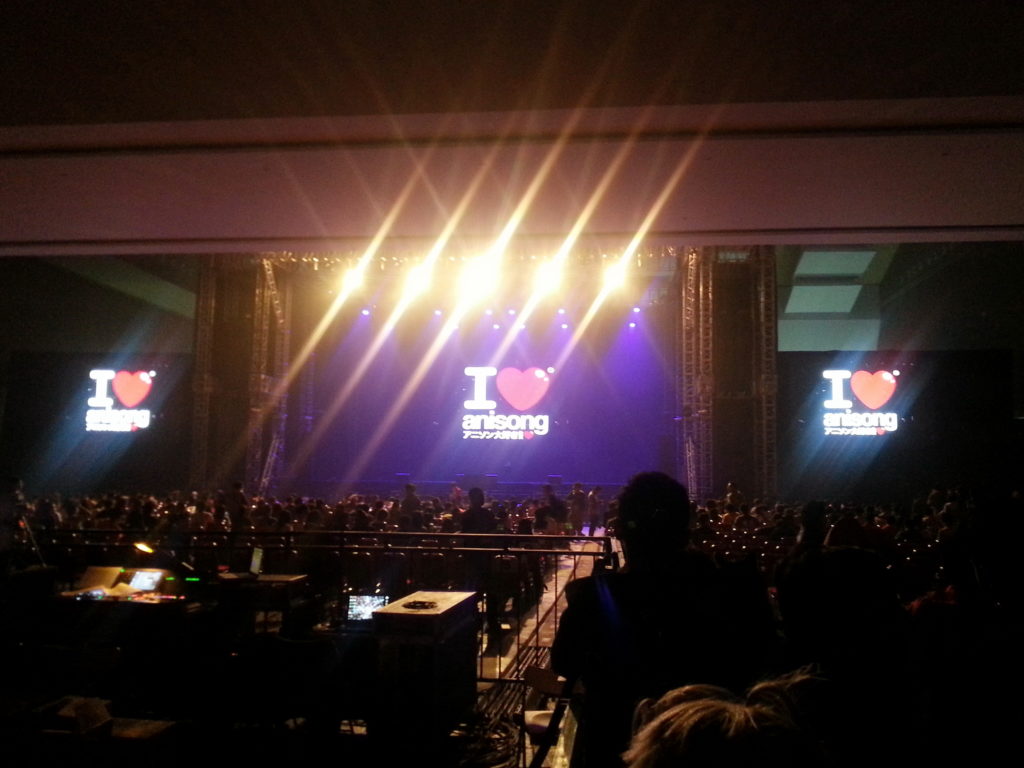 We attended "I ♥ ANISONG" on the second day of AFAID. Unfortunately, due to some circumstances, we weren't able to attend the first day concert in which livetune+ performed. We heard news that they performed several of Hatsune Miku's original songs in this concert. Nonetheless, we were pretty satisfied because the second day concert featured our most wanted artist, Lia.
This is the first time Lia performed live in Indonesia. She is the first ANISONG artist to perform, with a total of seven songs performed. To be honest, before this event, neither of us had ever bought Lia's albums. We only heard her singing through several anime we'd watched. Therefore, we didn't recognize many of her songs and cannot mention the titles.
Lia started her performance with "Light Colors", a song from her first album. We were really mesmerized by her beautiful and clear voice. She sang with a very consistent voice quality in every song, and that makes me admire her so much because not all singers can maintain their voice quality at the top levels when they do live performances. It doesn't seem to apply to Lia. What you hear from her recorded albums is exactly the quality you will hear in her live performances. The peak of her performances were at the last two songs which excited the audience the most. They were "Bravely You" from the anime Charlotte, and "My Soul Your Beats" from the anime Angel Beats, which many anime fans know very well.
Finally, I (Kuroi) came home from AFAID with a Lia album in hand. I am really happy to own it, and I might give a review on it at the next occasion, together with the IA album I also got at the event.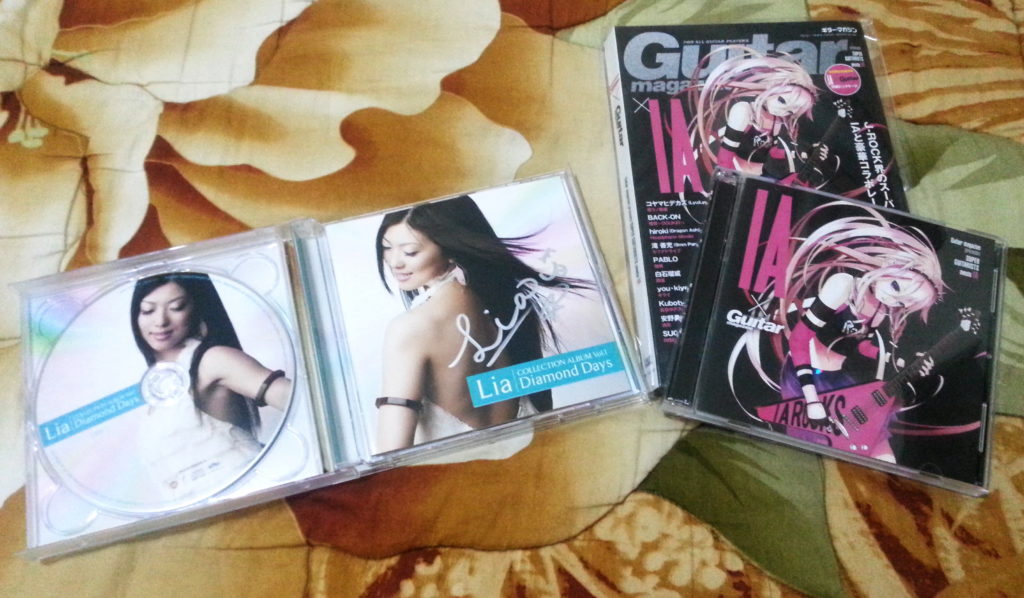 "IA First Live Concert in Japan -PARTY A GO-GO-" Concert Screening
On the third day of AFAID, we came specifically to watch the show we most looked forward to: IA's live concert screening. The Blu-ray/DVD hasn't been released yet, so this was the only chance we could watch IA's live performance in a lot more detail than what we saw in the YouTube trailers.
There were quite a number of people attending the screening. Many of them even brought their own light sticks and waved them around during the screening, as if they were watching the show together with the audience in the video. IA's performances in the concert were truly amazing and I'm really looking forward to buy the Blu-ray, should it receive a release.
Unfortunately, due to screening time limitation, they couldn't show the full set list of the concert. They only showed us nine IA songs, including some hits from Kagerou Project. Here is the screening set list:
"Inner Arts" by Jin
"See The Lights" by STY
"We Gotta Run" feat. Jumicchi
"Shooting Star" by TeddyLoid
"Setsuna Drive" by Taki Yoshimitsu
"Children Record" by Jin
"Outer Science" by Jin
"America ~We Are All Right~" by Jin
<Band Introduction & Encore>
"Otsukimi Recital" by Jin
HoneyWorks' Movie: Zutto Mae Kara Suki Deshita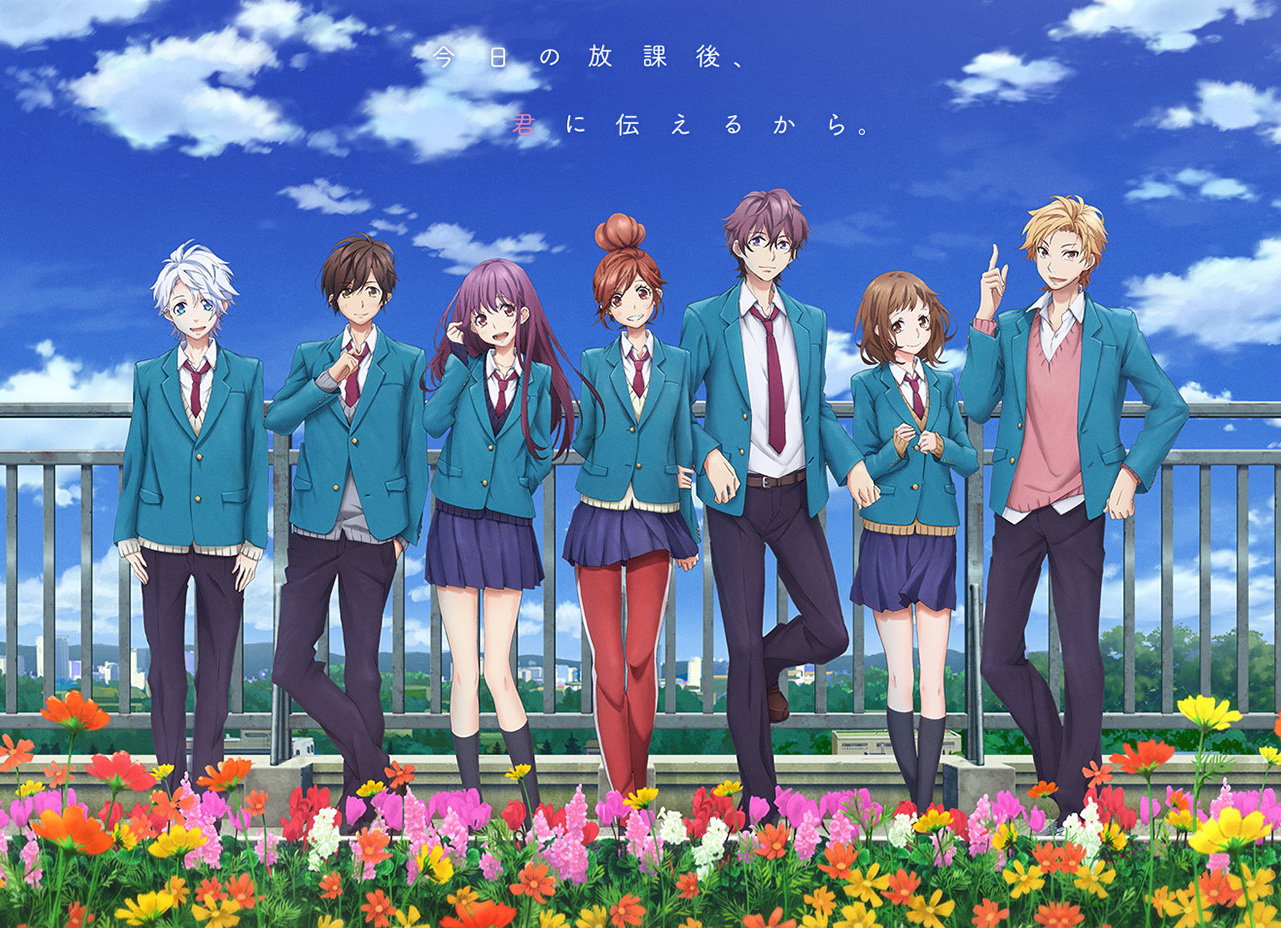 Right after IA's concert screening, the show continued with the screening of HoneyWorks' movie Zutto Mae Kara Suki Deshita, which was adapted from their super popular VOCALOID song series "Confession Executive Committee Love Series". The movie wasn't shown in any theatres in Indonesia, so we were really lucky to be able to watch it at AFAID.
The movie recieved an amazing response from the fans. All of us watched it enthusiastically, and you could even hear the fan girl screams non-stop throughout the whole movie (even from the males!). It was enjoyable and great to be able to watch this movie together with people who share the same knowledge of and enthusiasm for the story and characters.
If you weren't lucky enough to be able to watch the movie at AFAID, no need to be sad. Other than the Blu-ray/DVD release on October 26th, 2016, Aniplex USA has confirmed that the movie will begin streaming on Crunchyroll with English subtitles on October 4th at 10 AM (PDT). Check out the official trailer below!

Q & A Session with 1st Place's Staff
At this event, we had the opportunity to have a little chat with 1st Place's staff and ask several questions we collected and selected from Indonesian fans. Check out the Q & A session below:
Is there a possibility for IA to hold a live concert in Indonesia?

They mentioned that 1st Place has been doing screenings all over the world to assess the market and fans' interest towards IA. If Indonesian fans continue to show their huge interest towards IA's concert, it is very possible.
Will the DVD/Blu-ray of "IA First Live Concert in Japan -PARTY A GO-GO-" receive a release?

They have plans for it, although they couldn't reveal the exact time at the moment.
Is there any plan to expand IA's game to other consoles or arcades?

They haven't thought much about that. They want to concentrate on creating more music, but in Japan, IA & ONE have collaborated with several arcade games.
Is there any plan to make a sequel to the IA/VT Colorful game?

There is no such plan at the moment.
Any plan to release a new IA album after the IA/03 VISION?

The plan for it is underway, however, they couldn't reveal the details yet.
How is the progress on 1st Place's new VOCALOID 4?

They couldn't answer that question at the moment but they mentioned that currently they are working on IA's English voice bank. They also plan to expand/upgrade ONE's CeVIO voice bank, so this may be really great news for ONE's fans!
Is there any plan to create a male voice bank?

The decision on that matter is in the producer's hands. However, they mentioned that they wanted to focus more on expanding the software they currently have.
Special note: 1st Place's staff also mentioned that 1st Place strives to introduce VOCALOID to the whole world because, compared to the population, VOCALOID users are still very limited in numbers. Their challenge is figuring out how they can introduce VOCALOID to more real/professional artists and incorporating them into their music. Actually, this can be seen in how they involve musicians directly in IA's live concerts (TeddyLoid & Jumicchi, as an example), as well as how 1st Place collaborated with guitarists from professional Japanese bands in the album SUPER GUITARIST meets IA, where all of IA's songs in this album were composed by the professional musicians. So, this might answer some of your questions about 1st Place's vision and direction for IA and VOCALOID.
Cosplays
Anime conventions aren't complete without cosplays! Although we saw many amazing cosplayers wearing costumes from anime and of game characters, there weren't as many VOCALOID cosplayers. This is because AFAID is more anime-oriented. However, we were able to find several amazing VOCALOID cosplayers brimming with confidence. Check out the photos below!
Conclusion
We really enjoyed all the events. The presence of 1st Place in this event, the "I ♥ ANISONG" concert, IA's concert screening, and HoneyWorks' movie definitely left us the most impressions of this year's AFAID. We hope next year's event will be even better, and of course, we wish 1st Place will be able to hold "IA First Live Concert in Indonesia -PARTY A GO-GO-" someday.
See you again in AFAID 2017!