As mentioned previously, I (Cinzya from our German team) spent a lot of time at the German convention, Hanami, in Ludwigshafen am Rhein, Rhineland-Palatinate, at the Pfalzbau some weeks ago. This was the first time for VNN to attend a convention in Germany, so we wanted to check how active the German VOCALOID community actually is and what we would see there and at future German cons. There weren't a lot of VOCALOID related events at Hanami, but since Maido no Kisetsu once more made an appearance with their Sailor Moon themed café there, I took the opportunity to check it out for you to see what we may expect for the upcoming VOCALOID themed café, which will also be organized by them with the help of our partners, VocalNexus.
Not to mention, this was a good opportunity to showcase our brand-new VNN shirt!
I'm ready for @HanamiLu ? @VNN_Global pic.twitter.com/2bcBLlUFoq

— Cinzya @VNN?? (@Cinzzya) May 3, 2017
What is Hanami?
"Hanami" (Jap. 花見, "flower viewing") is the Japanese traditional custom of enjoying the transient beauty of flowers. In this case, flowers ("hana") are almost always referring to those of the cherry ("sakura") trees or, less frequently, plum ("ume") trees.
The so-called German event Hanami, short for "Hanami – Con meets Festival," is based on this tradition and invites fans of Japanese culture, comics ("manga"), and animation ("anime") to meet during this two-day convention. This annual anime convention has been organized by voluntary fans with the help of Animexx e.V.  since 2006 in Ludwigshafen am Rhein, Rhineland-Palatinate, Germany. Besides performances of classical aspects of Japanese culture like taiko drums, performances in various martial arts and introductory courses in, for example, the grooming of bonsai trees or origami art, shape the colourful modern world of their "hanami." Especially noticeable is cosplay, to which they dedicate countless competitions, workshops, and shows.
VocalNexus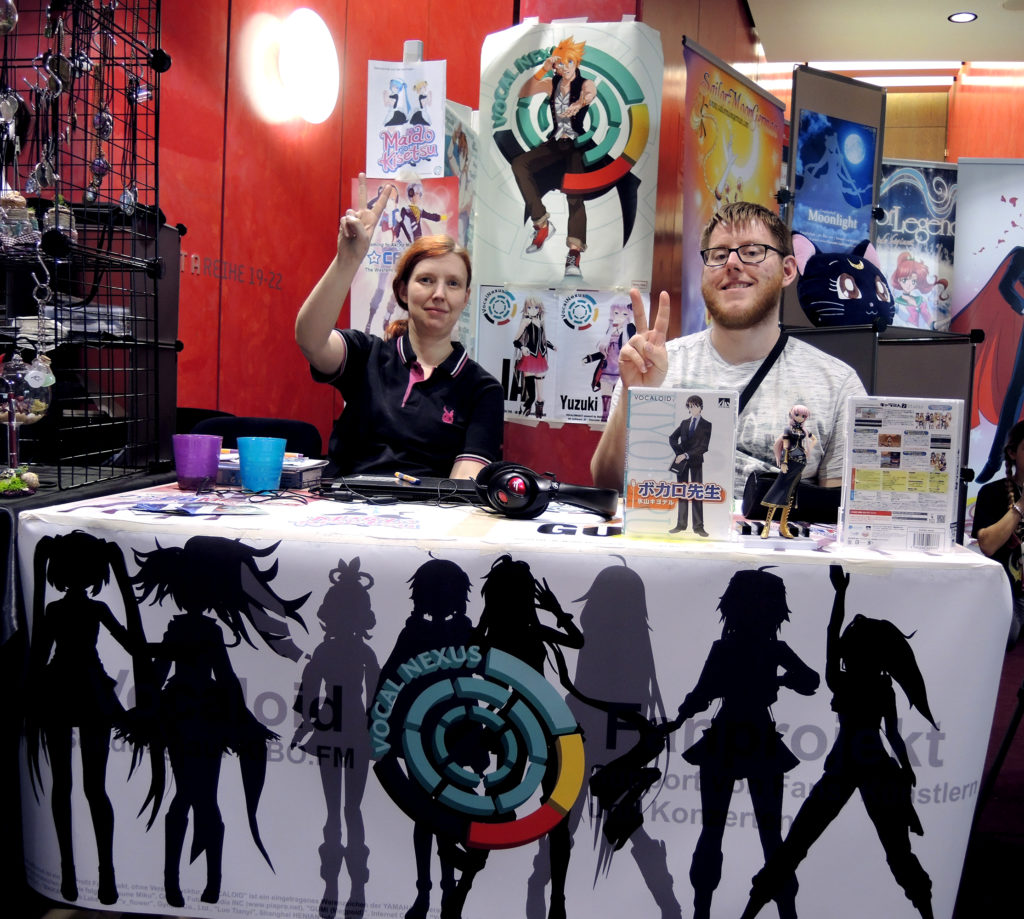 Our partners VocalNexus were present with a booth as well. While it was also VocalNexus' first time at Hanami, they used their chance to promote their projects. Fans had the opportunity to take a glimpse into Freaky Lulu's playlist, and listen to some VOCALOID music and some VOCAMERICA clips. You even had the chance to request your favourite VOCALOID song for the next radio broadcast at their radio show at Kibo.FM, but if you didn't realize this or got to the con, don't fret! You can still request a song before or during VocalNexus' future broadcasts on Sundays at 8 PM~10 PM (MESZ). Please note that VocalNexus' show and Kibo's page are currently only available in German.
Maid Café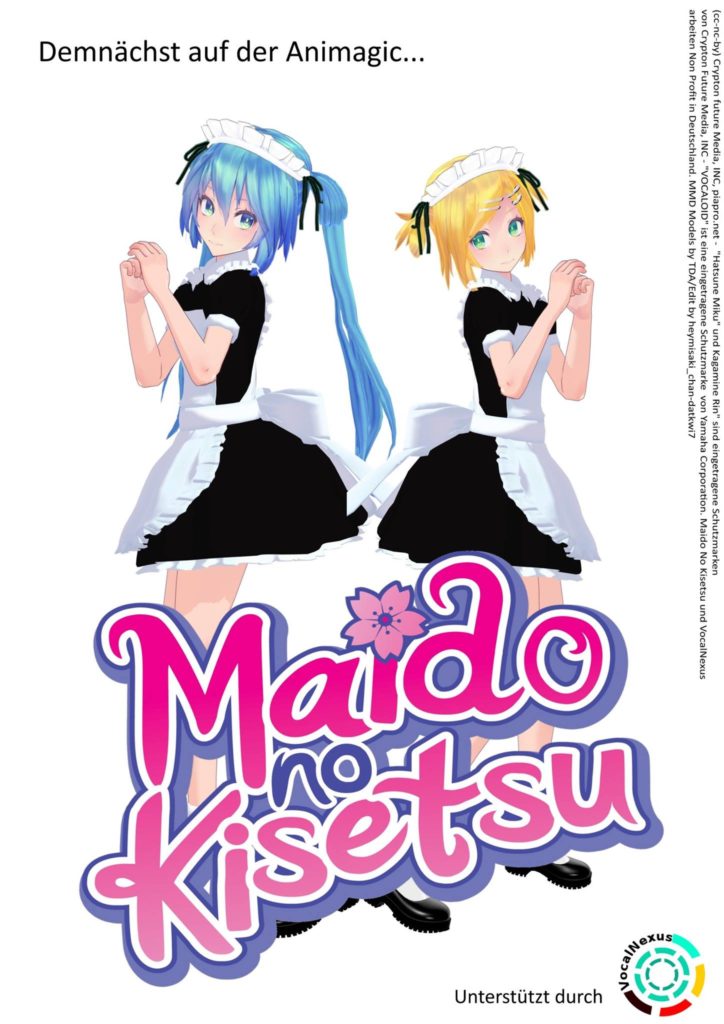 One of VocalNexus' upcoming projects is the Crypton VOCALOID collaboration maid café with Maido no Kisetsu, a group of volunteers organizing maid cafés for German cons, such as Hanami. This year, Maido no Kisetsu again hosted their Sailor Moon themed café in collaboration with SailorMoonGerman.
Even though it was not directly VOCALOID related, I dropped by and got in touch with VocalNexus to get some info of what we'll get for the VOCALOID café in August at AnimagiC 2017!
The maid café wasn't that different from other ordinary maid cafés. What made it so special for the visitors to wait hours in line to get in were the Sailor Moon themed snacks, drinks, and (of course) the cute maids dressed as the Sailor Scouts. The whole location was Sailor Moon themed with decorations, and every table was dedicated to a Sailor Moon character. Besides the normal drinks and food, guests were able to choose from special themed drinks of Sailor Pluto, Sailor Chibi, Sailor Uranus, and Sailor Neptune, as well as several "Sailor cupcakes." Angelina Paustian, who recently released her newest cookbook Manga Kochbuch Kawaii, created the dishes. Freaky Lulu from VocalNexus, Railgun, and I took the opportunity to taste some of the drinks and were thrilled by their taste. While we enjoyed our drinks, I got into a short conversation with Freaky Lulu about their plans for the VOCALOID café.
Cinzya: These drinks are really good! Will we get similar ones for AnimagiC as well?
Freaky Lulu: Of course! Angelina Paustian will provide recipes for our VOCALOID café as well. We want to offer special drinks of all the Crypton VOCALOIDs, but it will depend on Angelina for what she'll come up with.
Cinzya: So the café won't be only Miku-orientated?
Freaky Lulu: It may appear so, but every Crypton VOCALOD will be covered! This year is special because of Hatsune Miku's and Kagamine Rin & Len's 10th birthdays, so it's dedicated to them, but that doesn't mean it will be only centered around them! Since the location we will get at AnimagiC is pretty huge, we are planning to decorate separate corners with different Cryptonloid themes. So if you are fed up of Miku, you can simply chill at the Luka corner while being surrounded by her beauty, for example! Our great freelance artist, MiYuki, is hard at work illustrating our images!
Cinzya: That sounds great!
Freaky Lulu: Yes, we are all thrilled! To get the fandom more involved into our project, we also want to gather artwork of the Crypton VOCALOIDs from fans and offer some prices for our submissions! But I will announce more information about it soon!
Cinzya: We're looking forward to it!
Cosplay
Anime conventions aren't complete without cosplay! Although I saw many amazing cosplayers wearing costumes from anime and of game characters, there weren't as many VOCALOID ones. This is because Hanami is more anime-oriented. However, I was able to find several amazing VOCALOID cosplayers brimming with confidence. Check out the photos below!
We also want to give thanks to Railgun, partner of VocalNexus, for providing some of his pictures. Check out his page for more Hanami pictures!
Other Cons
If you are interested in visiting us at other cons, keep track of our con schedule!
Official Links
Railgun's Photography Page (German)