Are you one of the many who read VNN's unveiling of the VOCALOID Keyboard (hereafter "VKB-100"), and found yourself wanting one? If so, then you'll be pleased to hear that the keyboard is scheduled to be released next month on December 9th, 2017! What's more, there's a special bonus available for people who pre-order it now! Read on for details.
Trailer
First, to whet your appetite, check out the promotional trailer for the VKB-100 from Yamaha's YouTube channel! The featured song is "シンデレラベイビー (Cinderella Baby)," performed by Antenna Girl, POCO, Tobari Tsuda, Daisuke, Takuya Yajima, and Hatsune Miku's voice bank on the keyboard itself!
Keyboard Details:
No. of keys: 37
Keyboard type: HQ Mini keyboard
Sound Details:
Max no. of simultaneous sounds: 1 (VOCALOID voice bank), 48 (other)
Max no. of supported voice banks: 5 (comes with 1)
Max no. of saved lyric files: 20 (comes with 5*, which can be deleted and replaced)
Sound effects: Reverb, Distort, Chorus, Tremolo
*The 5 built-in lyric files are for "Senbonzakura," "Ama no Jaku," "Asu no Yozora Shoukaihan," "Chururira Chururira Daddadda!" and "Cyber Thunder Cider"
Functions:
Lyric functions: Loop, Repeat Phrase, Transmit Phrase, Cueing, Recover
Memory set: 20
Other functions: Transpose, Octave Shift, Bluetooth
Main Buttons/Switches:
Pitch-bending wheel
Expression-changing wheel
Effect knob
Selection knob
Selector slide
Transpose button
Phrase button
Memory button
Skill button
Octave button
Loop button
Master volume knob
Display:
Connection Terminals:
DC In (12V)
Headphone (3.5mm stereo mini phone jack)
LINE OUT (6.3mm monaural standard phone jack)
AUX IN (3.5mm stereo mini phone jack)
USB to Host
USB to Device
Amp/Speaker:
Amp output: 0.7W x 1
Speaker: 3.6cm x1
Power Source:
Power adapter: PA-150 B (or a Yamaha-endorsed equivalent)
Batteries: AA alkaline or rechargeable NiMH batteries x6 (sold separately)
Electric consumption: 7W (when using a PA-150 B adapter)
Life-span: about 7 hours (when using alkaline batteries)
Powers off automatically when not used
Size:
821 x 121 x 65 mm (about 32 x 5 x 3 in)
Weight:
Also in the package:
Instruction manual
Power adapter
Warranty card
Price:
The VKB-100 will not have a set universal price, leaving it up to each individual store to decide their own retail price.
Some research has shown that most stores that are currently accepting pre-orders are selling the keyboard at a price within the range of ¥35,000 to ¥37,000 JPY (about $308 to $326 USD), excluding tax.
To recap, the keyboard will come with VY1's voice bank built in, and owners can then download an additional voice bank from Hatsune Miku, GUMI, IA, or Yuzuki Yukari for free. Any additional voice bank after that, however, will have to be purchased for ¥2400 JPY (about $21.00 USD) each. You can listen to samples for each of them below and on the official product page.
However, those who pre-order the keyboard between now and December 8th can receive a gift code for ¥2400, enough to purchase an additional voice bank! Here's how to do so:
Step 1: Pre-order the VOCALOID Keyboard VKB-100
Some known online stores that are currently accepting pre-orders for the VKB-100 are as follows:
Please note that the asking price varies from store to store. Individual research is encouraged, as is use of a proxy service for those who are experienced at using them.
Step 2: Registering for the Gift Code, November 3rd ~ December 8th
Click here to access the registration page, and fill out the following information: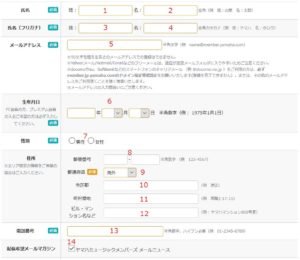 Last name
First name
Last name in katakana (We suggest using a name converter if you do not have a Japanese name)
First name in katakana
Email address
Birth date (in year-month-day format)
Gender (left option is male, right option is female)
Postal Code (optional)
Prefecture (select the last option, 海外, if you live outside of Japan)
Street name (optional)
House number (optional)
Building/Apartment complex/Etc. name (optional)
Check if you wish to subscribe to Yamaha's newsletter (optional)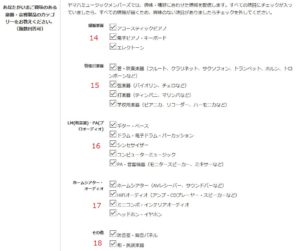 Music products that you are interested in receiving more information on (optional)
14. Keyboard Instruments:
Acoustic Piano
Electronic Keyboard
Electone
15. Wind and String Instruments
Wind Instruments (Flute, Clarinet, Saxophone, Trumpet, Horn, Trombone, etc.)
String Instruments (Violin, Cello, etc.)
Percussion Instruments (Timpani, Marimba, etc.)
Instruments for School Use (Pianica, Recorder, Harmonica, etc.)
16. Light Music, Pro Audio Equipment
Guitar, Bass
Drums, Electronic Drums, Percussion Drums
Synthesizers
Computer Music
Audio Equipment (Monitor Speaker, Mixer, etc.)
17. Home Theater and Audio
Home Theater (AV Receiver, Sound Bar, etc.)
HiFi Audio (Amp, CD Player, Speaker, etc.)
Mini Combo, Interior Audio
Headphones, Earphones
18. Other
Soundproofed Room, Tuning Panel
Far East / Traditional Instruments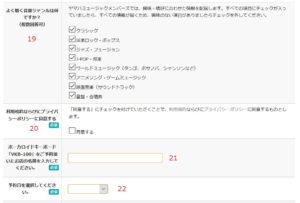 19. Music genres that you listen to the most (optional)
Classical
Western Rock, Pop
Jazz, Fusion
J-Pop, Japanese Music
International Music (Tango, Bossa Nova, Chanson, etc.)
Anime Songs, Video Game Music
Movie Soundtracks
Children's Music
20. Terms of Use and Privacy Policy (Check to agree)
21. Name of the store (online or otherwise) where you pre-ordered the VOCALOID Keyboard
22. Select your pre-order date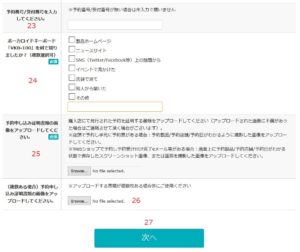 23. Enter your pre-order number (leave blank if you don't have one)
24. Answer the question "How did you first learn about the VOCALOID Keyboard?"
Product page
News site
Social media (Facebook, Twitter, etc.)
Saw it at an event
Saw it in a store
Heard about it from an acquaintance
Other (please specify)
25. Upload images of your pre-order documents as proof of pre-order
If you pre-ordered the keyboard online, you are encouraged to upload a screenshot or photo of the pre-order confirmation email that shows the product name, store name, and pre-order date.
26. Upload additional images (if more are needed in order to provide the above information)
27. Next page

28. Confirm that all of the above information is correct, then complete registration
Step 3: Register Your Serial Number, December 9th ~ December 18th
After the VKB-100 is released on December 9th and arrives at your doorstep, Yamaha will send an email to those who have successfully registered for the gift code. In that email will be a URL to an online form that you must fill out with your keyboard's serial number. You can find the serial number printed on the bar code sticker on the underside of your keyboard. Warning: If Yamaha determines that the store where you purchased the VKB-100 from is different from where you reported pre-ordering it from, they will cancel your registration.
Step 4: Receive Your Gift Code for ¥2400
Properly complete all of the above steps, and Yamaha will issue you your ¥2400 gift voucher via email some time around the beginning of January, 2018!
Trial Parties
Now that the release of the VKB-100 is less than a month away, Yamaha has planned various trial parties all this month across Japan for members of the public to come and try the keyboard out for themselves! See each confirmed event's location, date, and details below:
The VKB-100 will also be on display at numerous music store locations all across Japan. Click here for each location.
Already, we're seeing some impressive displays at these and many other VKB-100 trial events and concerts. Check out the VOCALOID Keyboard official twitter account for more!
イオンモール船橋にて体験会始まりました!みなさまお待ちしてます! pic.twitter.com/ZmBmU7N5Tn

— VOCALOID Keyboard (@vocaloid_key) November 5, 2017
The trial party at AEON Mall Funabashi has begun! We'll be waiting for you there!
11/11開催の大人の文化祭Newtown『アニソン座談会』出演者のミトさん、オーイシマサヨシさん、[email protected]さんも『DTMでしかできなかったボカロが、 #ボカロキーボード を使うと簡単そしてリアルタイムに歌わせる事ができる!』と盛り上がりました! pic.twitter.com/2Kp1NyKHU7

— VOCALOID Keyboard (@vocaloid_key) November 12, 2017
We're fired up for the "Anime Song Symposium" on 11/11 where mito, Masayoshi Oishi, and [email protected] will be showing us how, through the #ボーカロイドキーボード, VOCALOIDs can be used for so much more than just desktop music, and can be used to perform and sing in real-time!
【入場無料】
「新世界★虎の穴 課題授業 meets #ボーカロイドキーボード」
11/12(日)新津由衣&AZUMA HITOMI

当日が楽しみになる、インタビュー記事を公開!https://t.co/j09bgK2cWJ
予約?https://t.co/HxgGMkh7Tz pic.twitter.com/QrgTqoQ5Q5

— NEWTOWN / 大人の文化祭! (@newtownfes) November 6, 2017
Free to attend:
"New World★Tora no Ana Extracurricular meets #ボーカロイドキーボード" with Yui Niitsu and Hitomi Azuma on November 12th
Our interview with them is now up to get you looking forward to the big day! https://www.cinra.net/interview/201711-neatsyuiazumahitomi
【ステージ告知】※拡散嬉しいです
2017年11月18日高田馬場のTCCで
ボーカロイドキーボード演奏をまたさせて頂けることになりました(∩˃o˂∩)♡キャー
今回もバックでカッコよく踊ってくれるゲスト様がいます✨
練習頑張りますので、是非イベントに遊びに来て頂けたら嬉しいです? pic.twitter.com/IKloA5KYfq

— Lenya?11/11立川18高田馬場 (@Ichinose_Lenya) November 2, 2017
I'll be performing with the VOCALOID Keyboard at the Tokyo Cosplay Collection in Takadanobaba on November 18th, 2017! (∩˃o˂∩)♡ Kyaa!
There will be special guests present and serving as backup dancers this time as well✨
I'll be practicing my hardest, and would be honored if you all could come watch us perform?
Stay tuned to VNN as more information on this exciting new product is revealed!
Information Source
VOCALOID Keyboard Official Site
VOCALOID Keyboard Pre-order Site
VOCALOID Keyboard Product Page
VOCALOID Keyboard Official Twitter