This week was so packed with VOCALOID news, I was two days late getting the article out this time… here's your VOCALOID (mid)week in review!
Miku News
Hatsune Miku Magical Mirai 2016 to Be Held September 9~11th at Makuhari Messe International Exhibition Hall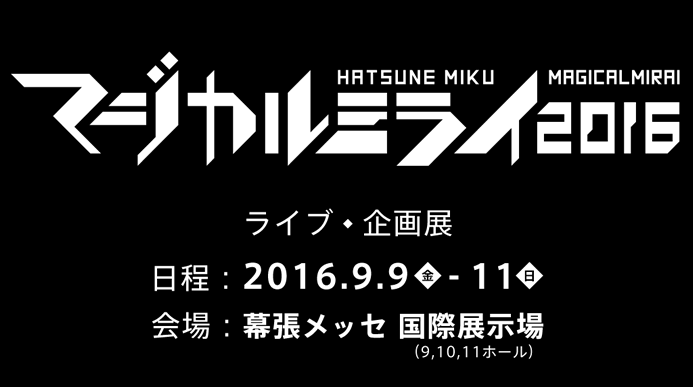 The latest news update for Magical Mirai 2016 has announced the event dates and location! Start setting your travel plans as the event will take place at Makuhari Messe International Exhibition Hall in Chiba, Japan, between September 9th and 11th. Read more at Mikufan.com
Hatsune Miku Expo 2016 Announced for Houston, Texas, and Monterrey, Mexico, Plus More Mexico City Show Times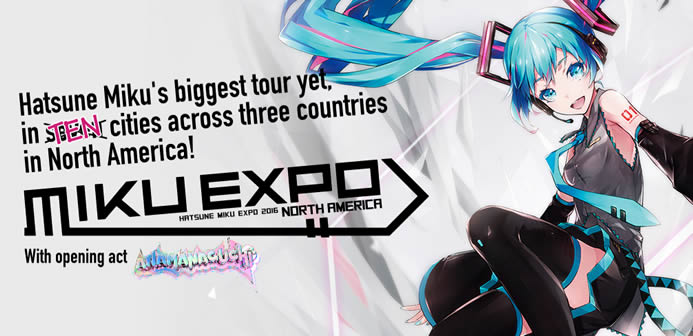 Hatsune Miku's 2016 tour across North America isn't finished with announcements yet! Two all-new locations have been confirmed: Houston, Texas, and Monterrey, Mexico! This brings the total North America city tour count to ten. Two more show times were also announced for Mexico City. For showtimes and ticket information, see Mikufan's article.
Hatsune Miku: Project Diva X Launches Tomorrow for PS Vita! Game Demo and DLC Available Day 1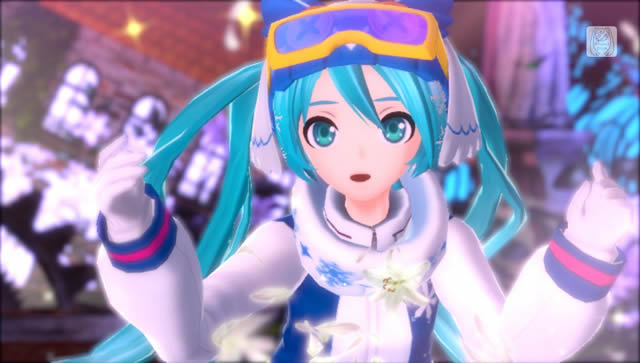 It's just one more day until Hatsune Miku Project Diva X launches in Japan (March 24th, JST), so it's now or never to choose if you want to preorder to receive the extra bonuses! On top of the Aime game card featuring artwork by KEI, preorders will also include a DLC code for the AIR DO collaboration module "CA Style A", which gives Miku a flight stewardess outfit (which is gorgeous!). The code is good for 39 days after the game release. A version with twintails called "CA Style 39" will be a famitsu-exclusive benefit via a DLC code included in the April 7th edition magazine (releasing on March 24th). Read more at Mikufan.com.
Project Diva Future Tone PS4 Version To Be Split Into Two Versions Totaling 220 Songs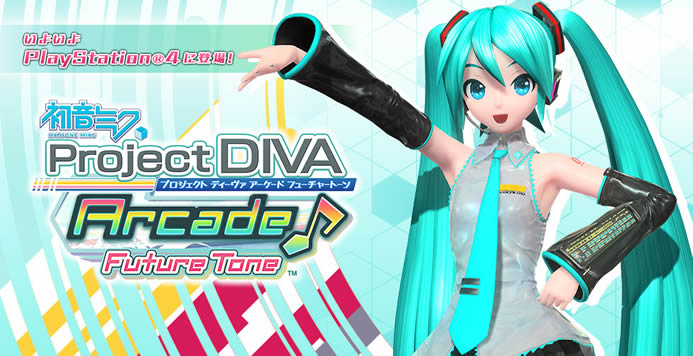 News of Project Diva Arcade: Future Tone's PS4 port (simply known as Project Diva Future Tone) has been quite for the past while, but an update today from Famitsu Magazine reveals the game will launch in two versions with new titles, which can be combined to create a total of 220 songs and 340 modules. Each "half" of the game can be purchased and played independently, while the second half can be purchased later if desired as an "add-on". Read more at Mikufan.com.
Miku (and Crypton) Merch News
Piapro Character Themed OMAKASE Box Item Revealed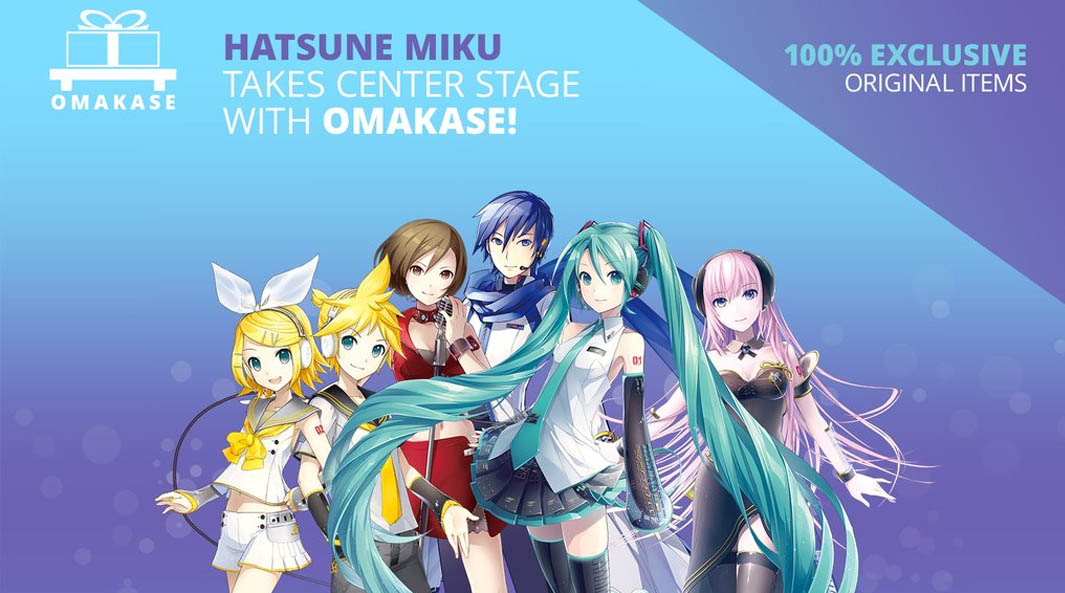 The Piapro character themed OMAKASE box by Viewster is set to go out on the 25th with subscriptions ending on the 23rd. Two awesome items have been revealed so far as well as all the artists who will participate. Check out the article for the scoop! (Spoiler: There's a Miku t-shirt and a Kagamine colored belt.) Read more here.
MIKU-Pack Vol. 18: Illustrations, Manga, Snow Miku Festival 2016 Report, and More Now Available!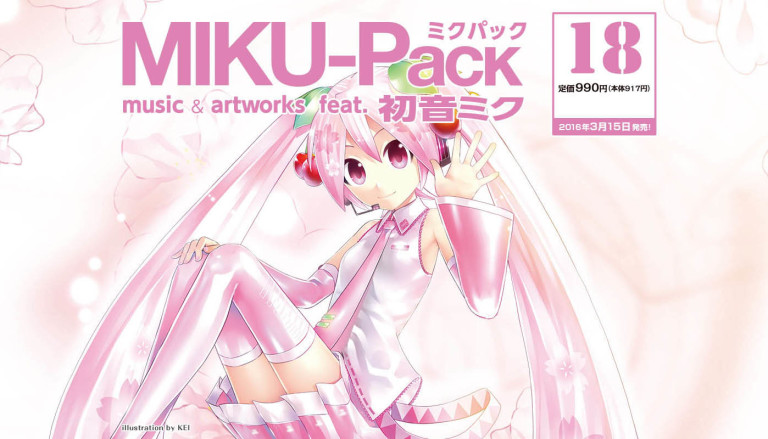 MIKU-Pack volume 18 has been announced! This month's issue features a wide range of contents from Sakura Miku's history, the Snow Miku festival 2016 report, illustrations by KEI, a Senbonzakura novel, to VOCALOID manga by various artists. For more information on what the magazine includes, as well as pictures and how to get the magazine, check out Mikufan's article.
Cheero × Hatsune Miku Portable Battery Can Soon Cheer up Your Low Battery Woes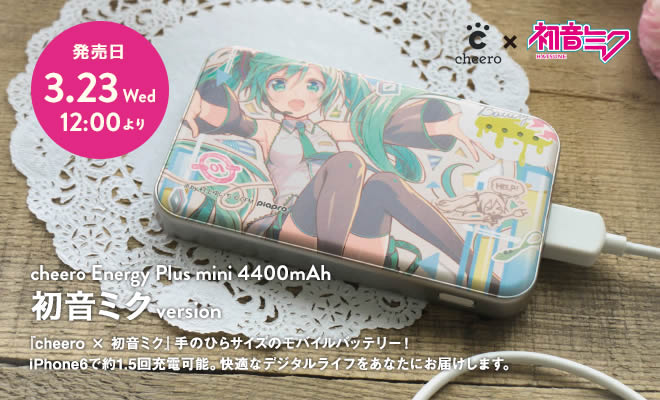 Batteries in phones these days just don't seem to last as long as they used to, so portable battery packs have become common place for many people who use their smartphones frequently. But what about for the avid Hatsune Miku fan? Cheero has announced an official collaboration battery pack that will likely fit your style. Interested in getting one for yourself? Check out Mikufan's article for more info.
Nendoroid Petite: Hatsune Miku Renewal – Preorders Open!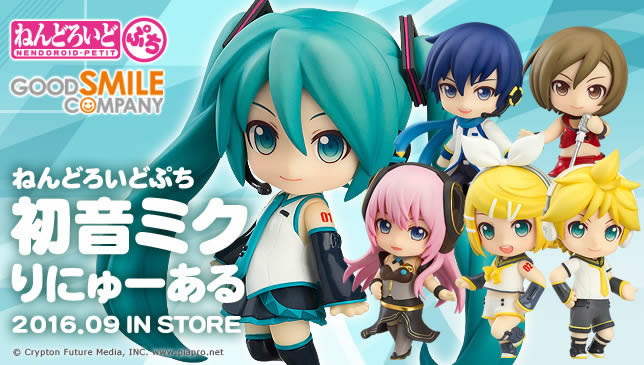 The anticipated "renewal" of the Cryptonloid petite series is here! With "Nendoroid Petite: Hatsune Miku Renewal", the petite for each character has a fresh look with their more modern VOCALOID 3 & 4 outfits. Read more at Mikufan.com.
GSC's Sakura-Con 2016 Hatsune Miku Figure Sales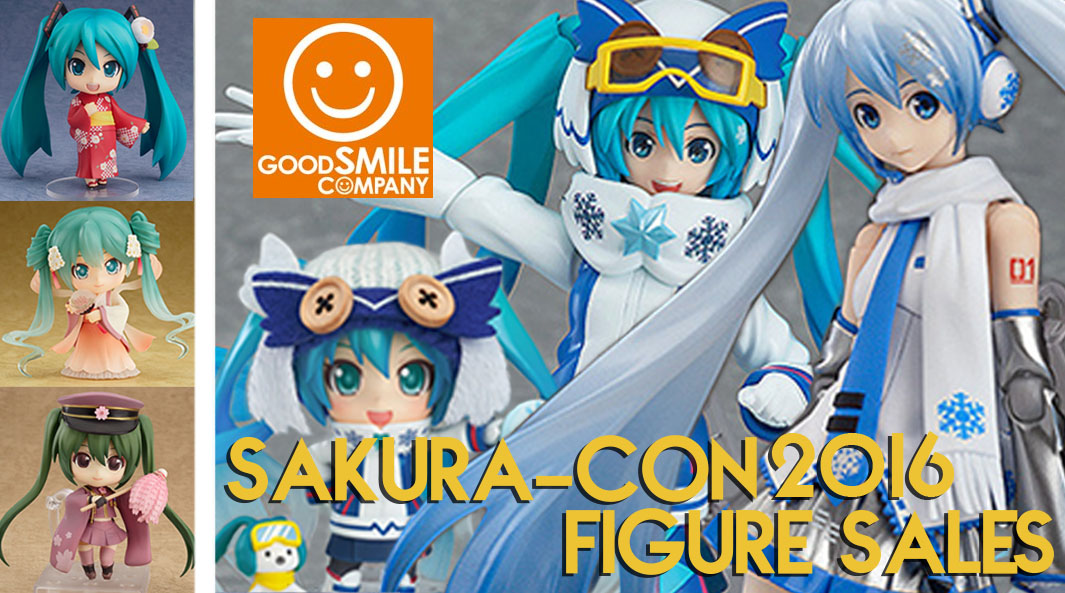 Good Smile Company recently announced over on Mamitan's blog some of the figures that they will be selling at Sakura-Con 2016. As always, they have a limited but good selection of figures available for purchase, which includes some Hatsune Miku figures. As of right now, a total of six Hatsune Miku figures (two figmas and four Nendoroids) will be for sale at Sakura-Con 2016. If you plan to be at Sakura-Con or know a friend who will be, be sure to check out our article so you know what figures will be available!
Yuzuki Yukari and AHS News
AHS "Songs Love" Concert Footage Released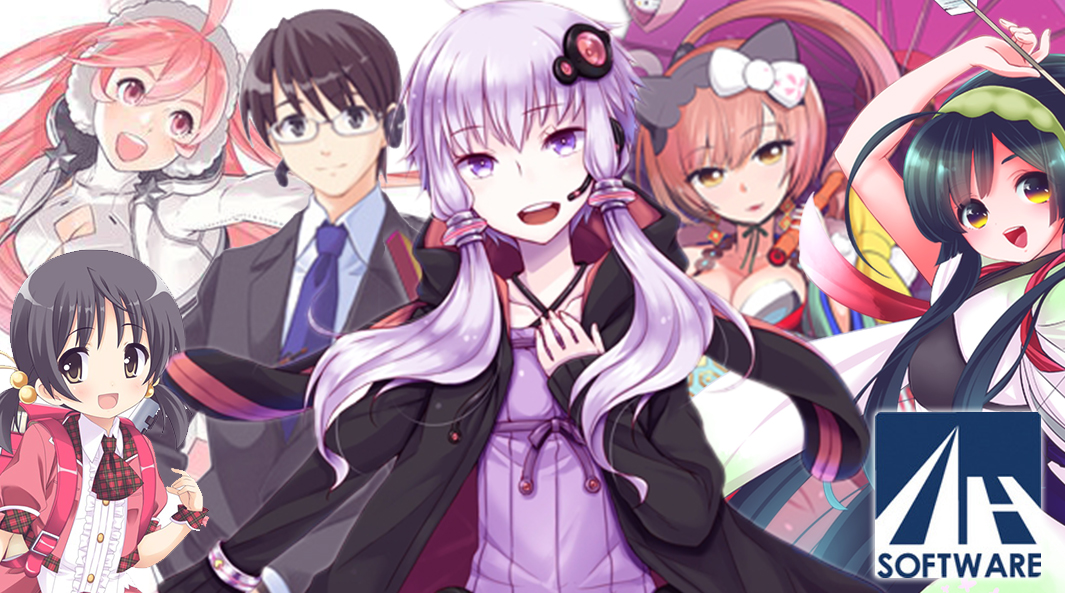 Recently, AHS released a video with commentary on their live stream channel showcasing the AHS "Songs Love" concert they hosted featuring the AHS VOCALOIDs. As mentioned in a previous article, on Febuary 28th 2016, AHS held a live VOCALOID concert titled "Songs Love" in Japan. The concert featured all of the AHS VOCALOIDs and took place at Kawasaki City Industries Promotional Hall in Kanagawa. For screenshots as well as a link to where you can watch the released footage, see out article here.
Mamama Yuzuki Yukari MMD Model Released!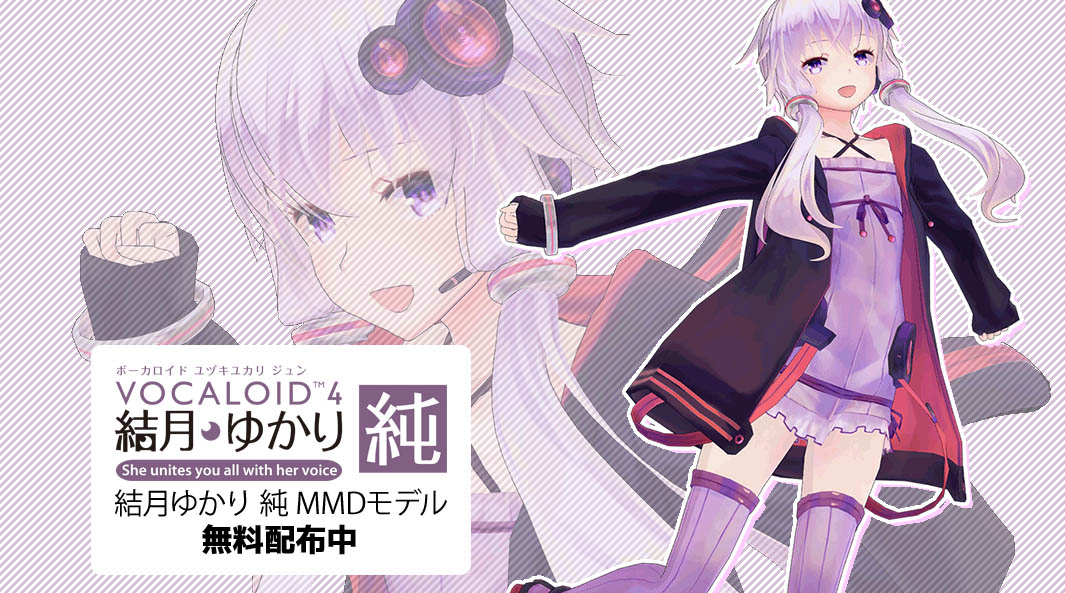 After being teased in a previous live stream filled with Yuzki Yukari items, the much awaited Mamama Yuzuki Yukari MMD Model has finally been released! The model is available as a free download on Bowlroll. For terms of use and where to download the model, please see our article.
Macne Nana Teaser Website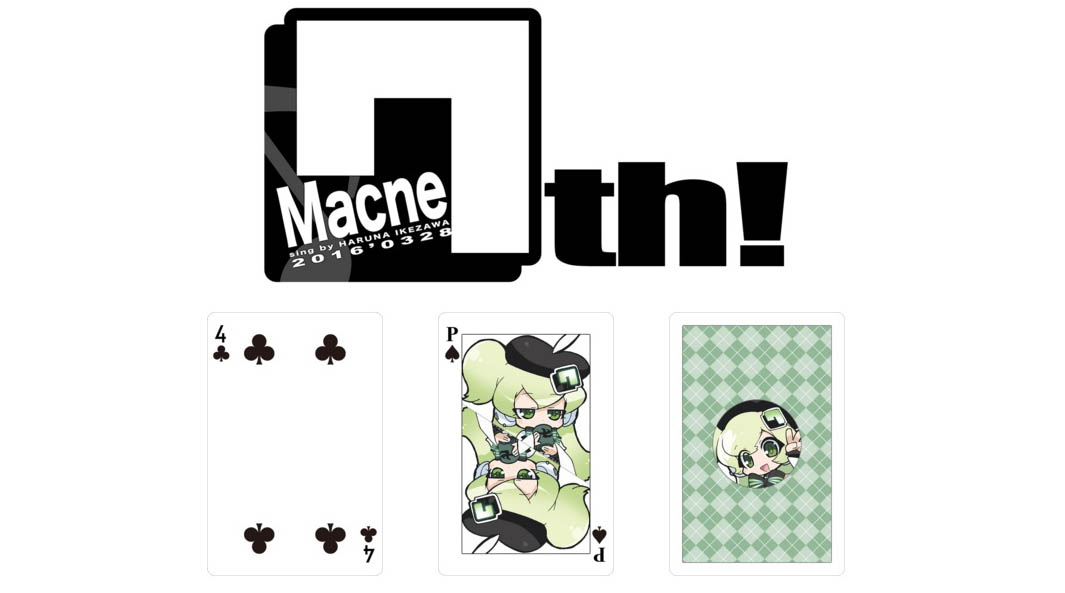 A Macne Nana teaser has taken over macne.net. At the moment, the page is "Loading" with cards being revealed at certain intervals. These cards are said to hint at something special. With the "4" card revealed, some fans are speculating a Macne Nana VOCALOID 4 update. The second card appears to be a "P of aces". While not an actual card, perhaps the suits have something to do with the hints? We're still guessing.
This week actually saw two articles concerning the Nana teaser website. For the first one which describes what's going on, see here. The second one, which describes theories around the second card, can be found here.
Zero-G VOCALOID Sale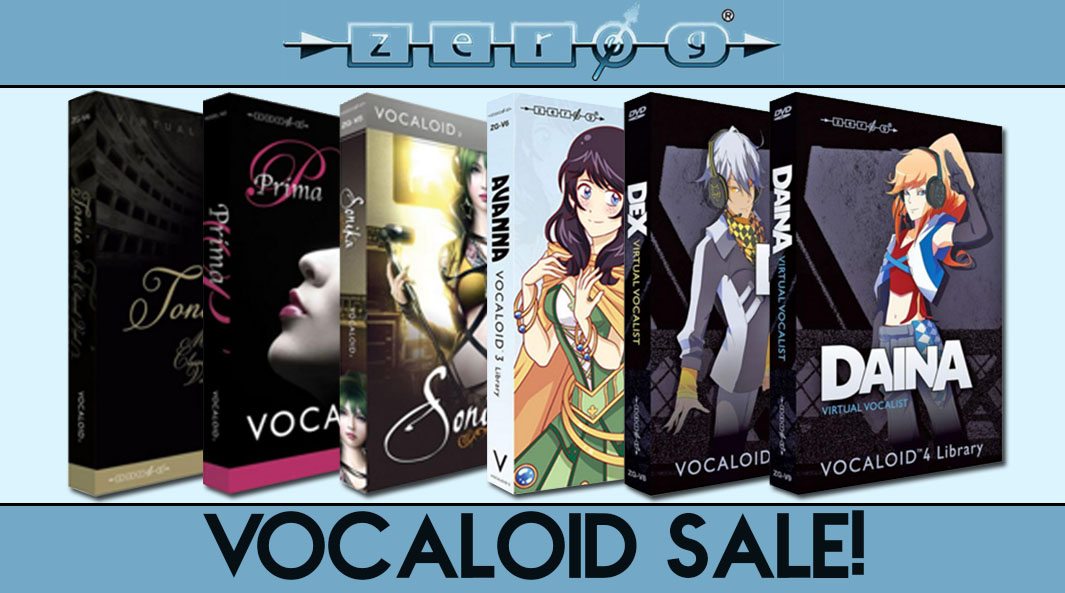 Zero-G, the company most recently known for creating the VOCALOID 4 voice banks Dex and Daina, has announced recently that all of their VOCALOID titles are now on sale! This Zero-G VOCALOID sale marks the lowest prices that these VOCALOIDs have ever been. If you're looking to buy a good quality English VOCALOID, now is your chance! Pricing as well as demos of all the VOCALOIDs and more information can be found in our article.
Stardust Collaboration With "MUSYNC" Is Now Available on Latest Update!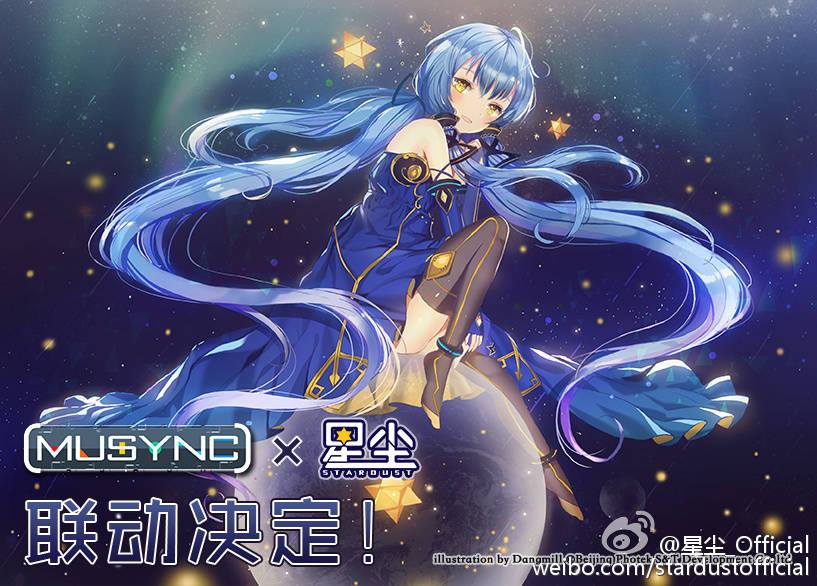 One of the songs from Stardust's album collection "Twinkle Star" is now available on the mobile rhythm game MUSYNC! This Stardust collaboration with MUSYNC promises to bring us lots of great content in the future. See our article for more information.