After a successful Kickstarter campaign and first concert, the VOCAMERICA merchandise shop opened up. But now EmpathP is giving fans a more direct way to not only support the concert project but also to score merchandise before regular fans. As an added bonus, the VOCAMERICA Patreon even has the official concert MMD models up for grabs.
Why Patreon?
Up until this point, VOCAMERICA's production has been entirely funded through EmpathP. However, the continued need for funds to continue the production of this project has reached a point where it is no longer possible for EmpathP to fund by herself without help.
By supporting this Patreon, you will gain access to exclusive sneak-peeks, previews, music, and merchandise which will otherwise not be shared with the public.
This Patreon account will be going to fund three major things:
The production of VOCAMERICA concerts which includes but is not limited to: payments for VOCAMERICA staff, acquisition of newer components for the concerts such as better lighting and projection equipment, manufacturing of VOCAMERICA exclusive merchandise, etc.
Traveling expenses to out-of-state conventions and events (hotels, gas, food, etc.)
Daily living expenses for EmpathP when/if needed
What is Patreon?
Patreon is a platform that allows artists to be paid for their works, usually on a monthly subscription service basis. However, it can be cancelled as well should you not have the funds to continue. Fans pledge a set amount of money to pay the artist each month and the money is directly sent to them, helping to fund their projects. In return, fans receive exclusive perks from previews of current projects to even actual merchandise.
VOCAMERICA Patreon Goals
$1,000: At $1,000, VOCAMERICA will be able to add two additional songs to one of their upcoming shows. This money goes directly to paying their choreographer, motion tracer, and facial animators.
$2,500: At $2,500, VOCAMERICA will add a new Western synthesizer (VOCALOID or UTAU) to their program. This idol will be featured in concert and receive official VOCAMERICA exclusive songs written for them.
$5,000: At $5,000, VOCAMERICA will have the money they need to get their next round of projection AND motion capture equipment. They will also use this money towards lights, and background projection equipment and animations.
Pledge Tiers
$1 or More Per Month (Digital Rewards #1)
Access to all online updates, including previews of VOCAMERICA's concert models, choreography videos, work-in-progress animations, and more!
In addition, on behalf of Empathy Studios, your name will be featured in the "Special Thanks" section of all YouTube song/video releases, as well as all future physical CDs produced.
$5 or More Per Month (Digital Rewards #2)
The previous reward plus receive HQ WAV karaoke and VSQx files of any new songs produced through Empathy Studios (karaoke of old songs can be requested via private message or email).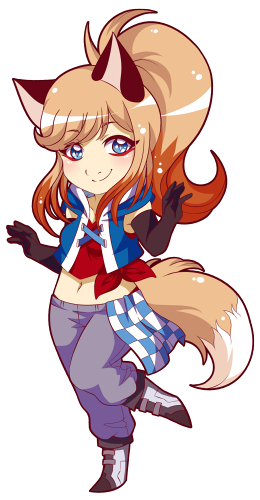 $10 or More Per Month (Digital Rewards #3)
All previous rewards, plus one HQ download of any Empathy Studios digital album.
$25 or More Per Month (Copper Rewards)
All the previous digital rewards, plus a bi-monthly (once every two months) physical rewards package containing Empathy Studios or VOCAMERICA merchandise equivalent to a $20 purchase (includes a $5 shipping and handling fee). Merchandise will be selected at random.
$50 or More Per Month (Silver Reward)
All the previous digital rewards, plus a bi-monthly (once every two months) physical rewards package containing Empathy Studios or VOCAMERICA merchandise equivalent to a $45 purchase (includes a $5 shipping and handling fee).
$100 or More Per Month (Gold Reward)
The previous Silver Package rewards, plus a special digital download bonus of the VOCAMERICA exclusive MMD models. This includes any future singers we may include for future events.
$500 or More Per Month (Diamond Reward)
All the previous rewards from the Golden Package, plus receive coverage of your badge and an early access pass for any future VOCAMERICA concerts. Whenever VOCAMERICA has a new concert and you are able to attend, they will purchase your convention badge for you, and you will be given early entrance to the show before it begins to meet EmpathP and her crew. (Please Note: This reward does NOT cover travel or lodging expenses.)
Where to Pledge
You can pledge at VOCAMERICA's Patreon here. Remember that the payment is monthly and not a one-time thing like Kickstarter was!
More Information
You can find more information about VOCAMERICA here.
Feel free to follow EmpathP on Facebook and Twitter for updates as well.
However, subscribing to the Patreon will definitely be the way to get most of your VOCAMERICA news! The lowest pledge is only $1 USD a month, so there's no large burden on fans. Be sure to subscribe today!