VOCALOMAKETS – the creators of Yuzuki Yukari – and AHS Co., Ltd. have just announced a new character in their VOICEROID2 lineup, Kizuna Akari! Read on to learn all that we know about her so far.
Character Profile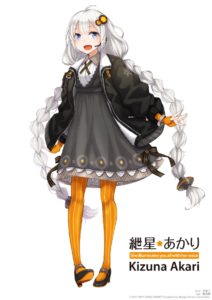 Name: Kizuna Akari (Japanese: 紲星 あかり or 紲星 灯)
Birthday: December 22nd
Age: 15
Height: 151cm (about 5 ft)
Official Illustrator: Juu Ayakura
ゆかりさんに引き続きキャラクターイラスト描かせて頂きました。よろしくお願いします!>
新キャラクター「紲星あかり(きずなあかり)」発表! https://t.co/yQPfMFi5EE

— 文倉十 (@haino) November 30, 2017
"I was given the honor of illustrating the follow-up character to Yukari-san. I hope you like her!>
Announcing the new character, "Kizuna Akari!" http://www.vocalomakets.com/blog/archives/1003"
Etymology
Akari's surname, "Kizuna" (紲), literally means "bonds" or "connections," much like Yukari's name. However, the way that it is written as her surname literally means "connecting stars" (紲星). Meanwhile, her given name, "Akari" (灯), literally means "light" or "illumination". While Yukari is themed around the moon, Akari is themed around stars, continuing the trend of celestial body motifs for VOCALOMAKETS characters.
VOCALOMAKETS explained on their official blog that her name is meant to mean "縁で結ばれた人達(星)との紲を灯で照らす (En de musubareta hito-tachi (hoshi) to no kizuna o akari de terasu)", which translates to "Using light to illuminate the bonds between people (stars) who are connected through fate." If that seems a bit long to remember, then don't fret, because VOCALOMAKETS has come up with a much shorter official English motto for Kizuna Akari that goes "She illuminates you all with her voice."
Demo
You can try out a demo for Akari on her product page here.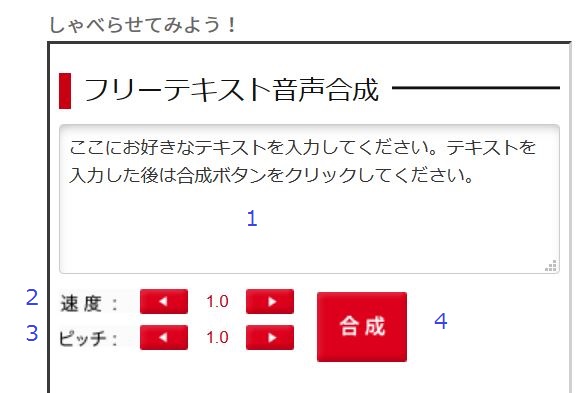 Enter text here
Control speed
Control pitch
Synth and play
Product Information
It has been announced that "VOICEROID2 Kizuna Akari" will be released on December 22nd, 2017 in both physical box form and in digital download form.
The AHS press release explains that Akari's voice is based off that of a cheerful young girl with a soft and cute voice. Because she is usable with the VOICEROID2 editor, you can edit each individual sentence however you like, and even have her interact with other VOICEROID-compatible products, such as Tohoku Kiritan, Kotonoha Aoi and Akane, Tsurumaki Maki, and more.
Furthermore, "VOICEROID2 Kizuna Akari" will come bundled with the music creation software, "Music Maker Silver," the character animation software, "Charamin Studio (90-day Trial Version)," and the video editor, "Video Easy SE." Therefore, just by purchasing her product, users will have everything that they will need to create their own videos.
"VOICEROID2 Kizuna Akari" is available for pre-order on the AHS Store here for ¥11,858 JPY (about $105 USD). The AHS Store is also offering her product at a slightly discounted price for individuals who already own other AHS products, and who are registered members on the AHS community website. The reduced price version of "VOICEROID2 Kizuna Akari" can be pre-ordered here for ¥10,778 JPY (about $96 USD).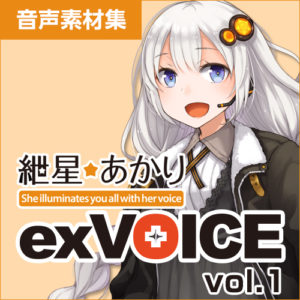 Alongside her VOICEROID2 product, AHS will also be releasing "exVOICE Kizuna Akari vol.1" on December 22nd, 2017, for download only. This product is a collection of 1021 voice samples for Akari. Unlike her VOICEROID2 product, voice samples from "exVOICE Kizuna Akari vol.1"  can be used for commercial purposes. Users can combine these voice samples to add an amazing level of expression to their works. It will be priced at ¥1,980 JPY (about $18 USD), excluding tax.
Finally, VOCALOMAKETS has confirmed that they are also developing Akari's VOCALOID version. They will be revealing her voice provider after her VOCALOID bank is released at a currently unconfirmed date.
On the evening of Akari's announcement, BumpyUrushi, ChomP, KagomeP, and azuma all made special guest appearances on episode 127 of the AHS Livestream to introduce and further explain Akari and her software.
BumpyUrushi explains that whenever VOCALOMAKETS creates a new product, they typically start with the character voice, holding auditions to determine the voice provider. It's only after the voice bank is recorded and complete that they then move on to character design, and ask Juu Ayakura to create a character that would seem suitable for the voice. Finally, once both the voice bank and character design are finalized, they come up with the name for their new product as the final step. They take great care to make sure that the voice, the design, and the name all fit the character well in the end, deciding as a group at each step along the way. This was how Yukari was created, and Akari's development followed suit.
They further explained that while Yukari has a more mature and grown-up voice, Akari was made to have a younger and cutesy voice, one that BumpyUrushi specifically said that he can imagine saying "Gimme my allowance!" As for how she's related to Yukari, ChomP says that they'll leave that up to fans; she can be thought of as a sibling to Yukari, or as a fan of Yukari's who follows her closely (and thus dresses like her), or anything that fans want. Concerning how Yukari and Akari share the same birthday, December 22nd, BumpyUrushi swears that it is "just a coincidence." He also confirmed that on Sunday, December 17th, there will be a special birthday celebration held for both Yukari and Akari. Details are currently scarce, save that VOCALOMAKETS is planning on making a slideshow of Akari fan art on the big day. They would like artists who draw Akari artwork to upload and tag their works with "VM生使用可" or "AHSとVM生使用可" on their chosen site (Twitter, Niconico Seiga, etc.) for them to find and present at the birthday celebration.
During the livestream, one amusing question that came up was whether or not we will someday see Kizuna Akari goods and apparel. To this, Less Kitayama of MARS16 responds that he would like to make a Kizuna Akari jacket someday soon to sell. However, that suddenly got the VOCALOMAKETS crew realizing that they never thought about what the back of Akari's jacket looks like! This means they have some more planning to do before we see any Kizuna Akari merchandise and apparel get made.
You can watch the entire livestream here for these and more sneak peaks at Kizuna Akari's products, such as a demonstration of her VOICEROID2 software at 50:06, and some of her exVOICE samples at 56:12.
Information Source
VOCALOMAKETS Blog
AHS Official Press Release
VOICEROID2 Kizuna Akari Product Page