At long last, Kagamine fans can bask in the glory of a full Kagamine Rin and Len 10th Anniversary celebration. They've received an illustration to match the Miku 10th illustration by KEI. In addition, the Kagamine 10th website also features two previously reported on albums as well as news of special events to help celebrate the special 10th birthday of the duo.
The Website
Just like the website Miku got for her 10th, there's a lot in store for fans who visit the Kagamine 10th website. Fans can check out the latest Rin and Len 10th news, view the beautiful 10th Anniversary illustrations, and check out the gallery devoted to their 10th as well. Be sure to check it often as it's sure to update frequently! The galleries have more art "Coming Soon" and there's sure to be more Kagamine 10th news in the works.
You can find the official website here.
The Illustration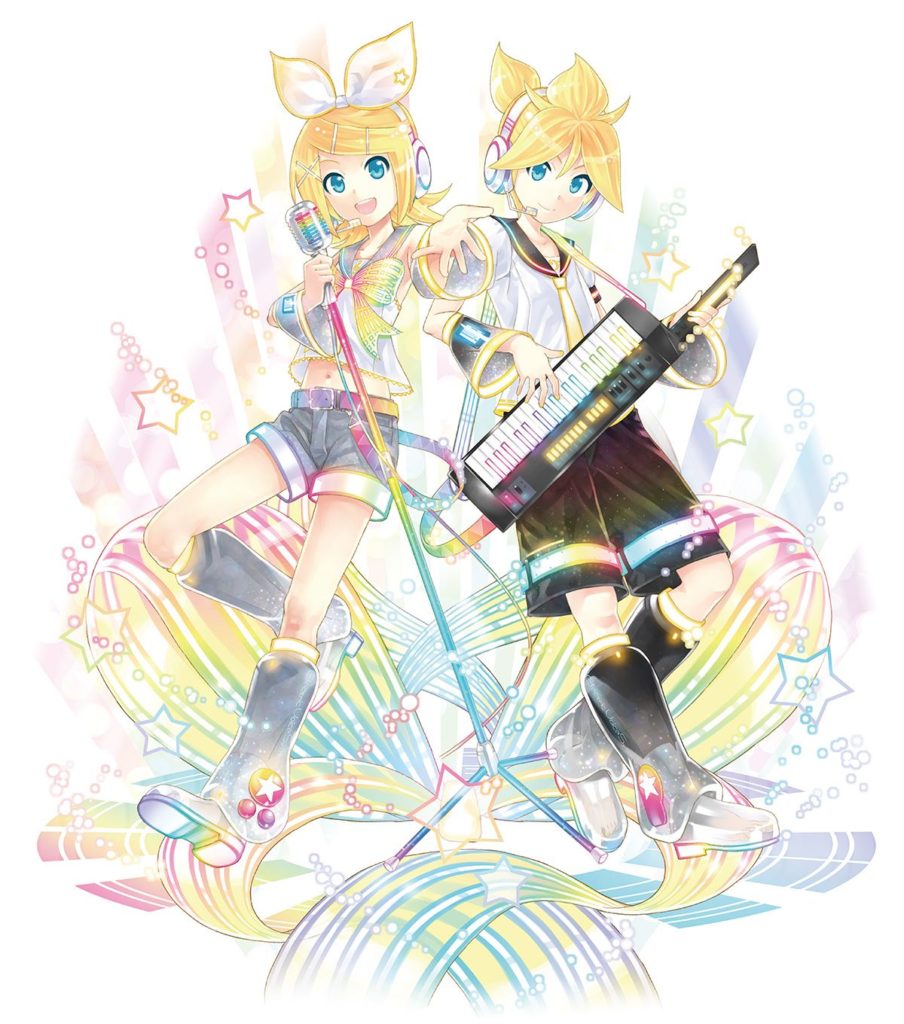 As mentioned previously, the Kagamine 10th illustration is drawn by KEI. KEI is not only the original illustrator of Miku, Rin, and Len, but also returned to the spotlight for Miku's 10th. And now he's returning to create a matching illustration for the CV02 VOCALOIDs!
Just like Miku, Rin and Len are depicted as cheerful and they're covered in illuminated rainbow clothing that really give that "special occasion" feel. And while there's no word on a figure yet, fans can hope! This illustration would definitely make a must-have figure for Kagamine fans.
MIRAI.ST
The MIIRAI.ST cafe & kitchen is celebrating the Kagamines' birthday as well! From December 1st until the 30th, fans can pick up a special anniversary parfait made from premium ice cream produced only in Shibecha Town. It's also decorated with an orange, a banana, and a chocolate cookie with the numbers "02" on it!
In addition, fans who purchase the parfait will receive a limited-edition postcard on first-come-first-serve basis.
The parfait will cost fans 1,000 JPY  (about $9 USD) including tax.
For more information about MIRAI.ST including location and hours, visit their official website here.
"~ Happiness idyll ~" at Animate
Fans may remember the plethora of goods that came out during Miku's 10th celebrations. Well fear not, Kagamine fans. Animate is hosting an event celebrating the Kagamine 10th and Luka 9th anniversaries!
BUZZ drew the main illustration with the theme "Bremen Band."
During the event period, shoppers will receive one CD-like clear card for every ¥1,000 JPY (about $9 USD) worth of Hatsune Miku-related merchandise that they purchase! Which one you'll receive is determined at random, and they will only be available while supplies last.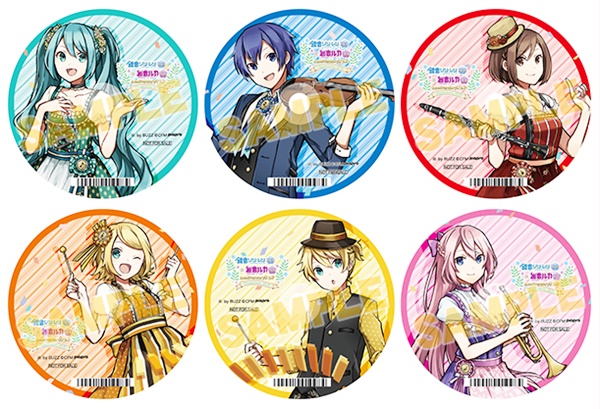 Other Illustrations
BUZZ won't be the only one with an illustration featured on merchandise during the event! While the merchandise hasn't been revealed yet, here are the other featured illustrations and their illustrators: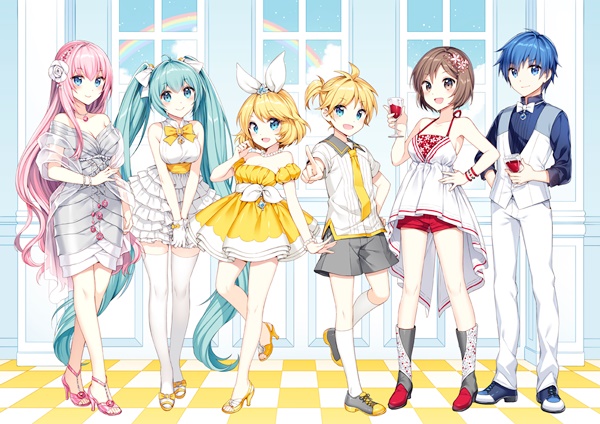 Nardack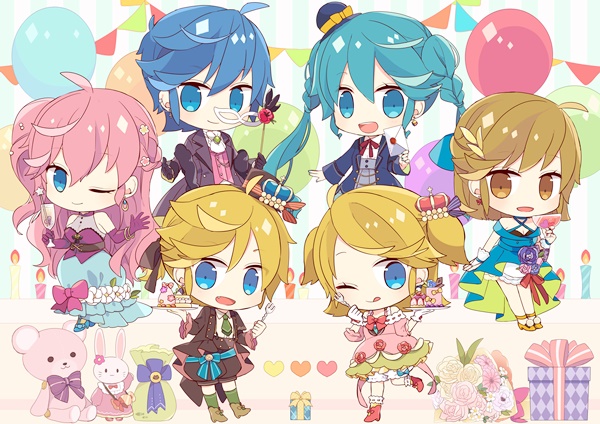 由杞 (Yoshiki)
Event Details
Dates: December 21st, 2017 until January 30th, 2018
Locations: All Animate and ACOS (Animate Costume) stores
Official Website: https://www.animate.co.jp/special/146675/
MILLENIALS January 2018 Issue
【12/1発売!ミレニアルズ January 2018】表紙はKEIさんの描く鏡音リン・レン!今号は鏡音リン・レン&初音ミクを大特集!ナノウ×Neru、ガルナ(オワタP)、トラボルタ/Junkyさらに米津玄師「BOOTLEG」&「砂の惑星」大解剖など!https://t.co/4qzpQWBuYw pic.twitter.com/6gyNf3XezB

— 隔月刊「ミレニアルズ」 (@utattemitanohon) November 28, 2017
Rin and Len will also be gracing the cover of the January 2018 issue of MILLENIALS. The magazine covers online musicians and artists, and their January issue will be about Rin, Len, and Miku, plus several famous producers. Here is an overview of this issue's content:

You can purchase the issue on Amazon here.
Albums
While we previously reported on EXIT TUNES PRESENTS Kagaminext and Kagamine Rin and Len 10th Anniversary -LODESTAR-, both albums are featured on the Rin and Len 10th website. Be sure to check out these special albums if you're a Rin and Len fan! You can find our previous article covering the two albums here.
Anniversary Event

But what about on the big day itself, December 27th, 2017? Well, that's when Crypton Future Media has saved the biggest celebration of all!
Right on the Kagamine 10th anniversary day, there will be a special event held where Crypton will give an overview of the past ten years with the Kagamines. Furthermore, they will even divulge the previously unknown inside story and developer secrets behind the creation and release of the their VOCALOID software back in 2007. Plus, the event will see many special guest appearances, such as the Kagamines' voice provider, Asami Shimoda, and a special live DJ performance by emon(Tes.)!
Event details:
Date and Time: Wednesday, December 27th, 2017; doors open at 18:00 and performances begin a 18:30 (JST) (The whole event is planned to be roughly 2 hours long)
Venue: Niconico Honsha B2 Event Space (West Ikebukuro 1-50-35, Ikebukuro P'PARCO B2F)
Guests: Asami Shimoda, emon(Tes.), じーざす (JesusP), マイナス (MinusP), Yusuke Kumagaya of Crypton, and more
Ticket Price: ¥2,000 JPY (about $18 USD) (tax included). Limited to 2 per person
Ticket Schedule: On sale starting Friday, December 1st at 18:00 (JST)
Ticket Pia Site: http://t.pia.jp/
Phone Number: 0570-02-9999 (enter code: 637-650)
Part 1 of the Event:
Asami Shimoda and Yusuke Kumagaya announced the latest Kagamine Rin and Len news, and reveal developer secrets behind the creation of Kagamine Rin and Len
Will be streamed live on Niconico; URL to be announced later
Part 2 of the Event:
Asami Shimoda, emon(Tes.), じーざす (JesusP), マイナス (MinusP), and Yusuke Kumagaya hold a creator round-table discussion
Also talk about the history of Kagamine Rin and Len songs
Part 3 of the Event:
Live DJ performance by emon(Tes.)
Countdown to 10th
Finally, the Kagamine 10th website has a gallery of countdown illustrations, drawn by various artists with a wide range of art styles. Starting at 30 days, they have been adding one new fan illustration per day, and counting down the days until the Kagamines' 10th anniversary on December 27th. At the time of this article's writing, the following fan art can be viewed:
Remember, this segment of the website updates daily, to you can check back each day, or follow the official Crypton Hatsune Miku Twitter account for your daily dose of Kagamine 10th anniversary fan art!
——————————————————————
Sources:
Rin and Len 10th Website and Illustration Announcement
"MIRAI.ST cafe &kitchen sells 'Rin and Len Parfait'"
Rin and Len 10th Anniversary and Luka 9th Anniversary Fair Announcement
Rin and Len 3-part 10th Anniversary event announcement