Monds and I (Hoshi) just HAD to grab the Vsinger "Language of Flowers" mini figures that were announced quite some time ago. Once pre-orders went up, we both pounced on them, and now we've come together to do a first (though probably not last) for VNN: a duel review! Both Monds' and my opinions will be in a single review! So, let's get things started!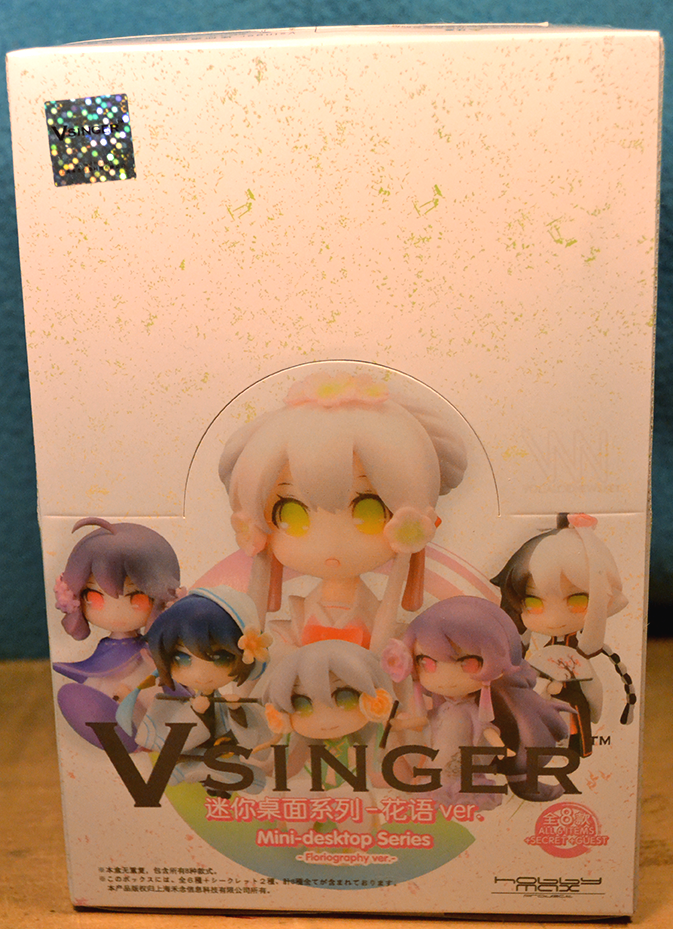 The Main Box
Much like Nendoroid petits, these mini figures also come in a main box with the ability to display them like they would be in stores. These boxes are packed with eight blind boxes each, although obviously we're going to get one of each figure pictured since we bought the whole set.
At the moment, we're not quite sure if these are even going to be available as single blind boxes. You'll see why in just a moment.
The box is absolutely beautiful — I actually felt pretty bad opening it. There's also a nice holographic sticker with Vsinger's logo and copyright information on it. This is to identify the product as original. If you see this without the holographic sticker, stay away! That likely means it's a bootleg. That's one of my big rules when looking for signs that a possible purchase is a bootleg.
The box itself is of incredibly high quality as well. Honestly, you could open it up and display it alongside your figures if you wanted to. I think it would look nice.
Unboxing
Inside the giant box are, as mentioned, eight boxes holding the figures. Each box looks exactly the same, but they're still visually stunning. These are definitely very well-designed packages!
There's something very special waiting for you after you pull out the eight boxes. There's a note (in Chinese) as well as a special card. It tells us that the figures are actually limited to 5,500 sets. Each person gets a card with their set number plus a QR code to access more information.
The Figures
There are eight figures in total, seven of which were revealed to be the Vsinger characters while the 8th was a mystery. We'll be saving the mystery figure for last, but otherwise, we're going in the order I unboxed the figures.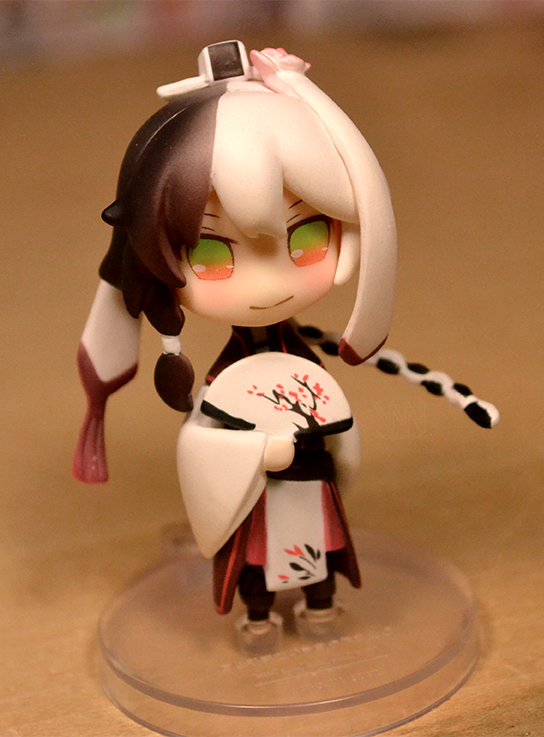 Longya
The Yuezheng Lonya figure is based on the Red Plum.
Hoshi's Review
He's so adorable but also very regal and masculine. Honestly, he's definitely one of my favorites. Everything about this figure was really well-done, even down to his hair, which had to be difficult to pull off. He's super easy to put together, though his legs didn't want to go into the stand all the way. I didn't force it because I heard these figures were breakable, and man are they.
Monds' Review
I will point out that generally I am not big on male characters in general. However, this one is as cute as all of the others! Also, the color pattern of Longya's hair gives him a cool look, which, as the older of the bunch, he should have that appeal to him.
---
Yuezheng Ling
Yuezheng Ling is based on the lilac.
Hoshi's Review
Ling definitely wasn't one I was looking forward to. I'd seen the horror stories and my Ling actually came a bit messed up as well. Essentially, her umbrella top didn't want to go into the umbrella. It didn't help that I could barely use any force, either. The umbrella snapped within seconds of me applying even a small amount of force. Monds didn't have this problem, but I definitely struggled with Ling. Needless to say, she's held together with some super glue now.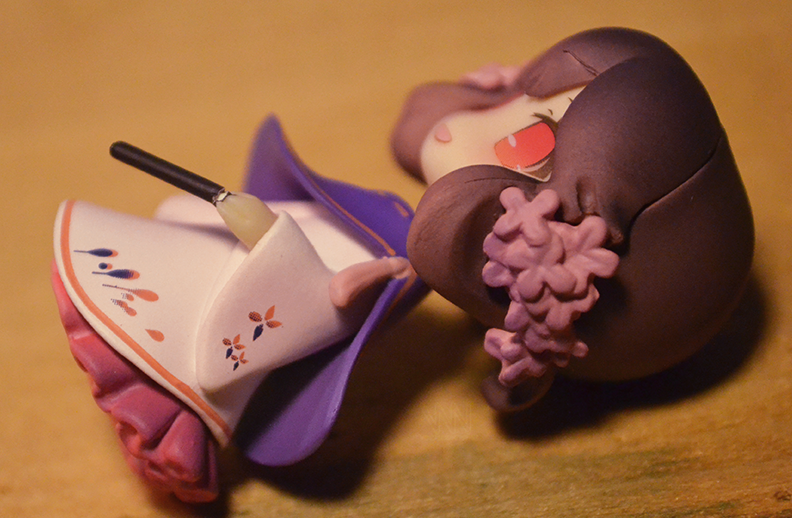 Other than that, she's really cute! The one thing Monds and I both find odd, however, is that there's a hole on the one side of her head where her hair is. It looks like it's supposed to show different pieces of hair but didn't quite come out right.
Monds' Review
Ling is the one that comes with the most parts, which is great as far as design goes. She looks wonderful! However, that also comes with a downfall. You need to be extremely careful when putting her together because she is bound to break easily. This has happened to a few people. Don't let that detract you from the set though. She also has an extra piece of hair if you lose the piece on top of her head since it's very tiny.
---
Mo QingXian
Mo's design is based on the peony.
Hoshi's Review
The details on Mo are absolutely incredible. Even on such a tiny scale, they mastered her hair all the way down to the metallic hair clip holding back her braids. She's also super easy to put together, which was nice. She just stands on a small peg. I'm really just stunned by the details on her, though. These figures are smaller than Nendoroid petits but pack so many small features that you'd think would be impossible on such a scale.
Monds' Review
I always see Mo as a more elegant and lady-like character, and this figure does a wonderful job at portraying this. Once again, that little piece she is holding in her hands is prone to bend easily or break.
---
Stardust
Stardust's design is based on the Baby's-breath flower.
Hoshi's Review
Stardust is definitely one of the most photogenic figures and also one of the cutest. I absolutely love everything from her design to her sculpt. Even though she doesn't have as many details as Mo, she still looks really nice and the outfit really suits her.
One thing I really like is how the glow of her lantern is actually painted onto the figure. It's such a nice detail that really brings the figure to life.
Monds' Review
I love Stardust, so to me I was bound to like this one from the get-go, but I will give my unbiased opinion regardless. Although I know that this is more or less her color, I feel that the purple could of been a bit darker in her hair, but that is just me being a bit nitpicky. With her, you need to be careful not to push down too hard when putting her on the stand due to her hair practically touching the stand she's on.
---
YANHE
YANHE's design is based on the camellia.
Hoshi's Review
While YANHE looks a bit plain compared to the others, she has a refined kind of beauty that really fits her. YANHE is always portrayed as more of the tomboy, so of course she wouldn't go all out in her outfits like some of the other girls. While not incredibly stunning visually, the simplicity of the design is something one can definitely appreciate.
Monds' Review
This one I find to be a bit more plain compared to the rest, although her original design is also more on the simple side. Now, that's not to say it's a bad thing, but the light and pale color kind of makes her a bit boring among the rest. The green used does not really stand out too much with the white.
---
Zhiyu Moke
Moke's design is based on the Kaffir lily.
Hoshi's Review
Moke is definitely one of the most lively figures of the bunch. He has this happy look to him as his outfit flows with his movements. The dynamic pose really helps bring this little guy to life. Plus, he looks absolutely adorable. He's super photogenic as well.
Monds' Review
Moke is one of my favorite of the bunch. He probably stands out the most due to his color and pose. Unlike the others who have a more static pose, Moke on the other hand is posed as if he were dancing while playing his flute, giving him a more lively and energetic feel. I find this to be fitting since Moke appears to be the more active and playful of the bunch while always being happy. Just like Longya, he stands out with the vibrant colors and pose.
---
Luo Tianyi
Tianyi's design is based on peach blossoms.
Hoshi's Review
Tianyi honestly looks like a princess to me. She has such an elegant look that fits her perfectly while her expression is plain adorable. It's like she was caught off guard. While Tianyi is usually associated with blue, I think that the pink suits her well with that beautiful dress.
Monds' Review
Tianyi looks pretty as always, although, she does look a bit confused. I will say that her color choice is an interesting one compared to what we are used to seeing with Tianyi. This is not necessarily a bad thing either, but just like YANHE, she has that paler color that doesn't stick out as much as the rest. Also, the piece she is holding will fall off easily, so be careful not to lose it. Thankfully, this one has a hole you can insert it in, so don't worry if it falls; it's not broken. That is what I originally thought happened when I dropped it.
---
Secret Figure: Mr. V
Mr. V is the 8th secret figure and is based on the poppy.
Hoshi's Review
Mr. V is definitely one of my favorites. I love the details put into him and he just looks incredible alongside all of these bright, cheerful figures. He fits in but still stands out, which is incredibly hard to do.
I absolutely love his smirking face underneath his mask. It's such a small detail but leads to some amazing shots. He can look cheerful amongst the Vsinger characters or absolutely sinister on his own with the right lighting.
Monds' Review
Mr. V is probably my favorite of the bunch. The quality of this one is amazing and the color just catches your eye instantly. As someone who was hoping that the bonus character would be Mr. V, this did not disappoint. I don't have any complaints on this one.
---

Overall Opinions
Hoshi's Review
Overall, these figures are definitely worth it for the price. You may need some glue approved for PVC to fix them up, but they are super nice. If you're a fan of Chinese VOCALOIDs, this is definitely a nice and relatively inexpensive way to support them! While some do cause you issues and you may get frustrated, they're so nice to look at once they're put together. Considering their size, it's hard to believe the amount of details put into them.
Hopefully in the future, figure designers will test their figures out a bit more. When it comes to things this small, the small parts end up being even more fragile than they would be on a Nendoroid or figma.
Monds' Review
Considering the cost of all eight of them, I have very little complaints on details and quality. The colors are very nice and vibrant, and the finer details are all there and distinguishable — no paint chips or paint rub off. I am quite impressed by the amount of details such small figures have, since usually the smaller the figure, the less details, but this is not the case. They are very adorable, that is for sure.
Where to Buy
While they're sold out in many places, you can still grab them at Tokyo Otaku Mode.
For More Pictures
Hoshi took way more pictures than we could ever put into an article. If you'd like to see the full gallery, click here.