EyeMirror has unveiled their latest product up for grabs. Their Yuzuki Yukari glasses are up for pre-order right now!
【#結月ゆかり × メガネ】
お待たせ致しました!
特設サイト公開致します。https://t.co/MGnW0uo8Ro

2月11日の「この声届け、月までも 六」にてイベント先行販売を行います。
(文倉先生描き下ろし、『イベント限定』特典有り)

後日、通販も予定しております。

※度付き対応可能
※男女兼用 pic.twitter.com/iv9hDtO883

— 執事眼鏡eyemirror 2/11 声月 (@eye_mirror) February 3, 2020
There are three available designs with each of them based off of one of Yukarin's character designs, "Jun", "Onn and "Lin". Each side a motif that belongs to the so beloved character is etched beautifully to give the glasses their definitive touch.
Each model can be purchased for only 15,400 JPY each (tax included) and come with a marvelous A5-sized Clear File if you manage to pre-order them during the Tokyo Koetsuki event on February 11th!
Isn't it marvelous? Ayakura Juu's illustration of this megane Yukari almost feels like a blessing to her fans' heart content, but since this Clear File is a limited time only bonus, we advise you to grab yours fast!
More Goods Available during Events
If you plan to pre-order those glasses during the event, you might also be able to find both of the Cleaning Cloth and the Lens Cleaner designed for them!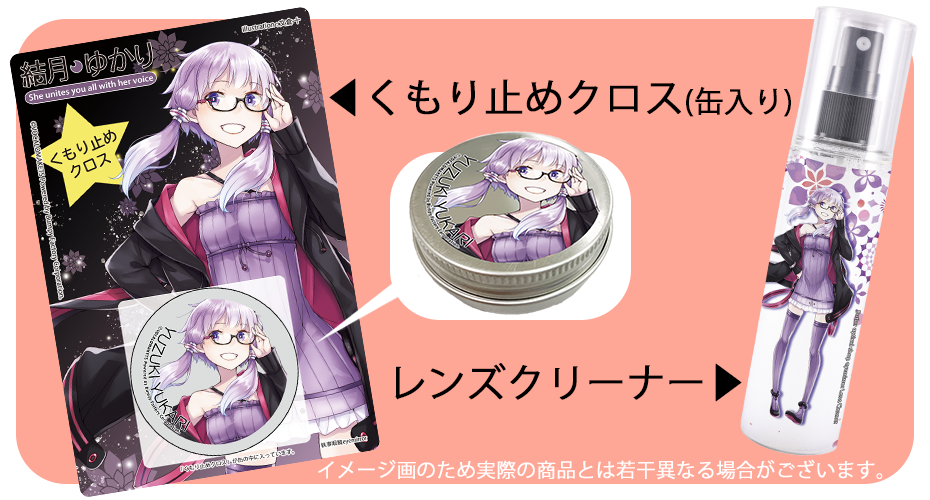 They will be available at a very special price of 1,300 JPY each and will be very useful for your glasses's maintenance!
Sources
EyeMirror is on Twitter and their official website.