The "Yuzuki Yukari Fest! -KANADE- 5th Anniversary Music Festival" ("YUKANADE" for short) took place at the Ebisu CreAto on Sunday, March 19, 2017! Participating bands were arranged by the producers of the well-known Yukari songs that were performed at the sellout clubhouse concert. Video jockeys were also present, utilizing large LED screens to display videos to go along with the band members, as well as Yukari herself (voice only) singing! Finally, Chihiro Ishiguro (Yukari's voice provider) and Ginji Ibushi were present as the hosts of YUKANADE, as well as KagomeP as the head DJ.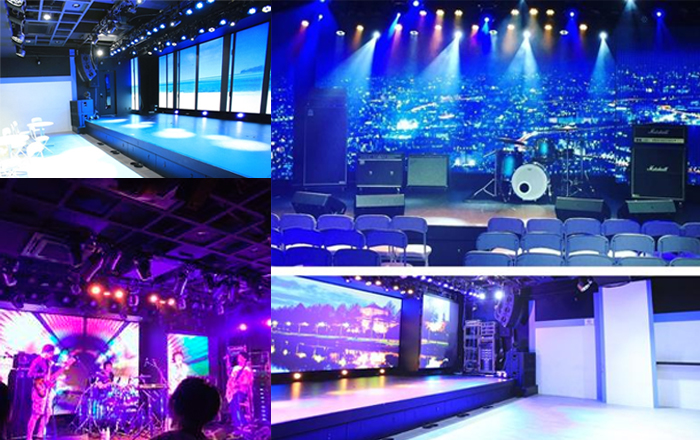 Here is the list of participating bands, their members, and the songs that they performed at YUKANADE!
Amezaiku
Yazuki (GekiokoP), QUMI, and P-Uma.
Video Jockey: Rena-chi
Songs Performed:
Minamo Spica
YonoP, add9 (HeliP), Obayashi, and Yuusuke
Video Jockey: Fate
Songs Performed:
Kaettekita Yuzuki Yukari Band
Chihiro Ishiguro, Kihee (colorlessphere), GYARI (Cocoa CigaretteP), Maoki Yamamoto, and Nick
Video Jockey: Suzumiya Hayaya
Songs Performed:
Nejishiki Band with Suzuka Nakahara & Armida
Nejishiki, Suzuka Nakahara, Armida, Michihisa Maruyama, Yasuhiro Kawasaki, and Takashi Ando
Video Jockey: U-z
Songs Performed:
Wada Takeaki (KurageP) feat. Yuzuki Yukari
Wada Takeaki (KurageP), Yuzuki Yukari, Kitani Tatsuya, TORURU (Seibetsu MaigoP), and Yuma Saito
Songs Performed:
The concert took place from 5:15 to 9:00 PM (JST), but die-hard Yukari fans who arrived early got the chance to purchase the special MARS16-designed "Yuzuki Yukari 5th Anniversary Music Festival" T-shirt at an on-site AHS Store booth from 3:00 to 4:00 PM (JST)! There were 50 shirts in all, available in S, M, L, and XL sizes at ¥3,000 JPY (about $30 USD) each.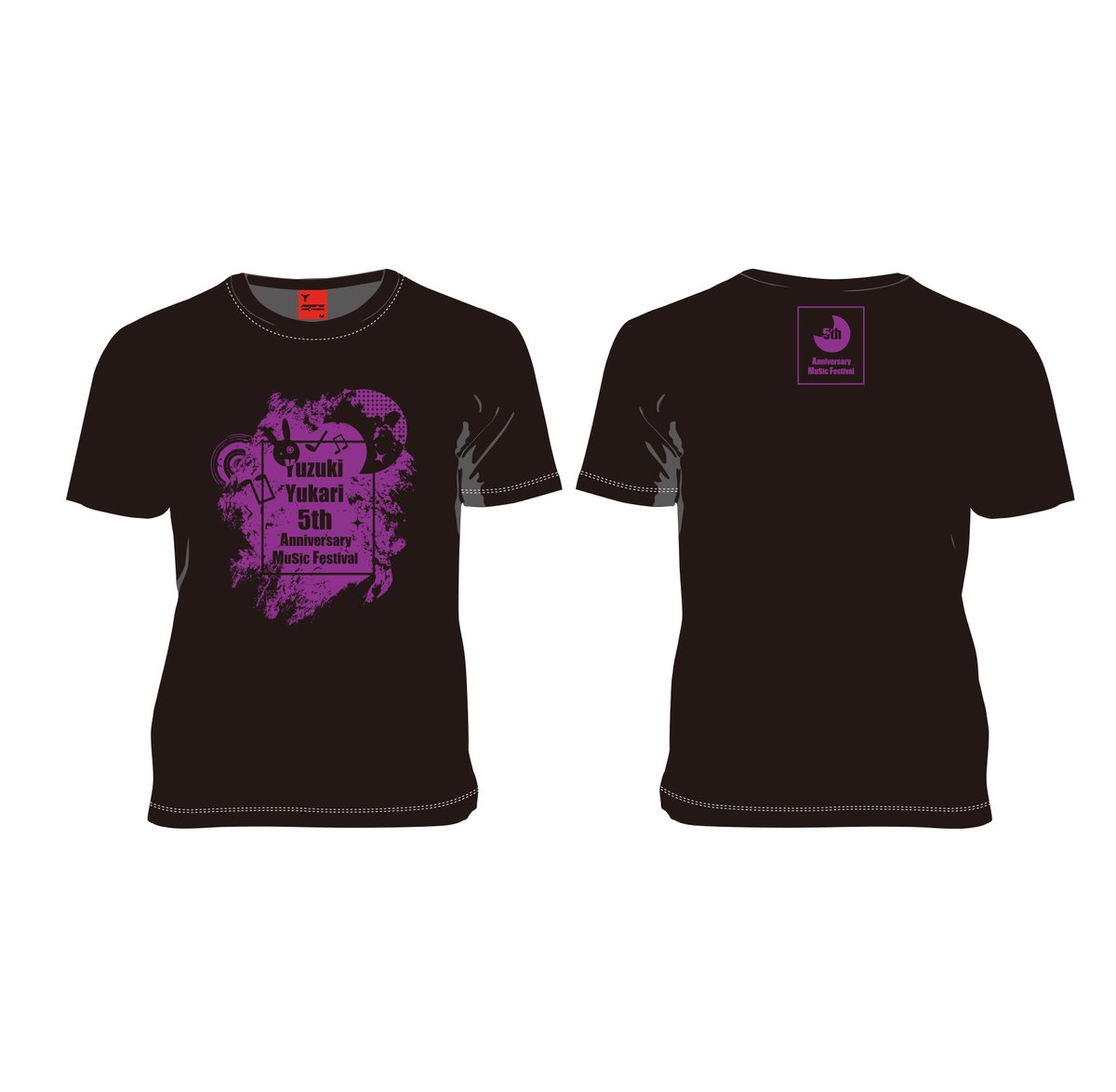 We've already seen some of the satisfied customers who scored one of these one-time-only T-shirts!
本日限定、ゆかなでTシャツ✨MARS16さんのデザインかっこいいです⁽⁽ ◟(∗ ˊωˋ ∗)◞ ⁾⁾私も早速着用しましたーー‼️‼️#ゆかなで pic.twitter.com/KvqmK9Wmkf

— 石黒千尋@チヒローズ? (@chihiro_ishi) March 19, 2017
"The YUKANADE T-shirt, available today only✨ MARS16 makes the coolest designs! ⁽⁽ ◟(∗ ˊωˋ ∗)◞ ⁾⁾ I put mine on right away!! !!"
昨日はゆかなでお疲れさまでした!くらげPのPCにインストールされているゆかりさん具現化係のチェリ子でした、ゆかりさんにはゆかなでTシャツ色違いverを着てもらってましたがみなさんお気付きでしたかね?熱いパフォーマンスと熱いお客さんで超たのしいライブでした!#ゆかなで pic.twitter.com/saCmrmFbTE

— チェリ子 (@chie_rico) March 20, 2017
"Well done on YUKANADE last night! I drew Yukari-san wearing an alternate-color version of the YUKANADE T-shirt, which you probably already noticed, right? With such a white-hot performance and fired-up crowd, it was a concert that I'll never forget!"
Likely riding the wave of Yukari excitement in the days leading up to the concert, MARS16 also announced the Yuzuki Yukari ring, the Yuzuki Yukari Multi-type Notebook smartphone case, the Yuzuki Yukari Lin Power T-Shirts (blue and yellow versions), the Yuzuki Yukari collapsible container, and the Yuzuki Yukari dry hybrid polo shirt, all available on their website! That should be more than enough to keep a Yukari fan looking stylish (not to mention broke)!
That's not all. Fans in attendance at YUKANADE all received a free copy of the Yuzuki Yukari Fest CD, featuring Nejishiki's "Freedom Lolita," "carry on," and "Freedom Lolita -instrumental-"!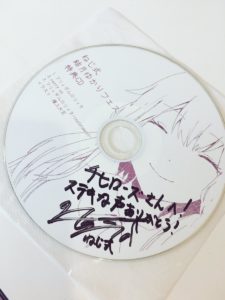 Needless to say, the fans sure had a lot to get from attending YUKANADE! But they did more than just get; YUKANADE fans also gave.
Arriving before the show were three large, beautiful bouquets of flowers with congratulatory remarks from Sega Holdings, all the fans themselves, and even Yukari's best friend, Tsurumaki Maki! Below are photos of Chihiro Ishiguro posing in front of each!
YUKANADE was no doubt a resounding success, but in their blog, concert organizers VOCALOMAKETS still felt the need to express their sincerest apologies to the fans for how crowded the clubhouse ended up being, and for not being able to provide enough T-shirts for everyone who wanted one. While there are currently no plans for a follow-up YUKANADE concert, they promised that if there is one, then they will do a better job accommodating everyone next time.
Let's keep our fingers crossed for another YUKANADE sometime in the future! The VOCALOID who "unites us all with her voice" continues to prove how well she can live up to that title!
#ゆかなで にお越頂き、本当にありがとうございました!
皆さんの笑顔を見て、私も胸がジーンととしました?

今日、感じた嬉しさや楽しさ、是非皆さんに届けてください!
それがまた新しいゆかりさんへと繋がっていくんだって思います✨

みんなでゆかりんの縁を紡ぎましょう!ありがとう! pic.twitter.com/izUXS0vlVI

— 石黒千尋@チヒローズ? (@chihiro_ishi) March 19, 2017
"Thank you all so much for coming to YUKANADE! Seeing everyone's smiles warmed my heart?"

"Please share all the joy and happiness that you felt today with everyone around you! I believe that can help us all form new bonds with Yukari-san✨"

"Thank you, and may we all grow ever closer to Yukarin!"
-Chihiro Ishiguro, March 19, 2017 at YUKANADE

VOCALOMAKETS Blog
VOCALOMAKETS Official Twitter
Chihiro Ishiguro's Official Twitter
MARS16's Official Twitter