The latest update in the Yuzuki Yukari Racing Project reveals some of the goods that will soon go on sale! As previously reported, proceeds made from sales of these goods will help fund Takahiro Watanabe's participation in the 2017 Super Taikyu racing season with a Yuzuki Yukari itasha! So if you want to see Yukari tearing up the race course, you can support the project by purchasing some Racing Yukari goods!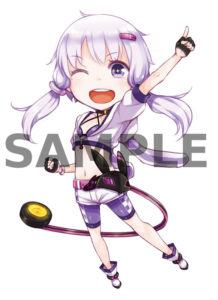 All the goods bear a Racing Yukari image that was designed by her official illustrator, Juu Ayakura. The new ones include a standing pic of a spunky-looking Racing Yukari striking a victory pose, as well as an adorable SD version of Racing Yukari! Watanabe announced that he plans to sell the initial goods as a set package with the asking price of ¥4,000 JPY (about $40 USD) at Comiket 91 from December 29th to the 31st at the Tokyo Big Sight.
Based on the catalogue pic shown above, the initial goods appear to be as follows:
1 30 mm Racing Yukari can badge.
1 30 mm SD Racing Yukari keyholder.
1 Racing Yukari ballpoint pen.
2 sets of 10 cm Racing Yukari stickers, bearing different designs.
3 sets of Racing Yukari post cards, bearing different designs.
As for the rest of the goods, Watanabe announced that they will be unveiled and put up for sale at the 2017 Winter Wonder Festival on February 19, 2017, after the crowdfunding project comes to a conclusion. At the time of this writing, there are 19 days remaining in the crowdfunding project.
As always, stay tuned to VNN for updates, and you can also read up on our previous reports of the Yuzuki Yukari Racing Project below!
The Yuzuki Yukari Racing Project Goes into High Gear!
Yuzuki Yukari Racing Project Updates: Crystal Plaque Reward Added!
Yuzuki Yukari Racing Project "READY FOR?" Crowdfunding Page
Yuzuki Yukari Racing Project Official Facebook
Yuzuki Yukari Racing Project Official Twitter
For more on Yukari, check out VocaDB.