The 星愿 Starwish album was released in March as the first album featuring the Chinese VOCALOID 4, Stardust. This album not only featured previously released demo songs but also has new songs yet to be uploaded by Quadimension. And now I (Hoshi) am finally reviewing it!
In total, the album featured eight songs ranging in genres from pop to ballads and rock to salsa. Within eight songs, 星愿 Starwish manages to highlight Stardust's potential with ease.
The Album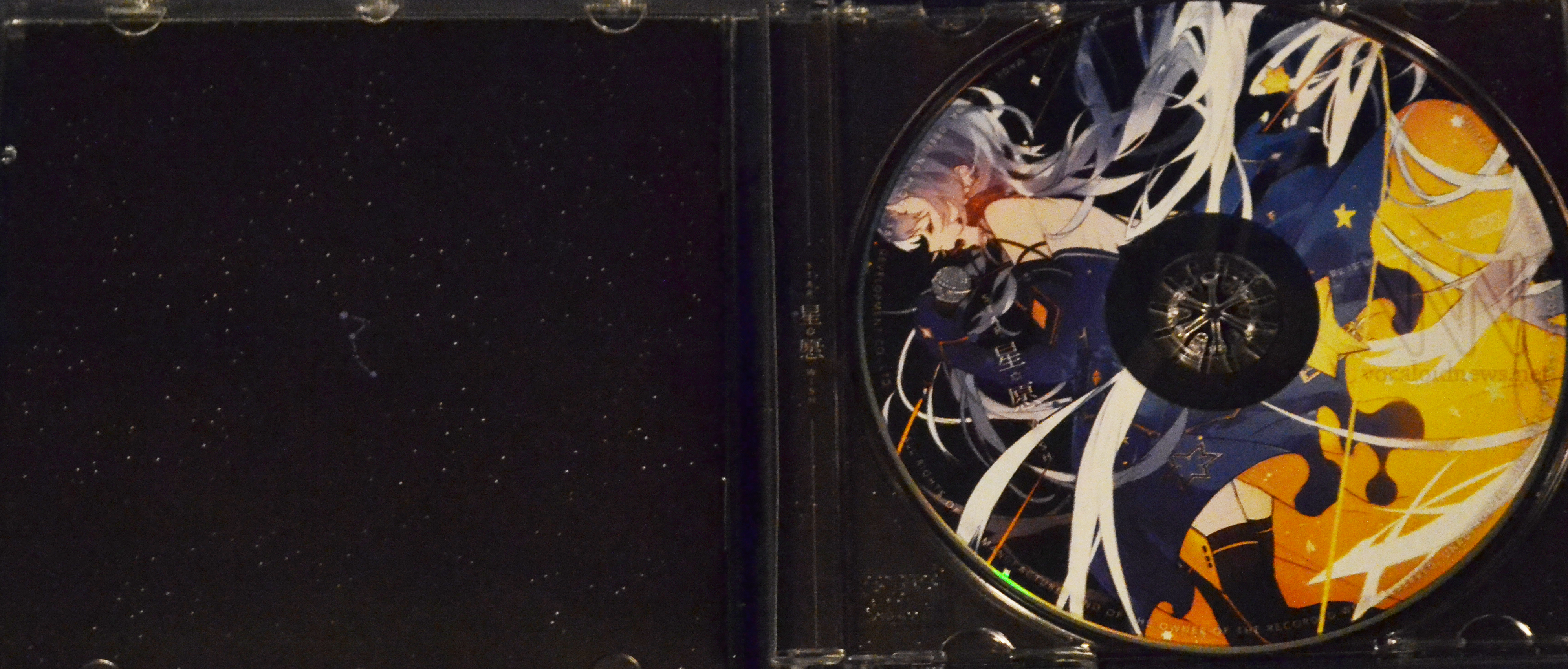 The album itself is incredibly high quality. The CD is incredibly beautiful, featuring the same illustration by Nine that's on the album cover. In addition, the lyrics booklet is printed in equally high quality with beautiful illustrations throughout. Each song has a specific image assigned to it, all of which fans can see in full in the art book.
Overall, the album itself feels like a beautiful piece of merchandise on its own. Any Stardust fan would be happy to have this item in their collection.
The Music
As mentioned earlier, this album has a huge range of genres to choose from, and Stardust sounds great in every song.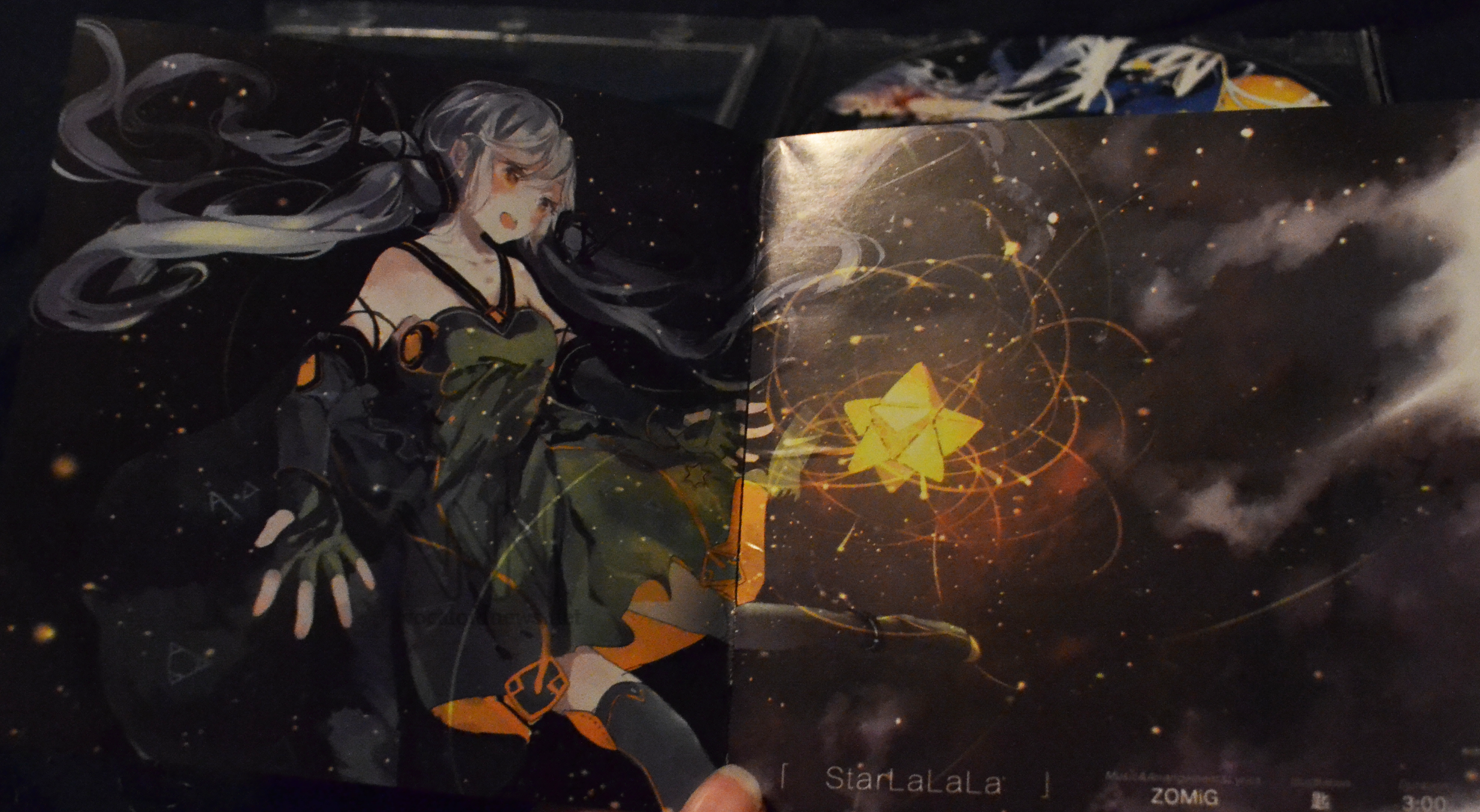 The album starts off with "StarLaLaLa", the first Stardust demo song ever released. This particular song is loved by many but has also managed to become a bit of a meme in the community due to Stardust repeating "La" as the only lyric in the song. Nonetheless, it's a very calming song and serves as a great opening to the album.
In contrast, "观星者" is an upbeat pop rock song that is bound to put you in a good mood. It's a great introduction to Senjougahara Yousei's style. While he usually specializes in metal, Senjougahara Yousei's "观星者" is still an amazing track.
Next is "Solar Storm", a slower, more ballad-like song. This is yet another relaxing song that is just generally pleasant to listen to.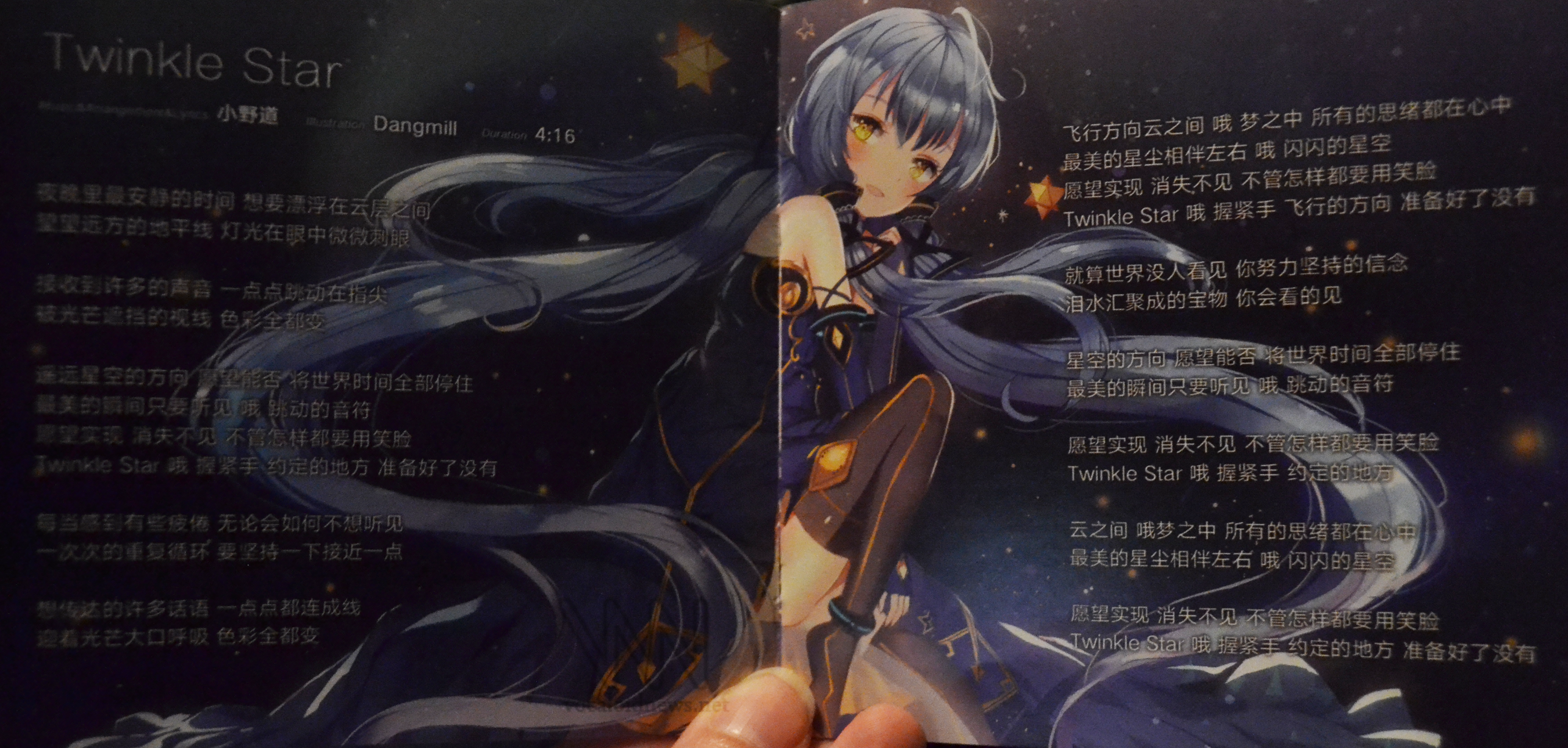 "Twinkle Star" takes the fourth song position. It's an upbeat pop song that I could see having an adorable, happy-go-lucky PV to go along with it.
Speaking of upbeat songs with adorable PVs, "星之伊始" takes the cake. The official PV illustrated by TOMATO had me falling in love with this song the moment I saw it.
It's ridiculously cute. If TOMATO drew an animated spin-off based on the song, I'd definitely watch it.
Next is the salsa. "徒劳的爱之美少女"  is one of the most interesting songs because it features a Chinese VOCALOID singing a song heavily influenced by salsa. While I'm not sure how this came about, I'm all for it. It's another upbeat song, but this one is one that you just have to dance to.
After dancing, you'll once again have a ballad where Stardust sounds phenomenal. "时一现耳三千岁" is another slow song, but one that is again relaxing and calming.
And rounding off the album is "星愿" (Starwish), the title song of the album. This piano ballad is uplifting and, at the time of its release, really felt as if it was Stardust singing a wish to be successful. Even after her release, it manages to be a touching and emotional song.
All the Merch
If you purchase the Normal or Deluxe package, you get extra stuff! The normal package comes with the album and the art book while the Deluxe come with so much stuff. I got the Deluxe package so you'll be able to see everything that comes with it.
The Art Book
The art book, which you can purchase alone as well here, contains 32 beautiful illustrations. Some we've seen before, like the ones featured in the album's lyric book, while others are brand new. There are so many talented artists in this art book and they all feature Stardust in different styles and scenarios to create everything from cute to dramatic and simple to highly detailed art.
Out of respect to the artists and Quadimension, I won't be featuring any pictures of the illustrations. Instead, you can see previews of all the art via the Contents pages.
The book itself is again very good quality, especially for being a paperback book with full color illustrations on every page!
Bonus Bag
I pre-ordered rather early and so I was able to get the bonus paper bag to hold all of my Stardust stuff in! On one side is the illustration by Nine while the other side holds the
illustration by 匙
featured on the front of the art book.
The bag is actually really sturdy as far as I can tell. Much like all my merch, though, I don't plan to go testing out how durable it is. But it definitely works to hold all my Stardust goodies and looks very nice doing it.
Speaking of Goodies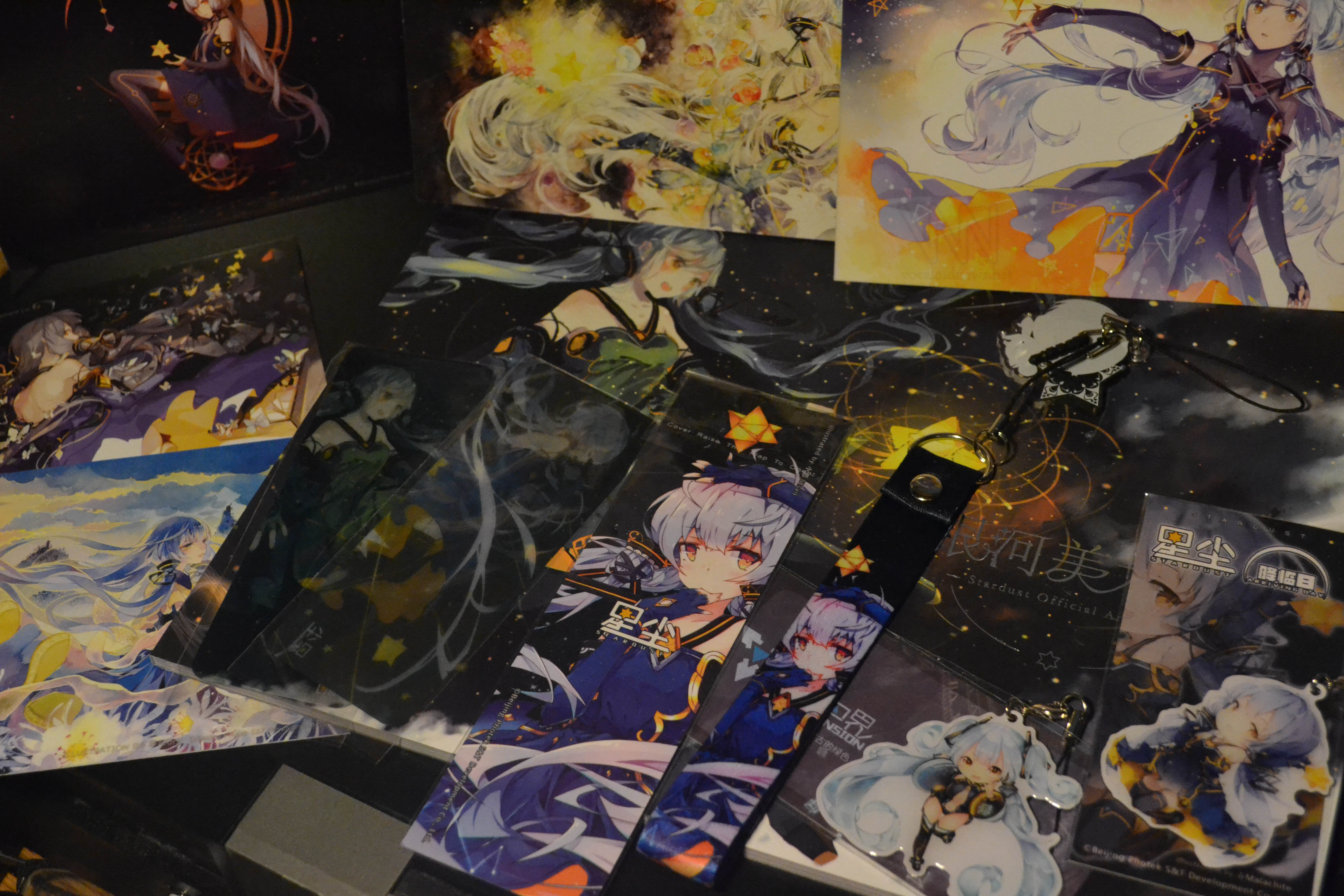 Five postcards, two PVC bookmarks, one phone strap, and an A4 sized file holder. Those two metal phone charms at the end do NOT come with the package. I just bought them in pursuit of having all the Stardust merch.
The folder is a very nice, flexible plastic featuring the illustration by Nine. While it doesn't seem to be able to hold a ton of papers, one could definitely find quite a bit of use for it.
The postcards, of course, should technically be used as postcards. But they won't be because look at them. They're beautiful! Anyone who follows Stardust news likely recognizes the middle postcard as the illustration by ASK which is set to become a 1/8 scale figure. (Read more here.) In addition, we have an illustration by nineo, a stunning painting by 零届Orz, an illustration by DSマイル, and art by Sainker. The last two artists mentioned have not uploaded their respective works.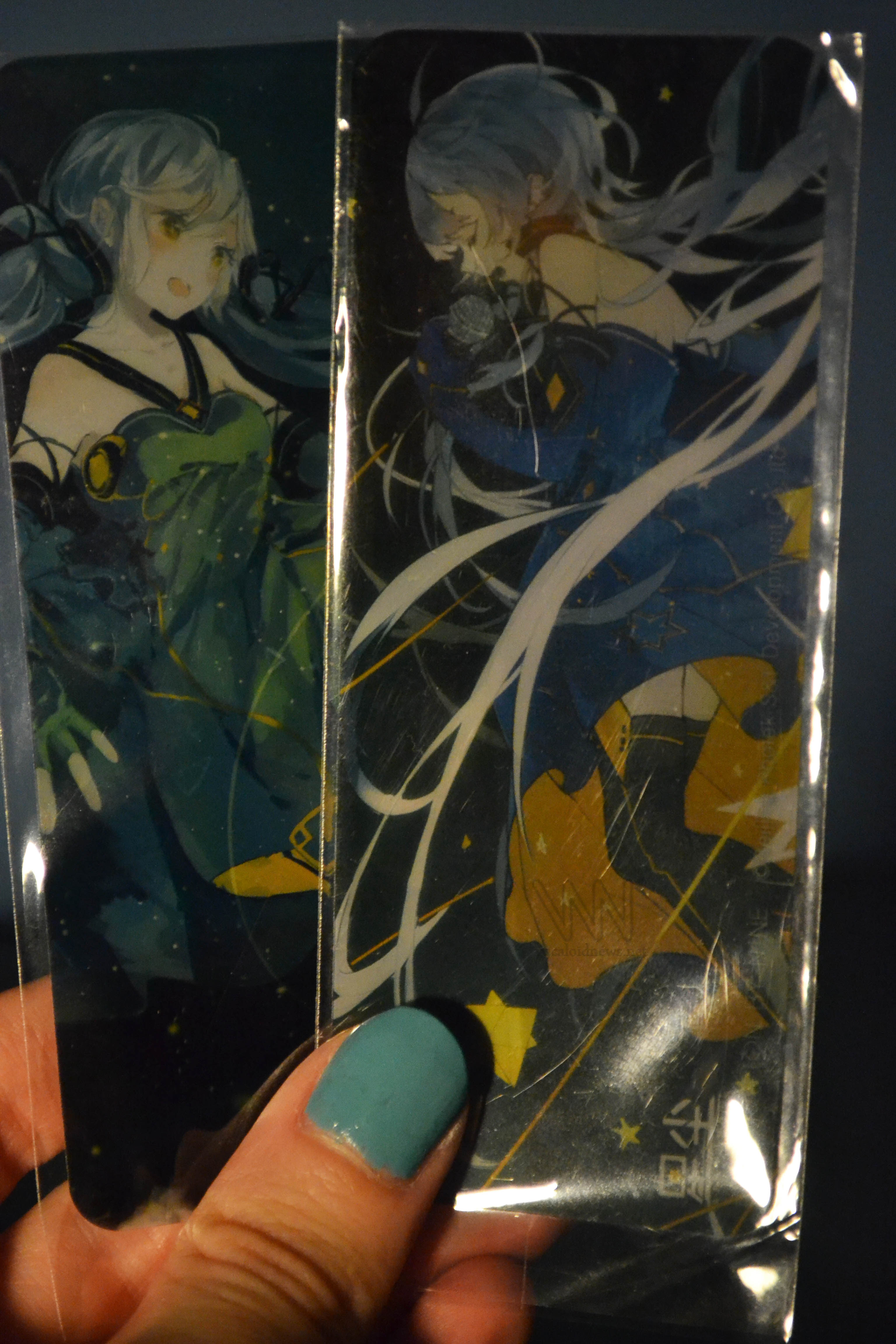 PVC Bookmarks
The bookmarks are rather self explanatory. We have two very nice (and very pretty) PVC bookmarks featuring the two leading illustrations by Nine and 匙.
In this picture, they're still in their protective plastic bags that they came in. The bookmarks themselves are in great shape, don't worry! Quadminesion packs everything incredibly well.
The bookmarks are rather thin but are incredibly flexible and stand up pretty well to regular wear and tear while looking beautiful while doing it. The only thing I'm not super fond of is how they're slightly transparent, but it's not a huge turn off. They're not so transparent that the designs are hard to see or anything. It's only a minor issue that's noticeable here and there.
---
Phone Strap
Next is the phone strap I'm still using to this day. It's made of a really nice fabric that cleans off incredibly well with just a little water. I didn't even have to use soap when I got something on it! The strap features one illustration with two different views. On one side there's a waist up view while the other side focuses on Stardust's eyes.
It's a cute and simple way to show your Stardust love. Unfortunately, it doesn't come with a headphone jack plug, so anyone without the little metal bar for placing phone straps will have to improvise. I have several phone charms with headphone jack plugs so I connected the strap to one of those and it works great.
Other Merch
In addition to the Deluxe package, I also grabbed myself two Stardust metal phone charms.
The first charm is actually the one participants in the Stardust art book contest received. You can find more info on that here.
The other isn't officially marketed as Stardust merchandise but instead features the mascot of Quadimension, Quadimensionko, who shares her appearance with Stardust's first design. So it's pretty much Stardust.
Both charms are made of metal and are very durable. Not to mention, they're absolutely adorable! They are a bit heavy due to being made of metal, but other than that, there aren't any complaints from me. These both also lack the headphone jack option. But once again, there's an easy workaround for that. These actually have little hooks so you can remove the loop and attach a headphone jack insert from another charm.
How to Purchase
At the moment, 星愿 Starwish is only available through Taobao here. For more information on the different tiers available, see our previous article.