Discover ALYS' first show titled "Rêve de Machine" in Paris, France, at the Trianon on December 17th, 2016, for Christmas! After several festivals with their climax that will be reached during her summer's international tour this summer, ALYS will have her first concert in December for Christmas! This exceptional concert will mark the reunion between the virtual world of the virtual singer with a blue braided ponytail, and the physical world for a live show of over an hour-and-a-half alongside live musicians "Lightning" and "Janski Beeeats"!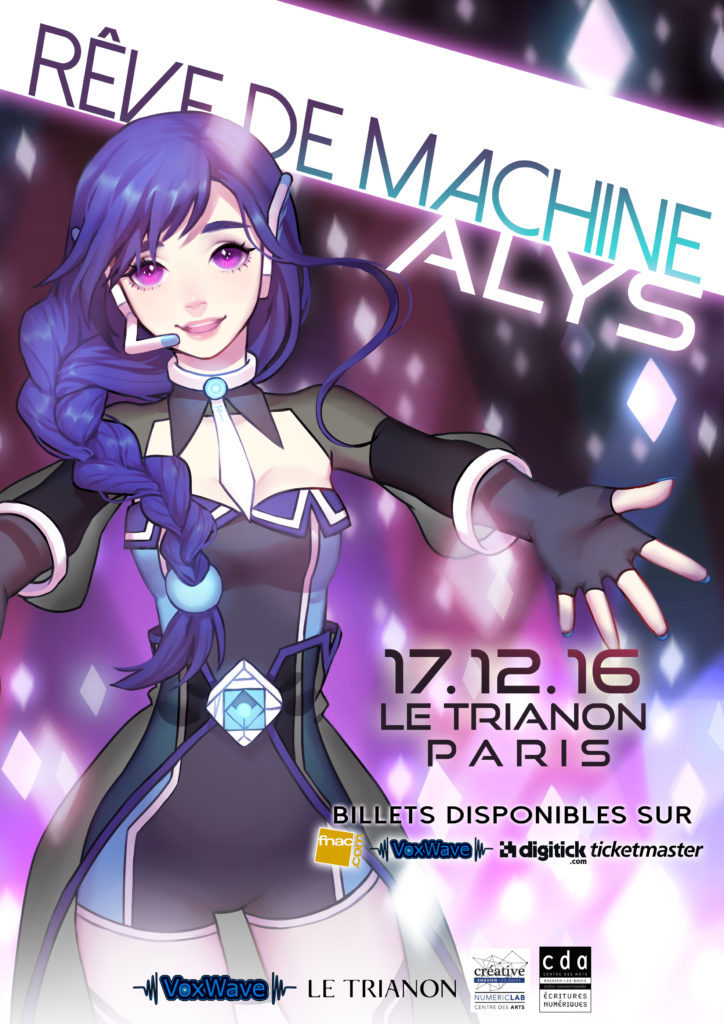 ALYS is 21 years of age with a long blue braided ponytail who began her career on March 10th, 2014. She now has over 13,000 fans on social media, many of them have even traveled in order to see and discover her at small festivals. ALYS doesn't miss a note, doesn't get tired, and always puts all her energy towards her fans.
Her secret? ALYS is entirely digital, and she is projected on the scene by a projector on a screen. Her voice is a collaboration between VoxWave and Plogue Art & Technologies, which develop vocals synthesizers using Alter/Ego.

Anyone can use the voice of ALYS, as well as her 3D model, and participate in bringing more to the young singer. Because she is, before all, an icon for those who listen and adhere to her universe. ALYS travels between universes ranging from pop songs (such as "Hajime Ni", by the young artist heart★breaker), to Electro (such as "Depuis mon cœur", by Janski Beeeats), and even Rock (such as "Sous cette pluie" by Lightning). However, she is always filled with an abundance of energy.
"Rêve de Machine" is also a Christmas gift for all fans. By gathering fans around the Trianon in Paris on December 17th, ALYS' career will be taking a new path in life with live shows that will become more impressive as time goes on!
Ticket purchases have been open since July 7th, 2016, at Japan Expo. Tickets can be purchased at any of their booths, VoxWave's online shop, Trianon's website, and as well as others places such as FNAC, Digitick, and Ticketmaster. For more information, click here.
Facebook Pre-event Meeting Page