Do you enjoy crepes? Do you like cute things? How about cute crepe themed Chinese Vocaloids to fulfill both? Well, 换脑组 has you covered with an adorable combination of all these things!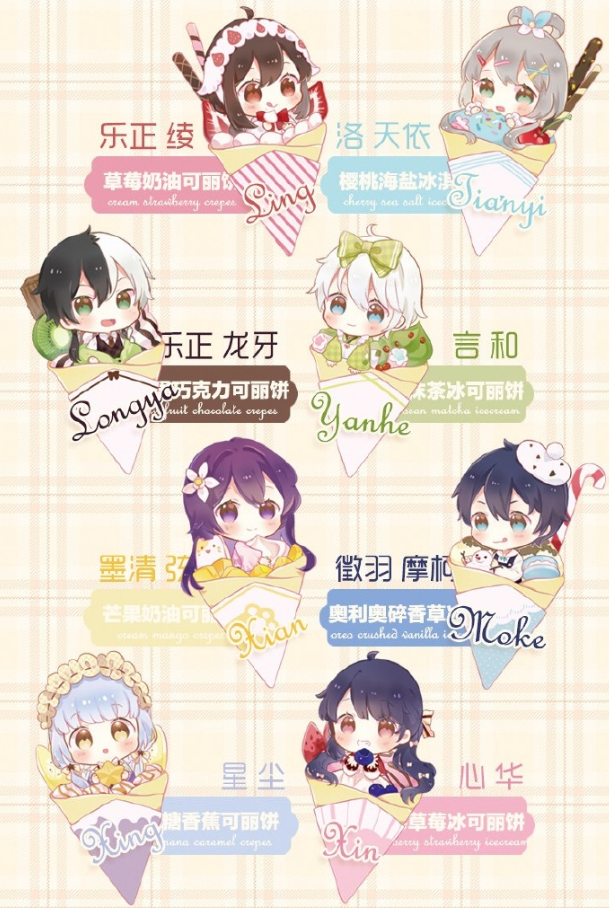 Characters and flavours
Luo Tianyi: Cherry sea salt ice cream
Yuezheng Ling: Cream strawberry crepes
Yuezheng Longya: Fruit chocolate crepes
Yanhe: Bean matcha ice cream
Mo Qingxian: Cream mango crepes
Zhiyu Moke: Oreo crushed vanilla ice cream
Stardust: Banana caramel crepes
Xin Hua: Berry Strawberry ice cream
Prices
You may choose to get the individual item or the set, you may also choose characters individually.
Pendant: 18 RMB each or 130 RMB for the set
Badge: 10 RMB or 70 RMB for the set
Pillow: 60 RMB or 450 RMB for the set
Combo pack: 80 RMB (includes a pendant, badge and pillow)
Full set (includes all the characters and items): 620 RMB
For those of you who preorder the 620RMB set will also receive 10 stickers as a preorder bonus!
Preorders are open until the 31st of May. If you would like to preorder this adorable merchandise, then you can head on over to the Taobao store here.
Note: You must have a Taobao account, although, we recommend using a trusted forwarding service for Taobao if you do not live or know anyone in China.