BZITA comes back to Hatsune Miku fans, bringing a new adorable guitar-shaped pendant for us to enjoy!
A Guitar Pendant Themed After the Virtual Diva!
BZITA is very well known for making really high quality accessories, and every time a new Miku-themed one gets announced, we cannot help but feeling fascinated by the elegance of those products!
Showing off a design based off of our favorite virtual diva's outfit and color palette, this pendant will make an amazing gift for any Miku enthusiastic!
There are so many details you might be able to recognize, starting from the turquoise hint based off of her tail to the most iconic "01" mark symbolizing Miku ever since 2007! In only 600mm of size and featuring a fancy detachable chain with it, you will absolutely fall in love with this accessory!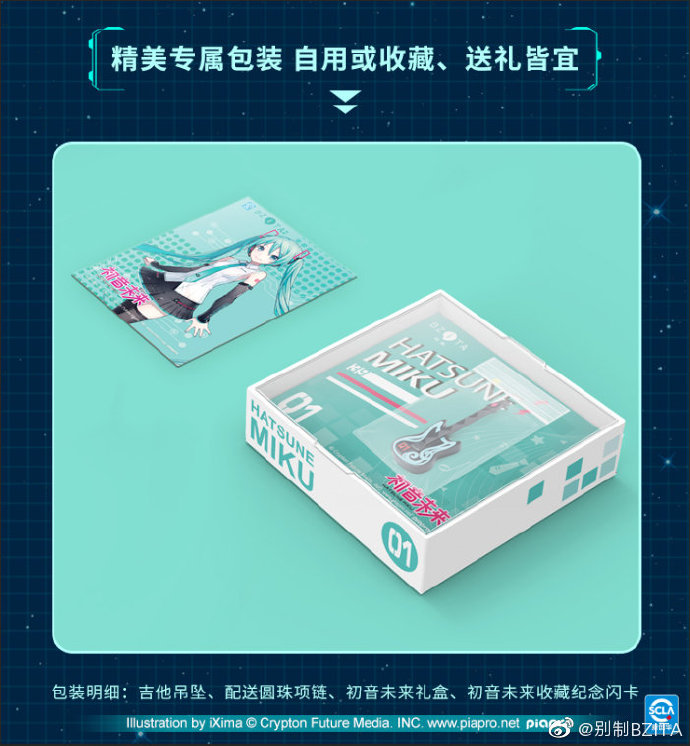 For only 109 RMB you will receive this item and its fancy packaging, with an illustrated card featuring iXima's official artwork of Hatsune Miku V4X as well!
Did we spark your interest perhaps? If so, you can pre-order it here! Pre-orders will open on July 26th!
Source
While we wait for this accessory to make its way through, remember to follow us on VNN for more news!
Hatsune Miku is on Facebook (English and Japanese), Twitter (English and Japanese), Youtube and Weibo
Bzita's store is also on Weibo, of course!
Product page