When most people think of Niconico Chokaigi, they tend to think of a large gathering of anime fans, gamers, cosplayers, J-pop dancers, itasha drivers, and others who represent modern-day pop culture in Japan. But in reality, Chokaigi is a celebration of all facets of Japanese culture: modern, traditional, and sometimes even a fusion of the two. Nowhere else is that better exemplified than in the their annual "Cho Kabuki" stage performances, featuring internationally acclaimed kabuki performer, Shidou Nakamura, and the digital diva herself, Hatsune Miku!
About "Cho Kabuki: Hanakurabe Senbonzakura"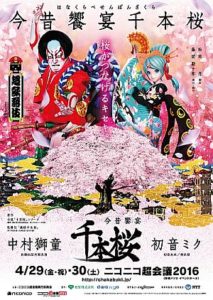 Hanakurabe Senbonzakura (今昔饗宴千本桜, roughly meaning "Past and Present Feast of a Thousand Cherry Trees") is the title of the first Cho Kabuki performance, which made its debut last year at Niconico Chokaigi 2016. The play was the result of a massive collaboration effort between kabuki production company, Shochiku, Niconico management company, Dwango Co. Ltd, and telecommunications company, NTT, with their patented "immersive telepresence" technology known as Kirari!
Hanakurabe Senbonzakura tells the story of Princess Miku and Sato Tadanobu, and their various incarnations throughout different eras, all tied together by the events surrounding a large cherry tree known as the Senbonzakura. As the title implies, the play is inspired by Yoshitsune Senbon Zakura, as well as by the famed VOCALOID song, "Senbonzakura" by KurousaP. You can watch footage of the production and its creation process in the following videos:
Fans everywhere flocked to the packed concert hall at the Makuhari Messe last year to see the play, which was also simultaneously watched by over 160,000 people online via Niconico Live Broadcast. Hanakurabe Senbonzakura was hailed as a visual splendor and musical masterpiece, not only impressing longtime kabuki fans, but even drawing in a whole new generation of fans to the art form. The play even won the grand prize at the 22nd AMD (Association of Media in Digital) Awards for its masterful fusion of traditional performing arts with high technology, creating a brand-new form of entertainment and endless possibilities for the future of the arts.
You can watch footage of Nakamura and participating company representatives accepting the award below:
Cho Kabuki's debut was a resounding success, but the story of Shidou Nakamura and Hatsune Miku didn't end there…
About "Cho Kabuki: Kuruwakotoba Awasekagami"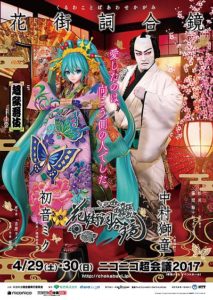 Debuting this past weekend at Niconico Chokaigi 2017 was the second chapter in the ongoing Cho Kabuki series, Kuruwakotoba Awasekagami (花街詞合鏡, roughly meaning "Opposing Mirrors of the Red Light District"). While last year's show was billed as a historical jidaimono, this year's play was more of a sewamono about the lives of regular people.
Performers:
Kuruwakotoba Awasekagami follows the story of a courtesan, Hatsune Dayuu, who wishes to escape the life of prostitution with her lover, Yaegaki Monza, but is impeded by the jealous patron, Kageyama Shinemon. This year's play even included a performance of "Yoshiwara Lament," written by Asa and performed by Kasane Teto, who also plays a small role in the play. See below for promotional videos and documentaries for the play:
Kuruwakotoba Awasekagami was performed at 1:00 and 4:00 PM (JST) on both days of Niconico Chokaigi (April 29nd and April 30th). Tickets could be reserved for ¥2,500 JPY (about $25 USD) for two nights, or ¥1,500 JPY (about $15 USD) for one night; one-night tickets would cost ¥2,000 JPY (about $20 USD) if bought on-site instead of reserved. The play could also be watched online on Niconico Live Broadcast (premium members only).
DVD & Blu-ray Announcement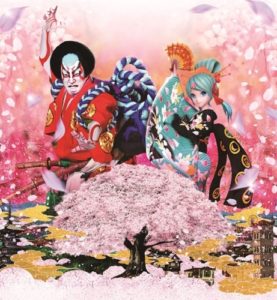 For those who could not make it to Niconico Chokaigi or watch the plays online, don't fret. NTT has announced that Hanakurabe Senbonzakura will be released for DVD and Blu-ray this June! Product information goes as so:
Release date: June 28th (pre-orders began on April 17th)
Available: Online, and in any CD shop in Japan
Prices:
DVD: ¥4,500 JPY (about $45 USD) plus tax; pre-order on ebten
Blu-ray: ¥5,500 JPY (about $55 USD) plus tax; pre-order on ebten
Extras:
1. English and French subtitles
2. Making-of documentary
3. Option for streaming comments from the Niconico broadcast (Blu-ray only)
Pre-orders are only shown to be available on ebten, so it is currently unclear if they will be available on online shops that ship internationally. However, the products will have English and French subtitles, likely indicating an international release eventually.
VNN will keep you updated on international availability, and when Kuruwakotoba Awasekagami will also be available for purchase on DVD and Blu-ray.
Official Links:
Niconico Chokaigi 2017 Booth Page
Niconico Chokaigi 2016 Booth Page
Piapro Blog Announcement: AMD Award
Piapro Blog Announcement: Chokaigi 2017 Confirmation
Piapro Blog Announcement: DVD/Blu-ray