After pleasing Hatsune Miku fans with their trading keyholder and can badges featuring an adorable set of Piapro characters in a "Soinekkoron" pose, Chugai Mining is back for some more merchandise!
Fluffy & Adorable Bottle Holders!
With Magical Mirai 2019 getting closer each day, we all shouldn't be surprised to see more merchandise featuring Hatsune Miku and her friends to be revealed! And this time, seems Chugai Mining brought us two adorable Plastic Bottle Holders!
【新商品情報】
「マジカルミライ 2019」限定商品ペットボトルホルダーのサンプルが到着!千助さんデザインを綺麗に刺繍で仕上げました。ぜひ中外鉱業ブースまでお越しください! #マジカルミライ #初音ミク
マジカルミライ2019公式サイト:https://t.co/AJP6840h1R
▶︎https://t.co/Q4aG3M2EI1 pic.twitter.com/4K0eio7CML

— 中外鉱業 (@chugaionline) July 19, 2019
Available in two different variants, one featuring Hatsune Miku and the other one Megurine Luka, those plastic bottle holders are embroidered in fluffy fabric featuring two cute chibis drawn by Chisuke.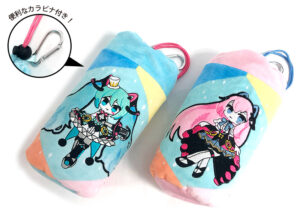 They also feature a carabiner, this way you can attach them easily everywhere you want!
Those items will be available only during Magical Mirai 2019 at Chugai Mining's  booth, and will cost 1,500 JPY each!
Source
Stay tuned with us on VNN for more amazing news! More Magical Mirai merchandise is bond to appear so keep your eyes wide open!
Hatsune Miku is on Facebook (English and Japanese), Twitter (English and Japanese), Youtube and Weibo
Don't forget to also check out Magical Mirai 2019's official website and Twitter!
You can find Chugai Mining on Twitter or their website.
Booths and Merchandise details can be found here!