Do you want to enjoy a cafe date with Hatsune Miku? The Japanese mobile phone company au by KDDI, which previously hosted Miku☆Sanpo at Snow Miku Festival 2017, announced their latest collaboration event: Miku☆Sanpo x Blue Leaf Cafe. The cafe is located on the 2nd floor in au SENDAI, Miyagi Prefecture, Japan. The event will take place for five days, starting on July 8th, 2017. The illustration for the event's main visual was done by artist Yuzuki Kihiro (柚希きひろ).
Customers who bring their Lenovo Phab 2 Pro smartphone can enjoy a special cafe date with Hatsune Miku wearing a sailor uniform. With augmented reality (AR) technology, Miku will appear before you to chat and enjoy the meal with you!
But that's not all! After you finish the cafe date, you can take a picture with Miku using a panel specially prepared by the Blue Leaf Cafe as a commemoration!
Visitors who don't have the smartphone can borrow units already prepared for the event. The number of phones, of course, is very limited. And, because it may end up being crowded, it's suggested that everyone who wants to attend should pre-register first. If there are too many registrations for the set date and time, the entries will be decided by lottery.
Collaboration Menu

Of course, a cafe date with Hatsune Miku wouldn't be complete without the special collaboration food and drinks which are only available during this event! Below is the complete list (please note that all the mentioned prices are before tax):
Miku☆Sanpo's Negi and Spicy Pickle Pastrami: ¥900 JPY (about $9 USD)
10th Anniversary Cake: ¥800 JPY (about $8 USD)
Miku's Summer Tropical Soda: ¥700 JPY (about $7 USD)
Miku Latte: ¥650 JPY (about $6.50 USD)
Visitors who come to enjoy the event and order one of the special menu items above will also receive a Hatsune Miku coaster for free! It features the main visual art by Yuzuki Kihiro. There are two designs available, but which one you get is random.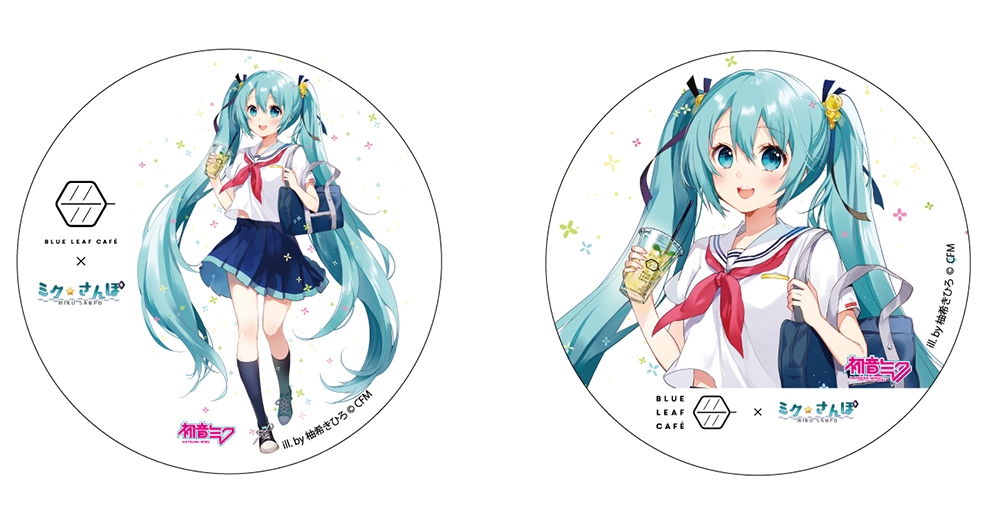 Collaboration Goods
With this event, of course, there will be special collaboration goods available for purchase!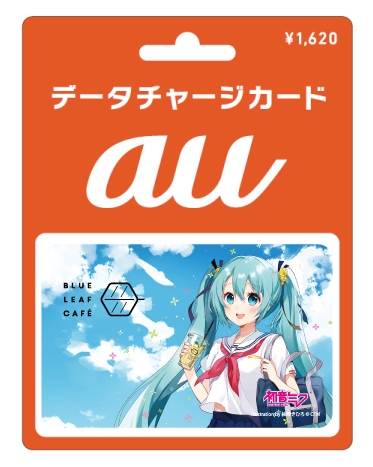 Data Charge Card
The first one is the au Data Charge Card (1.5 GB), sold for ¥1,620 JPY (about $16.20 USD).
Limited to three per customer.
The design features the illustration by Yuzuki Kihiro.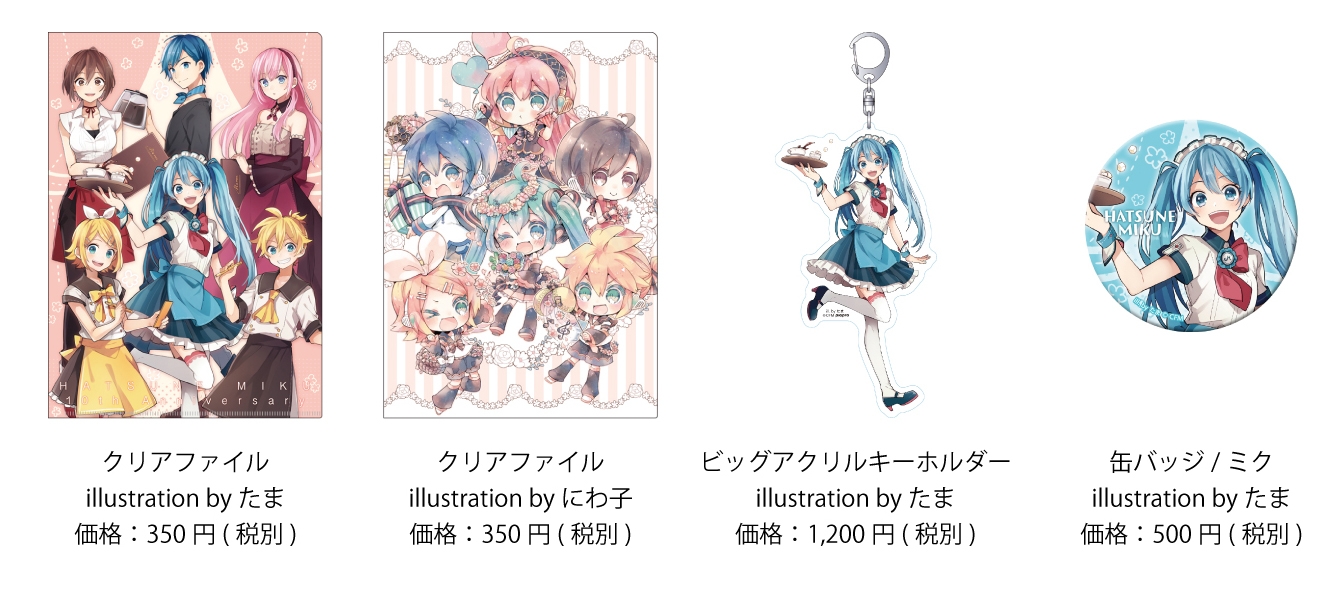 There are also goods based on illustrations from the artists たま (Tama) and にわ子 (Niwako). They are the same ones sold at the Hatsune Miku 10th Anniversary Collaboration Store in LUCUA 1100, Osaka.
Clear File Folder (illustration by Tama): ¥ 350 JPY (about $3.50 USD)
Clear File Folder (illustration by Niwako): ¥ 350 JPY (about $3.50 USD)
Big Acrylic Key Holder (illustration by Tama): ¥ 1,200 (about $12 USD)
Miku Can Badge (illustration by Tama): ¥ 500 (about $5 USD)
Event Schedule
Collaboration Period: July 8th-9th, and July 15th-17th, 2017.
Event Location: au SENDAI 2nd Floor, Blue Leaf Cafe. Miyagi Prefecture, Aoba Ward, Ichibancho, 3 Chome−8−8
Please note that the event will be divided by 12 batches in one day, and each batch is allotted 20 minutes. The timetable for the batches are:
Batch 1: 10:30 ~ 10:50
Batch 2: 11:15 ~ 11:35
Batch 3: 12:00 ~ 12:20
Batch 4: 12:45 ~ 13:05
Batch 5: 13:30 ~ 13:50
Batch 6: 14:15 ~ 14:35
Batch 7: 15:00 ~ 15:20
Batch 8: 15:45 ~ 16:05
Batch 9: 16:30 ~ 16:50
Batch 10: 17:15 ~ 17:35
Batch 11: 18:00 ~ 18:20
Batch 12: 18:45 ~ 19:05
More detailed information about how to pre-register for the event can be read here (Japanese).
Promotional Video
If somehow the explanation above wasn't enough to give you the gist of what this event will look like, check out these promotional videos for the two previous Miku☆Sanpo events!
Are you interested in trying out this cafe date with Miku at the Blue Leaf Cafe? Share with us your opinions in the comments section below, and stay tuned to VNN for more updates!
Information & Photo Sources
Miku☆Sanpo x Blue Leaf Cafe's Official Website
Miku☆Sanpo's Official Twitter
Crypton Future Media Blog
VR Focus