And after their adorable merchandise featuring Megpoid for her own anniversary, GraffArt decided to spice up their goods once more by celebrating another special anniversary for this community: Hatsune Miku's Project DIVA series' one!
Ten Year of Rhythm and Music!
Similarly to what they did with GUMI's anniversary, this product line features an adorably illustrated set of Piapro characters in many different kinds of items!
GraffArtShopでは商品購入特典のポストカードもございます!
発売店舗は下記になります☆

GraffArtShop MAGNET by SHIBUYA109店、なんば店、天神店、名古屋店、仙台店

同日10時より通販でもご予約受付開始です!https://t.co/j5xKFl7AY7
こちらも是非ご利用ください!

※商品POP、特典POP添付 pic.twitter.com/eWuMIl94iK

— GraffArt(グラフアート) (@Graff_Art_) July 5, 2019
We find acrylic stands, can badges, phone covers and much more! Let's have a look together!
Trading Products
First we have their trading products! Those items can be purchased either stand alone (which means you get one randomly) or as a box if you want them all!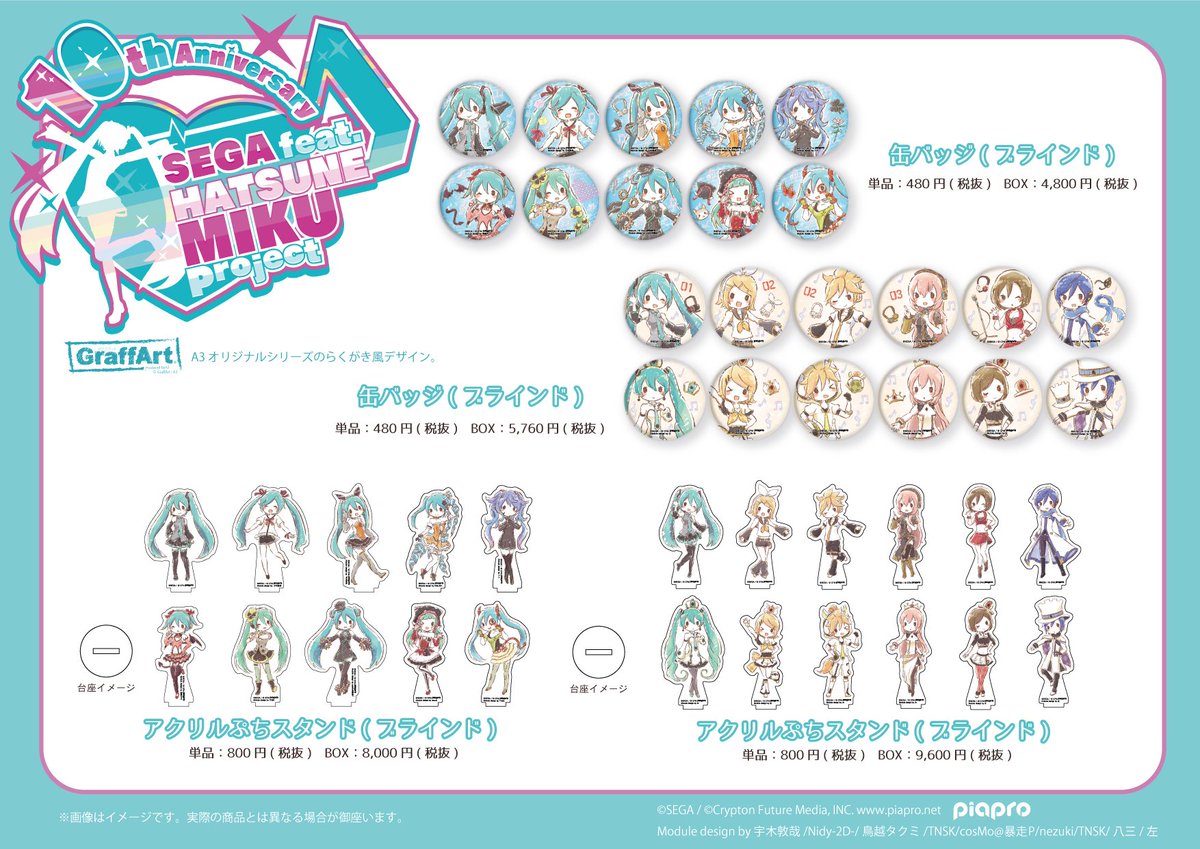 While one set of artworks features all of the Piapro characters, the other one focuses on very popular costumes you are used to find in Project DIVA games! Let's check them out!
Can Badges (Project DIVA modules ver.) – 480 JPY each (random) or 4,800 JPY for the box
Can Badges (Piapro characters ver.) – 480 JPY each (random) or 5,760 JPY for the box
Mini Acrylic Stands (Project DIVA modules ver.) – 800 JPY each (random) or 8,000 JPY for the box
Mini Acrylic Stands (Piapro characters ver.) – 800 JPY each (random) or 9,600 JPY for the box
Will you be able to collect them all? Let us know!
Other Merchandise
Aside their trading products we also have some more items to look forward into!
Those items are also adorable and make me want to have some as well! But let's see the prices!
Clear Files (2 variants) – 400 JPY each
Big Leather Straps (2 variants) – 1,280 JPY each
Chara Charger – 4,980 JPY
Chara Pass (2 variants) – 1,380 JPY each
Book-type Smartphone Case (2 variants) – 2,980 JPY each
Will you bring something home as a self gift? They're worthy, I know!
Bonus Purchase
By spending t least 2,160 JPY buying those items you will also get an illustrated post card as a gift. There are two available and those are absolutely adorable!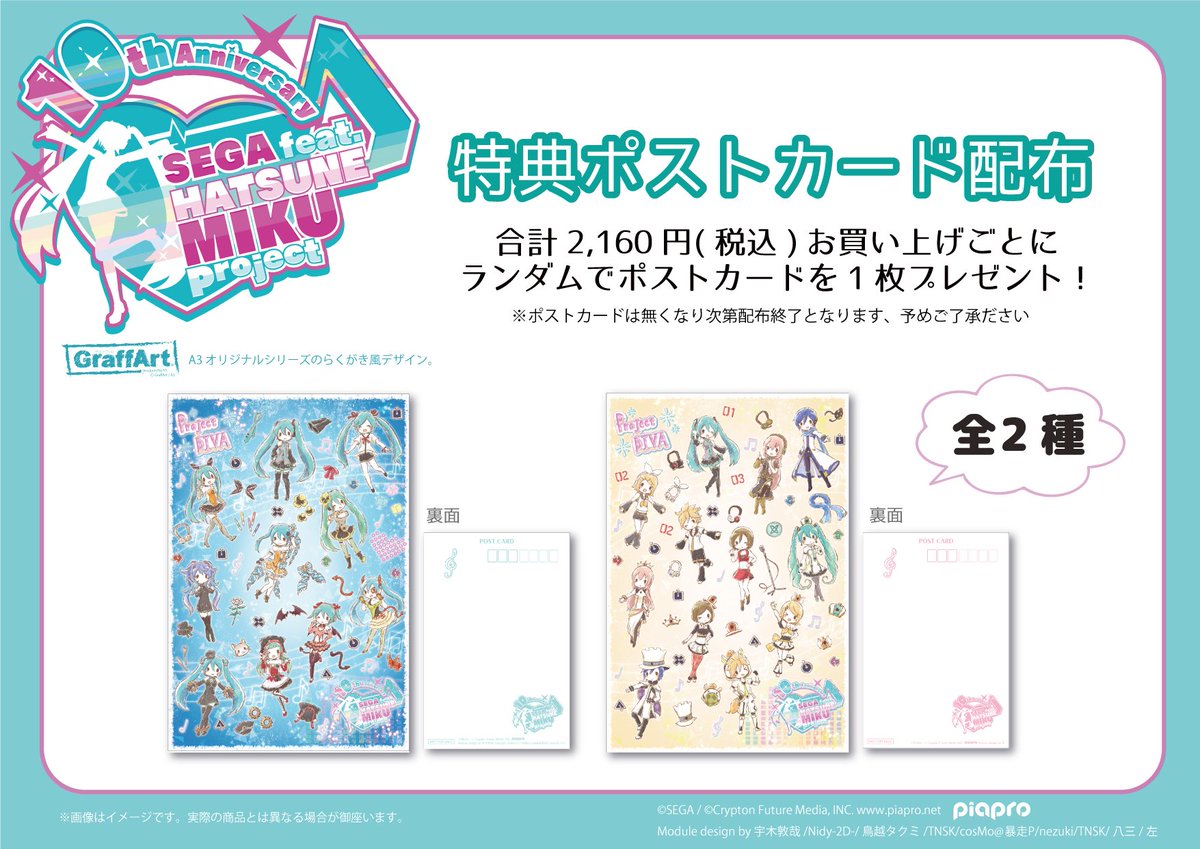 Where to Buy
You will find those goods starting July 13th until August 12th through the following GraffArt stores:
Click the location's name to open its map!
Sources
We totally look forward for more merchandise from them! Their illustration are always a good fit for people that love cutesy items after all!
Don't forget to stay tuned with us on VNN for more exciting news about your favorite virtual singers!
Hatsune Miku is on Facebook (English and Japanese), Twitter (English and Japanese), Youtube and Weibo
GraffArt can be found on Twitter as well as their official website.