Two new coloring books are set to release on December 11th, 2019! It'll be featuring Hatsune Miku, Kagamine Rin, Kagamine Len, Megurine Luka, Meiko and Kaito. This will make it the 4th in the series featuring Miku and friends.
Hatsune Miku Coloring book ALL STARS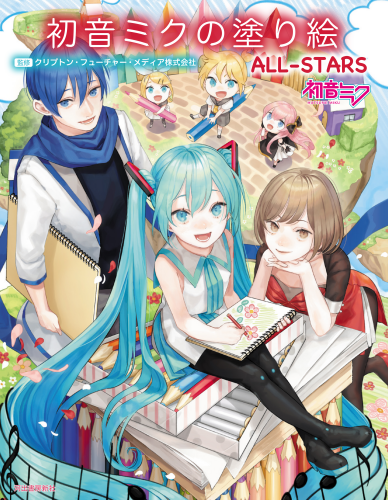 The cover was drawn by 水溜鳥(Mizutame Tori) who has also done drawings for the past series. 16 illustrations will be available in the book which also includes the one on the cover.
Illustrators
水溜鳥
NEGI
如月憂
きらばがに
堀泉インコ
にわ子
LEN[A-7]
かも仮面
柚希きひろ
黒獅子
kkc
まみむ
木屋 町
ボルボネ
朝顔みのる
由杞
In order of illustrations after the cover
As you can see several of these have done illustration for Miku and friends in the past.
You can purchase Hatsune Miku coloring book ALL STAR here for 1200 JPY (+tax)
Hatsune Miku coloring book POSTCARD BOOK
This is the second coloring book to be released.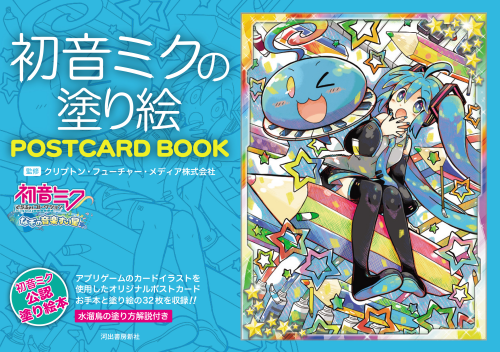 This coloring book takes illustrations from the game Mikucolle. This time, the cover was drawn by 7:24 and the book will also include 16 illustrations. The illustrations here can also be used as post cards!
Illustrators
7:24(2 illustrations)
さくらしおり
さいとうなおき
NEGI
CoCoLo
まろ
秋吉
のくはし
たま
kona
れんた
幸原ゆゆ
優木すず
シソ
いぞべあげ
Many of these have also done illustrations for the game Mikucolle.
You can purchase Hatsune Miku coloring book POSTCARD BOOK here for 1000 JPY (+tax)
If you would like to purchase the other books in the series, you can find number 1 here, number 2 here and number 3 here!
Links