Not to be mistaken with the popular Snow Miku line of designs and figures, this Miku just happens to be wearing winter clothes as well! Though no one would complain if this became an official Snow Miku design, honestly. Named "Hatsune Miku Original Winter Clothes Version," this gal is surprisingly a prize figure! That's right! You can grab her for ¥1,500 JPY from some stores. However, she's selling out fast, so the scalpers are doubling and even tripling the price.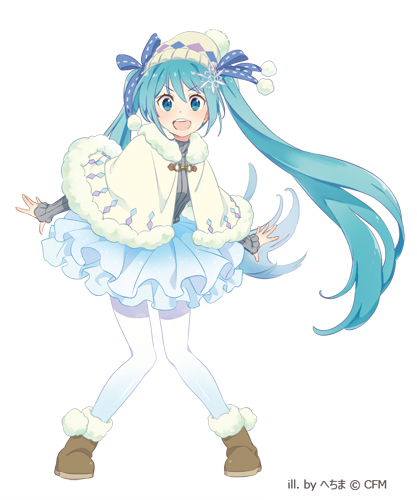 Overview
This Miku prize figure is based on an illustration by Hechima and is produced by TAITO. Unlike many prize figures where fans have to wait for someone to hand it over to MANDARAKE to sell, it seems this one is in full force stocking shelves of various figure sellers. Unfortunately, as mentioned before, these sellers have pretty much sold out.
Nonetheless, she's actually worth a slightly scalped price in my opinion. While she's definitely not worthy of a $100 USD+ title, $30 USD or so isn't a horrible price to pay for this figure.
You can stalk MANDARAKE to see if you can get lucky enough to have her appear. However, at the time of writing this, she is available on Rakuten!
Once you read this review, you'll definitely understand why this Miku prize figure is in such high demand. Honestly, most of VNN can't believe she's even a prize figure! This one has definitely hit the nail on the head when it comes to looking absolutely perfect.
---
Unboxing/First Impressions
Right out of the shipping box, the actual figure box is stunning! It captures the image of the figure perfectly and even shows her off at various angles like a high-end figure's box would. Not to mention, the pictures alone are super cute. It definitely sets the expectations high for the figure inside.
And right out of the box, she immediately surpasses expectations. Even from afar, you can tell the immense amount of detail on this figure. And the face! Faces are usually a hit or miss for prize figures, with most really missing the mark. But this one surpasses many scale figures that you'd pay hundreds of dollars for! It perfectly captures Miku's emotions and really makes her come alive. Honestly, even without looking at her in incredible detail, I'm more than happy with this figure. TAITO gets a 10/10 for first impressions.
Details
But what is a figure review without going over the finer details of the figure? Well, a really shallow review, honestly. So let's go a little deeper into the analysis of the finer points of this figure!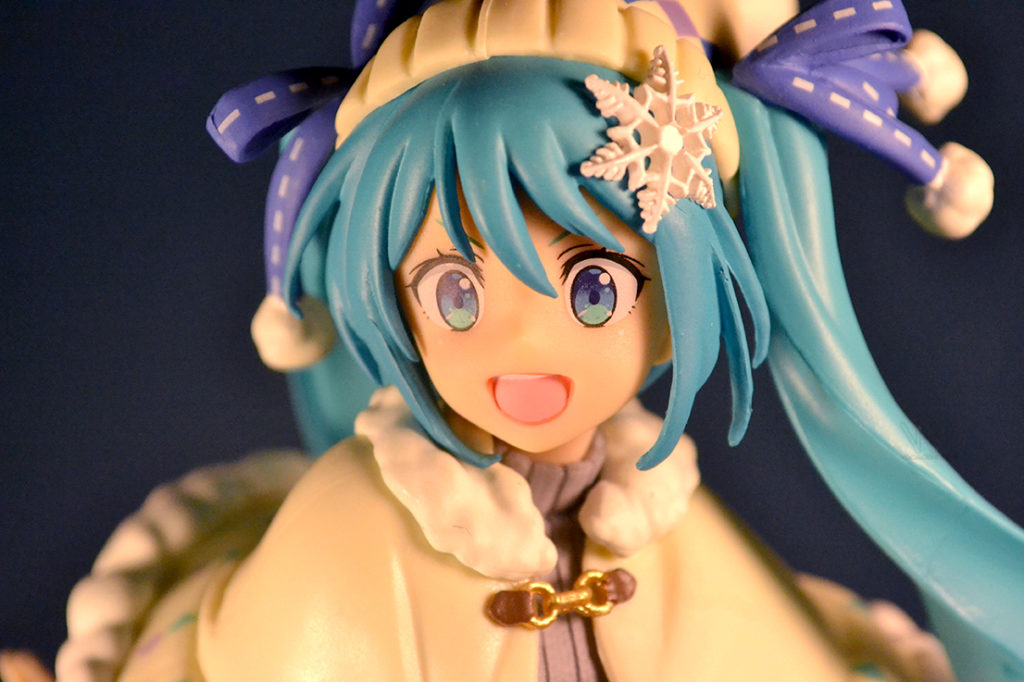 First, let's talk about the details of her hat, hairpieces, and the snowflake on her head! The snowflake is expertly made with zero imperfections while her hair ribbons are super nice looking as well. They really capture that "blowing in the wind" feel and the fluffy looking puff balls are a cute added bonus. There is a bit of a paint issue on one of the ribbons, but nothing that's very noticeable.
Her hat carries on the details with a super cute rim complete with little ridges! And this picture also provides a close-up of that adorable, super expressive face I mentioned earlier.  She looks so excited and ready to start her adventure in the snow!
Miku's Boots
Miku's boots carry on the fluffy feel and have added pom poms on them as well! The boots look incredibly warm, actually. I wonder where she got them? Her one boot does have a bit of a casting issue where you can clearly see a line, but again, this is a prize figure. If everything were that perfect, TAITO would have to share their secrets with scale figure makers. Making good figures super cheap isn't easy.
The Poncho
Heading over to her poncho, we see quite the detail in that clasp holding it together. It's super shiny gold! Honestly, this is one of my favorite details about the whole figure. It's such a small little thing that TAITO could have looked over, but they really went the extra mile to make that clasp a beautiful, shiny golden color.
Once again, they've beautifully recreated the fluff as well. It does have the molding lines again, but it's not so bad as to detract much from the overall appeal of the figure.
Super Detailed Turtleneck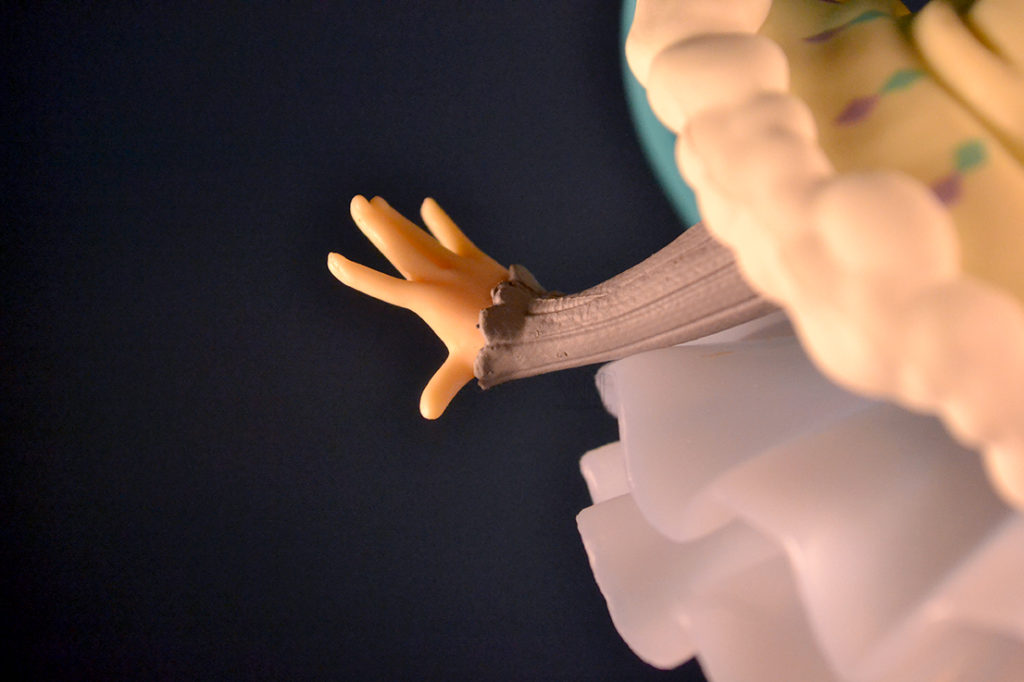 In addition to the peek at Miku's shirt that you saw under her poncho, you have these incredible sleeves! Just look at the frills. Her whole shirt actually looks like it was knit together and has an insane amount of detail. You can see the actual "stitches" of her shirt to the point where it looks like cloth despite being plastic. Even details that they could have skipped out without anyone noticing (like the parts of her shirt hidden by her poncho) all have this texture. It's amazing.
Of course, such tiny frills on the sleeves aren't going to come off the press completely clean. But unless you're looking at them close up with a camera like I did, you're not even going to notice the small imperfections. This is one detail a lot of prize figures probably wouldn't be able to pull off, but this one's expert crafting did it with no problem.
The Hair
Miku's flowing hair doesn't fail to impress. Its gradient look, paired with the attention to the flowing strands, really brings her to life even more than everything else has… if that's even possible. Her hair also holds one of my other favorite details about the figure that can easily be missed: her hair blowing through her fingers! If you look closely, you can see some of Miku's hair blowing around her left pinky finger. This is another one of those small details that don't mean much but are highly appreciated. It's the little things like this that really bring a figure to life.
The Skirt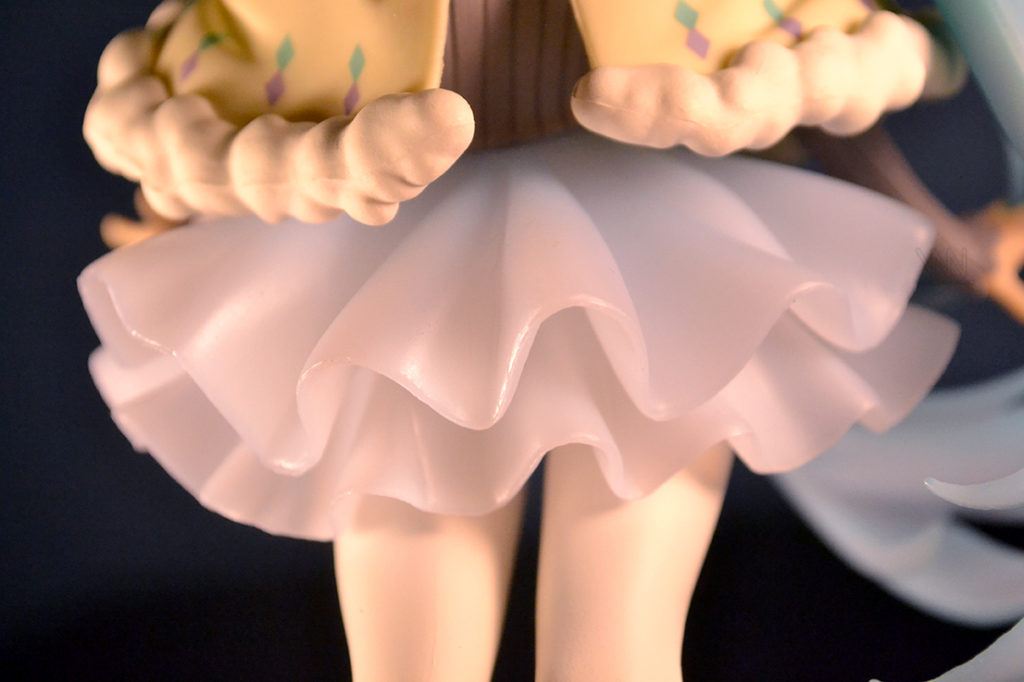 My only real complaint about the figure is the skirt, but it's easily explained by the fact that this is still a prize figure, believe it or not. The skirt seems to want to be transparent, but at the same time, not. And from the original illustration, we can tell it shouldn't be. The blues are faded more than in the illustration, giving the skirt a dull appearance compared to the rest of the figure.
But in the right lighting, it still looks really nice. I just wish they could have made the blues a bit deeper in order to really make the skirt pop.
But overall, it's still really good quality for a prize figure.
Final Thoughts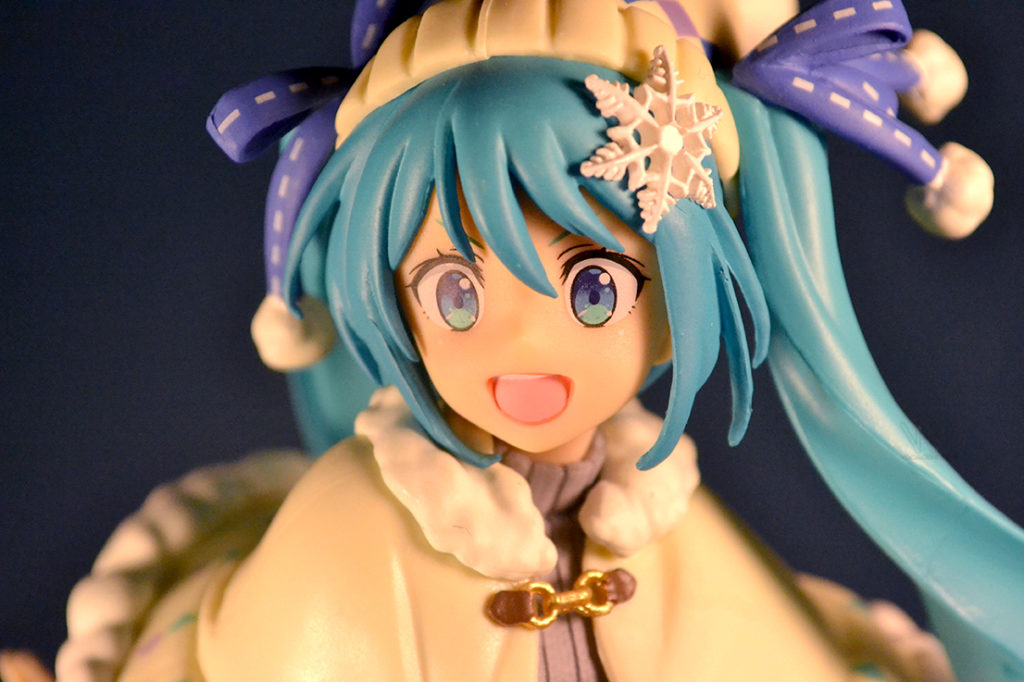 After considering everything, I'd definitely say this figure is a steal for a prize figure. I'm so happy to have it in my collection. It's really high quality for its price and captures Miku so perfectly you'd think this was a scaled figure, or at the very least, a really good garage kit. To think it's a mass produced prize figure meant to fill crane machines in Japan is just incredible. If you're a fan of Miku, you definitely have to pick this figure up for your collection. There are just no questions about it.
So be sure to grab her before she's gone!
In addition, get your wallet ready for three more season figures by TAITO! This is the first in their series of four season-based designs. Spring, Summer, and Autumn are said to be coming soon. Expect them to appear during their respective seasons in Japan.