The collaboration between Hatsune Miku and Let's Go! K.R.T Girls gets bigger and enthousiasmant each passing day and, just as their promised us not long ago when announcing their event at Formosa Boulevard Station in Taiwan, we got a glimpse of their upcoming merchandise!
Get on the Merchandise Train with us!
We eagerly awaited for them to show their special merchandise to us, and we sure are not disappointed in the selection of items they will offer starting from June 29th! Let's check them out together!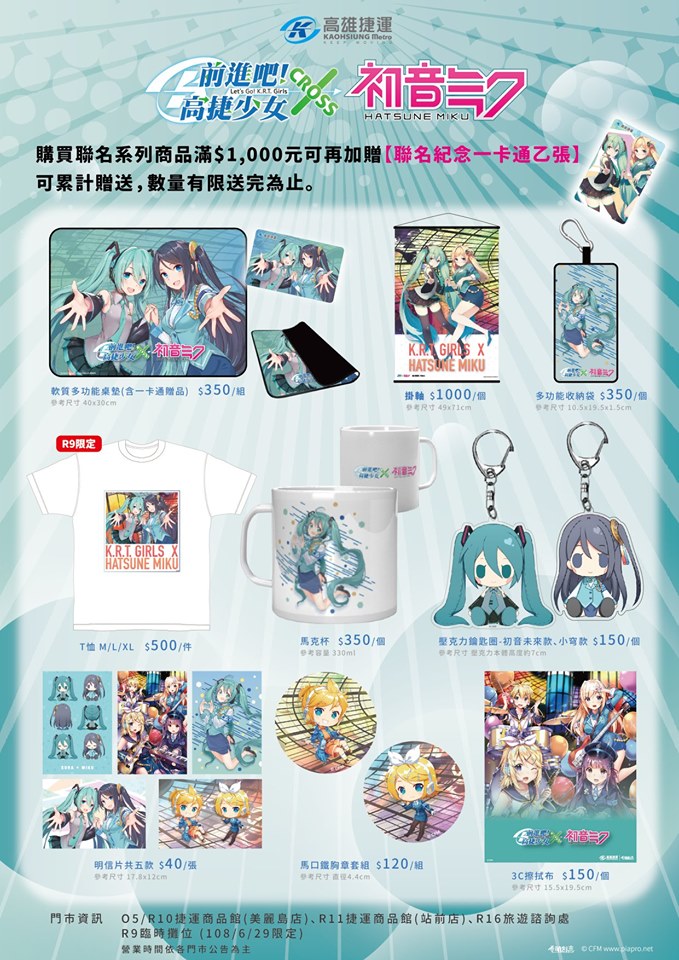 The items you will be able to purchase are the followings:
Mousepad (plus a Yikatong) – 350 TWD
Tapestry – 1,000 TWD
Multi-purpose Storage Bag – 350 TWD
T-shirt (sizes available: M/L/XL) – 500 TWD
Mug – 350 TWD
Acrylic Keychain (2 variants: Hatsune Miku/Xiaoqiong) – 150 TWD each
Postcards – 40 TWD each
Can Badges – 120 TWD each
3C Wiping Cloth – 150 TWD
For each 1,000 TWD you spend buying this merchandise you will get a free Yikatong as gift!
Date and locations Details
Those items will be in sale starting June 29th at 11AM (local time) in the following locations:
Click on the location's name to open its map on Google!
Will you be able to pick up something and check their very special wrapped train? If so, tell us how the experience was! In case you missed it, remember to sing up to their event, as you might get a free ride in that train at Formosa Boulevard's station!
Sources
We are definitely looking more forward to this collaborations and its future activities, so stay tued with us on VNN as we will share those informations with you all as well!
Hatsune Miku is on Facebook (English and Japanese), Twitter (English and Japanese), Youtube and Weibo
As for Let's Go! K.R.T Girls, you can find them on Facebook, or check Simon Store and Kaohsiung Rapid Transit's merchandise shop on Facebook
Announcement post