2017 isn't just the 10th anniversary for Hatsune Miku; this year also marks the 10th anniversary for the popular MMORPG, Monster Hunter Frontier (hereafter "MHF")! Thus, the two are combining forces for what they are calling a "Double 10th Anniversary" collaboration!
About the Collaboration
The collaboration was hinted at in early July through a special congratulatory video for MHF's 10th anniversary, narrated by Miku herself! After expressing her congratulations, the digital diva was then asked how she felt about her previous collaboration with the game in which players could equip a Miku-themed armor set. She answers that, while she was a bit doubtful at first about how she would be received, she was delighted to see so many players using the equipment and wielding the weapons that take after her design. Though she was also a little embarrassed to see them dressed up as her. Next, since it will soon be her 10th anniversary as well, Miku was asked what message she would like to convey to her fans, as well as to MHF players. Miku answers that quite a lot of people really enjoyed the recent Snow Miku collaboration with MHF as well, and then very politely asks that she be given the chance to participate in another collab again. Wink wink, anybody?
The new collaboration was finally confirmed the other day on Miku's official blog, where the project's main visual piece, drawn by さいとうなおき (Naoki Saito), was revealed! The visual shows Miku and the rest of the Crypton Future Media VOCALOIDs wearing and wielding equipment from the MHF game itself!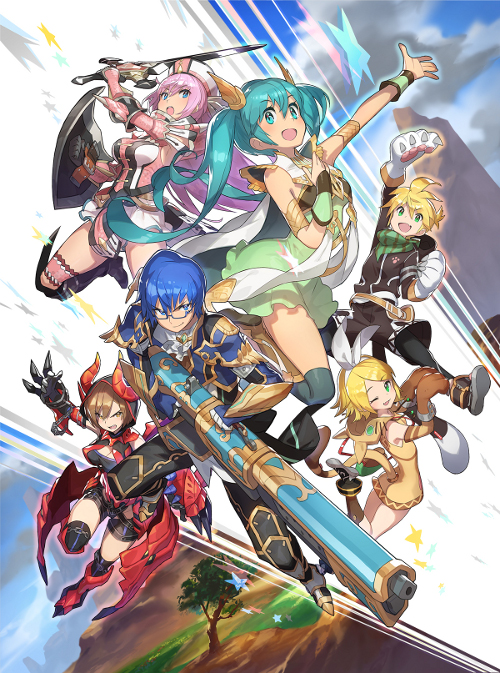 But that's not all! It was also announced that these MHF versions of Miku and her friends will also be appearing outside of the game in the form of special merchandise!
As cool as they look in the main visual piece, for those who prefer cute-looking merch, there's something else as well. まご (Mago), illustrator of the "39 Music!" PV, has provided SD (super deformed/chibi) illustrations of the VOCALOIDs alongside some of the monsters from the game. Special collaboration merch will be made using these SD designs as well!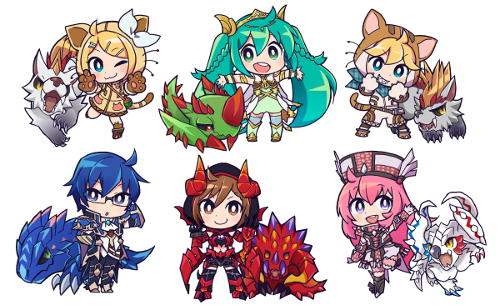 More details about this special Double 10th Anniversary collaboration and its merch will be revealed later this month. Stayed tuned to VNN for more information as it surfaces!
For those who would like to catch up in the meantime, please enjoy the videos for the previous Hatsune Miku x MHF collaborations below!
Information Source