One year ago, fans were eagerly awaiting the release of the video game IA/VT Colorful as its release date was set for July 31st, 2014. Unfortunately, a delay was announced shortly before and then another delay was seen after the first. But after a long wait, the PS Vita game is finally being released!
---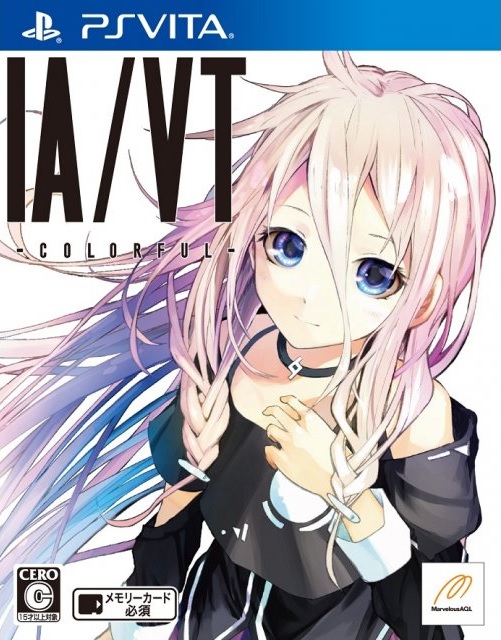 About the Game
IA/VT Colorful is a rhythm game that features the VOCALOID IA. It requires players to move the analog stick of the PS Vita in circles while pressing buttons in time with musical notes. As the player progresses through a song, the game stage gradually becomes more colorful.
At the moment, the first add-on pack includes:
This pack is going for 1,200 JPY.
The game itself retails for anywhere between 4,000 and 5,000 JPY at the moment depending on which online store you're using.
The real time videos will likely be the ones where IA's outfit can be changed. This game comes with a ton of extra outfits for the virtual singer.
---
Extra Outfits
IA/VT Colorful comes with a plethora of outfits for IA to wear. Many of these outfits come in three different colors as well. Due to the amount of images we'd have to show, we've only included one image of each outfit. Any outfit with more than one coloration will have an asterisk (*) placed next to it. If you'd like to see the alternate colors, check out the Famitsu article where we got all of these images from
---
Known Songs
---
Western Release
Kenichiro Takaki, the creator of the game, confirmed that it would be difficult to get a release outside of Japan due to many legal issues. In an interview with Silconera, he said:
"If it were possible, I'd love to bring it over, but there are a lot of difficulties involved in that process. Now, that said, there's no reason why you can't import it," Takaki said in an interview with Siliconera. "Since it's a music title, and since music is arguably one of the most protected media types artists have, that just means more doors to knock on and more approvals to get. It's far more difficult than a Senran Kagura title."
It is, however, possible for fans outside of Japan to have the game imported. It isn't region locked and will play on any PlayStation Vita no matter what country it's from. Though everything will be written in Japanese, this shouldn't deter fans who want to get the game from supporting its release.
---
Sources: Famitsu, Gematsu, IA/VT Colorful Official Site, dtsk at GameFAQs, Siliconera, VocaDB