If you ever wished that there was more Stardust and Haiyi products out there, well, your wish has been granted. The collaboration between Quadimension and Moeyu brings us a huge selections of products to chose from, ranging from full suits, mugs, underwear, hats, shoes and the list goes on! So what ever the occasion, you can be sure to show off your love for these beautiful virtual singers! On top of that, they have a sale going on at the moment from May 18th to May 20th. This is an even bigger sale that they call the "520 price", prices are cheaper than the regular sale price, so make sure to grab yours at the best price possible now!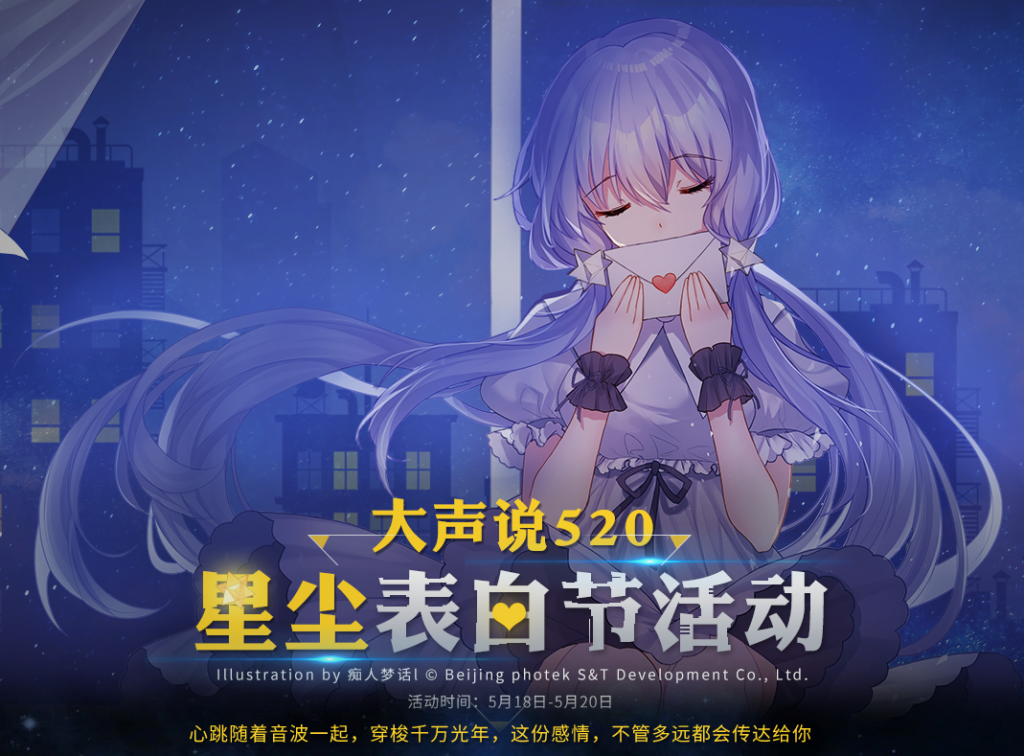 Limited Bonuses
You can even receive some bonus prizes with your purchases.
Transparent Fan of Stardust and Cheering Banner Bonus
Replica Stardust Plane Ticket
Although the destination says Stardust, this is not a real ticket.
Products
As mentioned before, there is a big selections of products to choose from, why don't we take a look at these products! Even if you don't plan on buying anything, we recommend you take a look at all the beautiful artwork to go along with the products. 
Please note that this article consist of 3 pages worth of products and has many images.
Haiyi T-shirt
Sale Price:118 RMB
Regular Price: 256 RMB
Stardust Black Jacket
Sale Price 228 RMB (216 RMB 520 Price)
Regular Price: 456 RMB
Stardust White Windbreaker
Sale Price: 228 RMB (216 RMB 520 Price)
Regular Price: 456 RMB
Stardust T-Shirt
Sale Price: 118 RMB (108RMB 520 Price
Regular Price: 236 RMB
Stardust Jeans
Sale Price: 198 RMB (188 RMB 520 Price)
Regular Price: 396 RMB
Stardust Hooded Short Sleeve
Sale Price: 119 RMB (108 RMB 520 Price)
Regular Price: 238 RMB
Stardust T-Shirt
Sale Price: 98 RMB (89 RMB, 520 Price)
Regular Price: 196 RMB
Stardust Shorts
Sale Price: 98 RMB (89RMB, 520 Price)
Regular Price: 196 RMB
Stardust Phone Case (iPhone 7/8 Plus and iPhone X)
Sale Price: 45 RMB (42 RMB, 520 Price)
Regular Price 90 RMB
Haiyi and Stardust Clipboard
Sale Price: 56 RMB Each (49 RMB Each, 520 Price)
Regular Price: 135 RMB Each
Stardust Backpack
Sale Price: 228 RMB (212 RMB, 520 Price)
Regular Price: 456 RMB
Stardust and Haiyi Themed Ring
Sale Price: 59 RMB Each (54 RMB, 520 Price)
Regular Price: 98 RMB Each
Light up Stardust Umbrella
Sale Price: 188 RMB (178 RMB, 520 Price)
Regular Price: 378 RMB
Stardust Watch
Sale Price: 288 RMB (268 RMB, 520 Price)
Regular Price: 576 RMB
Stardust/Haiyi Acrylic Pendant Blind Box
Sale Price: 29 Each or 108 For 4 (27 RMB for one or 98 RMB, 520 Price)
Regular Price (58 RMB for one or 216 RMB)
Stardust Shoes
Sale Price: 188 RMB (172 RMB, 520 Price)
Regular Price: 375 RMB