MOEYU's assortment of Stardust merchandise keeps becoming richer every passing week! Let's check what's new in their collection together!
Stardust Acrylic Clock
Let's begin with something I am sure you will love as much as I do: Stardust's new acrylic clock!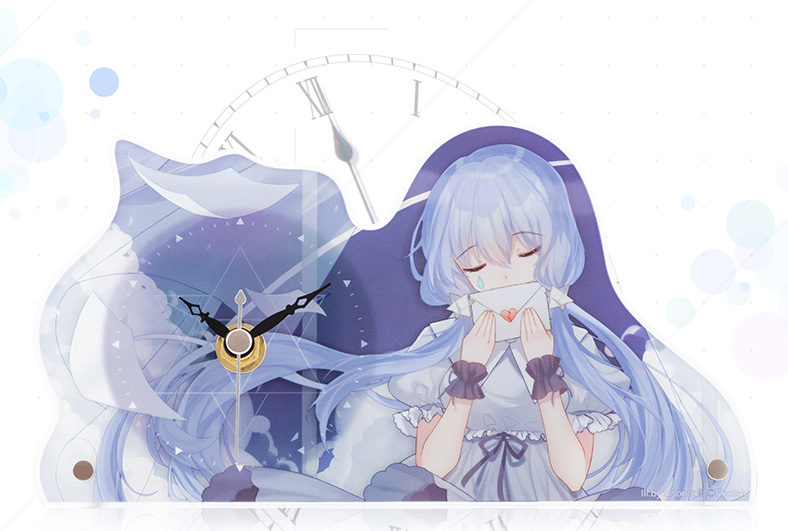 Such a romantic and passionate illustration makes a perfect attire with this clock design, almost matching with Stardust's wish of conveying her love to all of her supporters!
This clock will look perfect in your desktop, reminding you what time is it with elegance in both design and shape!
This clock is priced 128 CNY, but is currently in sale for half the price! Delivery is scheduled for July 24th, 2019!
Did we spark your interest? Then know you can pre-order it by clicking here!
Stardust Guitar-like Bag
Next we have an adorable Guitar shaped bag themed after our beloved interstellar virtual singer!
This creative bag is made in nubuck, PVC and nylon, with a size of 35x10x25cm. A perfect choice to comfy take your object with in such a fancy attire!
Just imagine wearing it around your city, feeling enchanted by the guitarist feeling of this bag and knowing you are supporting your favorite Quadimension character!
This product is priced 276 CNY, however it is now in sale for 138 CNY. Delivery is scheduled for July 27th, 2019.
T-Shirts
Last but not least, we have MOEYU's very own specialty: short sleeved T-shirt featuring two adorable illustrations of Stardust!
Both of those T-shirts are available in different sizes (M/L/XL/XXL), priced 236 CNY (now in sale for half of the price) and scheduled for release on July 12th, 2019!
Find them on their TMall store:
Sources
Let's help Stardust by spreading our love through her own merchandise This universe is such a big yet a marvelous place, and it certainly needs more stardust!
Stay tuned on VNN for more news and, of course, merchandise for you to enjoy!
Quadimension is on Youtube and Weibo
You can find Stardust on Weibo, Twitter and Youtube
Moeyu's TMall store and Weibo account