The Chinese group 咏吟轩 (Yong Yin Xuan) is a group composed of Chinese artists (producers, lyricists, illustrators, etc.). These include JusF周存, 耶Aya叁, Sya, GhostFinal, and more!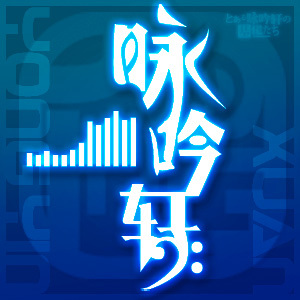 They have recently came together to make another album titled "Play! Play!", featuring eight amazing tracks using the Chinese VOCALOIDs. When I heard the cross-fade, I (Monds) instantly knew I wanted this album. I loved it from the get-go and kept listening to the cross-fade over and over until I finally received my copy. Let me tell you, I was not disappointed.
[bilibili src=4777133]
Package and Goods
I purchased the deluxe package from Taobao for ~$30 USD + shipping. (Keep in mind that to ship internationally from Taobao, it is recommended that you go through an agent or a friend, and shipping can be costly).
As you can see, this is a big box and it is quite heavy for a package, however the black-coated hard plastic box looks like something that you paid $100 for — very fancy. The quality is high on all these items and well worth the price. Once you slide out the goods inside, you can see a booklet. This booklet contains artwork and the lyrics to each song (in Chinese). The artwork is the same as on the postcards and the bookmarks, just bigger of course. All the artwork is so stunning and represents the songs quite well, I wish I could have a poster of all of them… maybe one day. You will also find two key rings that are made from a heavy material and are thick, but there is no need to worry about breaking these. Lastly, the badge is very nice and solid like everything else in this package. Worth it for anyone who is into these kinds of things, plus it is a very nice thing to add to any VOCALOID collection.
Music
If you listen to the cross-fade, you can see that the music is varied across the album. It goes from a softer tone to "big room house", all the way to the heavier rock/metal style. This is what is great about collaboration albums such as these, as you can find at least one song for everyone to like. Although there are only eight songs, every single song is worth listening to from beginning to end. I found myself listening to the album many times over, making me wish it was longer or often listening to the same song twice in a row. If you are a fan of bass or like to use subwoofers, then "Foxy" (track 3) and "绝路" (track 8) definitely pack a punch in the bass department.
On the subject of "绝路" by JusF (track 8), as promised when we launched our YouTube channel, we announced we would be featuring songs from artists around the world. We are proud to announce that our first artist to be featured is "JUSF周存" with her song from the album "Play! Play!". On top of that, we have added English subtitles for those who are interested! (Please do not reprint this video! VNN was given permission to feature and upload this track on our channel.)
In conclusion, if you love variety in an album or love the Chinese VOCALOIDs, this one is a must for the music alone. However, if you are like me and love the music and love goodies with your albums, I highly recommend the deluxe edition. It is worth every penny.
You can find the product page at Yong Yin Xuan's official website or purchase the album on Taobao here.