Today marks HaiYi's birthday, and Quadimension decided to celebrate her by offering some official merchandise! Let's check it out!
Happy Birthday to the Ocean-themed Diva!
It's always so nice when such a loved character celebrates its birthday, especially when it comes with some nice merchandise in sale for the fans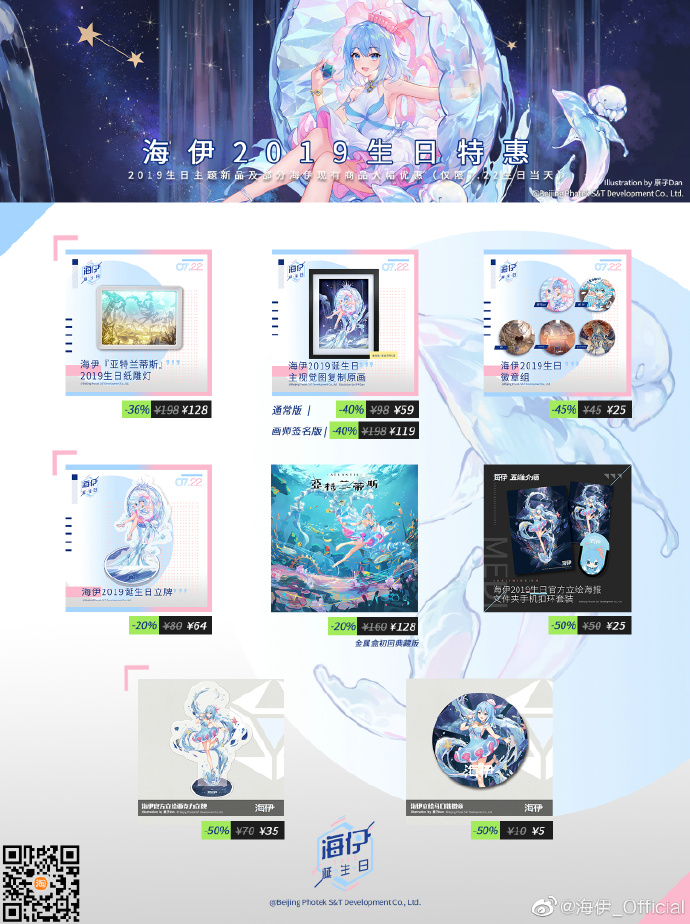 As you can tell from the advertising image they shared on their Weibo, there are quite a lot of offers! Let's check them out!
2019 Birthday Merchandise
This specific product series has been released this year as celebration for HaiYi's birthday and uses ATDan's artwork as illustration for the items, alongside many others that provided their arts for a cute set of can badges!
Adorable isn't it? Her main visual is absolutely stunning! Here below you can find the price list, showing both standard and discount costs!
"Atlantis"-themed Paper Carving Light – 198 RMB, currently in sale for 128 RMB
Character Stand – 80 RMB, in sale for 64 RMB
Main Visual Painting (Available both in standard and autographed versions) – 98 RMB for the standard and 198 RMB for the autographed version, respectively in sale for 59 RMB and 119 RMB
I cannot help but want to grab something myself! And you guys?
Returning Artworks in Merchandise!
But there is even more merchandise currently in sale, featuring our little ocean idol! You might recognize most of those items and sets and, if you were eagerly yerning for them as much as me, you will be happy to know they are in sale as well!
Those products are returning ones, but a must to have for any HaiYi fan like myself! Below you can find their prices!
Set including a poster, an illustrated folder and a phone strap –  50 RMB, now in sale for 25 RMB
Can Badge – 10 RMB, in sale for 5 RMB
"亚特兰蒂斯Atlantis" Album –160 RMB, in sale for 128 RMB
There was also an acrylic stand featuring her, priced 70 RMB and in sale for 35 RMB, however it doesn't seem to appear on the shop right now. I will update the article if I find it!
All of those items can be found here! Don't loose your chance to have such a cute virtual singer in your everyday routine!
HaiYi Dakimakuras
Last but not least, seems Quadimension decided to release a dakimakura series as well, of course featuring HaiYi!
Those are available in two different versions (Standard and Qǐ Yún Zé Ver.) and normally priced 290 RMB. However, as you can tell, those are in sale as well and are now priced 174 RMB!
Isn't she adorable? I bet none of you can resist her cutesy attire!Just click the name of the version you want in the sentence below!
Happy Birthday HaiYi!
This sale was such surprise for all of us! And I'd like to say this canonical sentence as well from all of VNN's members: Happy birthday HaiYi!
Quadimension is on Youtube and Weibo
You can also find Stardust on Weibo, Twitter and Youtube
HaiYi, on the other hand, can be found on Weibo!
Quadimension's Taobao Store