It was recently announced on Stardust's official Weibo that pre-orders for the Stardust scale figure would be opening soon. At the time of this writing, pre-orders are now open until September 28th. The figure is set to release in March 2017 and will be priced at ¥590 RMB ($88 USD) before shipping, but it is available on Taobao only at the moment. We will make an announcement if she is available in other shops. As of right now, Ddickky from Quadimension has no plans to have her ship internationally. Fans from overseas who are interested in the figure may buy her through other means such as an agent.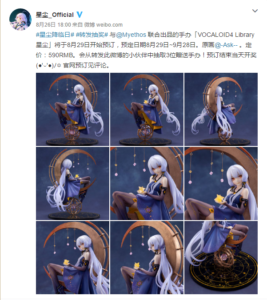 The Stardust figure was sculpted by Myethos and is based on the illustration by -Ask–. You can find their Pixiv here.
Purchasing the Figure
She is currently available on Taobao. During pre-orders you are required to pay 10% of the price upfront (¥59 RMB/$8.83 USD). The remaining 90% (¥531 RMB/$59 USD) must be paid before May 7th, 2017. The figure will be shipped within 15 days of full payment (after release).
Links
For more information on Stardust, click here.