Nostraightanswer, also known as Lupin, is a notable English Vocaloid music producer. Being full of creative talent, he has made plenty of songs that have his signature upbeat synthpop with undertones of '80s and '90s electronic pop. Lupin is also known for voicing Vocaloid DEX, which he uses often ever since its release.

After working hard for the past few years, nostraightanswer has finally released his album SYNTECH+, and the result is a flavorful mix of his past tracks revamped, alongside new ones that exude dark and colorful emotions akin to the sky at dusk.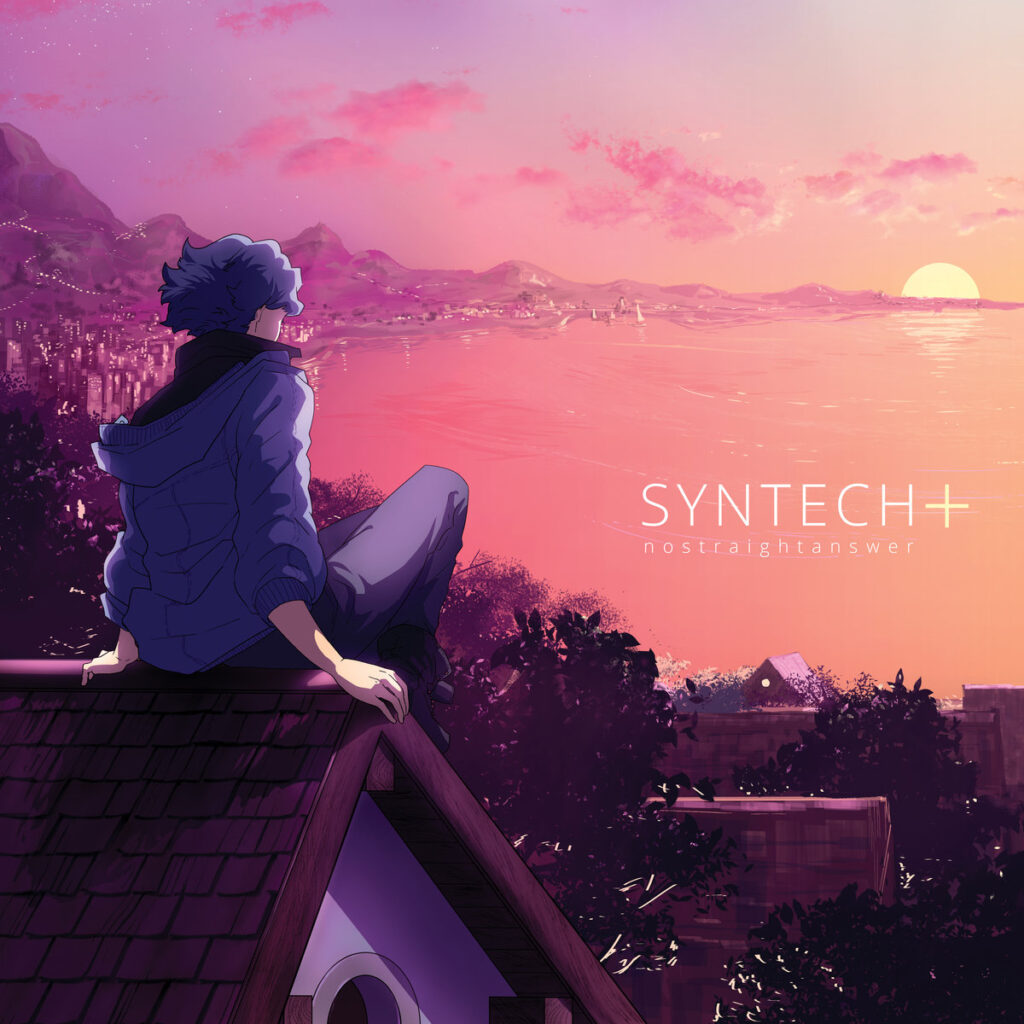 Illustrated masterfully by 6LIN, The album brings the vibrant image of the sunset just after the golden hour, a calming scene indeed!
Tracklist
SYNTECH+ contains 12 tracks featuring vocals from various English Vocaloids and nostraightanswer himself.
Prelude to Dusk (Intro)
Someday You'll Notice The Evening Colored Horizon (Vocals: Hatsune Miku)
Define Me (Vocals: Maika)
Respire (Vocals: DEX)
Pushing Daisies (Vocals: DAINA)
My Impulse (Vocals: DEX)
Infinity (Vocals: Maika)
Suffocate (Vocals: nostraightanswer)
Pacify (Vocals: Hatsune Miku)
Half-Life (Vocals: Avanna)
You Get Me (Vocals: DAINA)
Review
1. Prelude to Dusk (Intro)
You are welcomed to SYNTECH+ with Lupin's thoughts on what these songs are about to him. The poem, though calming, asks us in this moment of calm if we have ever done enough and if it "Will ever be enough?". The piano foreshadows the upcoming track, and then we notice the evening colored horizon drawing near.
2. Someday You'll Notice The Evening Colored Horizon
High and uplifting synthesizers allures you to "Someday You'll Notice The Evening Colored Horizon". The beats and sparkles of the instruments mix together forming a serene yet bright ambiance accompanied by Miku's charming voice. Complemented by the lyrics, the song becomes a sincerely heartfelt letter to the Vocaloid community.
3. Define Me
A track with a strong sense of rhythm and syncopation. "Define Me" energetically sings about requesting someone to break you free of the walls you put up for protection yet closing you in isolation. Nostraightanswer's use of Maika's mature vocals puts forth the song's desire to be free.
4. Respire
"Respire" oozes with sensuality. The melody is catchy yet very intimate. DEX's attractive voice stands out well to the theme of the song. This track twinkles in your ear making you desire more of it.
5. Pushing Daisies
Despite the title being reminiscent of death, "Pushing Daisies" is full of life and emotion. Heartbreaking and poignant, this track laments the fall of a past relationship and the "What ifs". Despite the bleak color of the lyrics, the instrumental is full of electric intrigue and brightness, bringing an excellent contrasting texture to an already impressive piece.
6. My Impulse
The serene yet uncertain piano intro slowly escalates to a heavy guitar riff accompanied by an alarming melody, a warning that something is not right. This heavy electro-rock song shouts anxiety and how it happens even in the safest of places – and how you just want someone to "Tell me it'll be alright / Tell me that I will be fine".
7. Infinity
Arguably one of the most atmospheric tracks in the whole album. This song is a hero's journey. Starting with a very shaky beginning, the apprehensive singer finds someone they look up to. As the splashes of the beats heighten, the hero opens up and strives to fight with the one they love to get their place in "Infinity".
8. Suffocate
"Suffocate" is minimalist in the verses, holding out to sharpen and then escalates in the chorus. Intoning the lopsided power dynamics in their relationship, the satisfying rhymes and rhythm of the song leave the end of the story in ambiguity.
9. Pacify
A ballad about a relationship teetering at the edge of collapse. The singer is "Clinging and holding…" to keep her partner. The track builds up at the last chorus asking if there "Is there a way to pacify the pain?"
10. Both Of Us
Groovy instrumentals and lyrics bursting with confidence paint this duet of miscommunication to life. With either side belting to say that the quarrel is not solely one's fault, nostraightanswer shows that Dex's and Daina's vocals were made to complement each other.
11. Half-Life
Avanna begs for the companionship of a savior and how being apart would cause her grief. Grounded and unwinding the track soothes, contrasting the urgency of the lyrics to "stay still with me". Like the title, the song contains messages that show how nature is withering from our misuse.
12. You Get Me
"You Get Me" discharges confidence from the intro to the coda, and all the lyrics inbetween. Most noteworthy, the pre-chorus sings intensity and drops to a catchy minimalist beat. And with that, the track closes SYNTECH+ with a powerful finale.
Personal thoughts
SYNTECH+ is an emotional roller coaster of a journey. First of all, I find it really interesting how the album captures a wide array of emotions and how every track encompasses a unique story. Another thing is that I would usually have a song that I would skip in an album, but SYNTECH+ doesn't have any of those for me.
It's good to note that the previously released tracks were remastered and "given new life" by Nostraightanswer. The changes were minimal yet so well done (especially in "Define Me") that it is worthy to say that these are the penultimate versions. Furthermore, if I had to pick a favorite track (which is like picking your favorite child), it would have to be "Pushing Daisies", because I fell in love with that song since I first heard it as Daina's Demo. I was able to join Lupin's live stream when he was finishing that song and I cried (more than I want to admit). Finally, I can say that SYNTECH+ will be joining the list of my favorite albums.
Announcements
SYNTECH+ is available right now on Bandcamp. And will be available in every other major music provider and streaming service on August 20, 2019.

Lupin also announced that he will be releasing the "part two" of the project called, SYNTECH-. It will be a self-cover and remix album. SYNTECH- will be releasing on August 20, 2019.
Extra special thanks to Lupin for giving me a copy of SYNTECH+ to review! Thank you for pouring your heart and soul to this wonderful masterpiece.
BUY SYNTECH+
Bandcamp

SYNTECH+ will be available in every other major music provider on August 20.
LINKS
nostraightanswer (Lupin)
Patreon
Youtube
Website
Soundcloud
Bandcamp
Twitter
Facebook
Vocadb – More info on nostraightanswer