It's now autumn, and that means a new seasonal collaboration campaign between Hatsune Miku and Glico! Titled "A Long Autumn Night's Sweets Story" (秋の夜長のSWEETS STORY, Aki no Yonaga no SWEETS STORY), this new campaign celebrates the coming of autumn. Similar to the previous campaign, anyone who purchases at least two pieces of Glico snack food items at participating AEON stores starting on September 26th, will receive one of six different clear file folders for free! Illustrations for these folders were provided by BUZZ, こすずめ (Kosuzume), かぴりこ (CATSCAT), ヨシフミ (Yoshifumi), 松うに (Matsuuni), and U35 (Umiko)!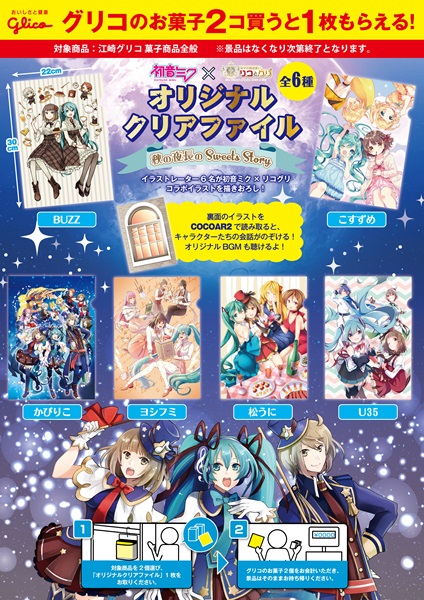 【お知らせ】9月26日より、本州と四国のイオンさんにて、リコグリ&初音ミクキャンペーンが始まります✨グリコのお菓子を2つ買うとクリアファイル1枚もらえます✨今回は「パジャマパーティー」をテーマに1枚描かせていただきました❣️イオンさんにお立ち寄りの際は是非ゲットしてください♡ pic.twitter.com/yKlCPa2kGA

— こすずめ@単行本発売中! (@kosuzume_pipit) September 19, 2017
"The LICO & GLI x Hatsune Miku collaboration campaign begins on September 26th at AEON stores across Honshu and Shikoku✨ Buy any two Glico snacks and get an original clear file folder for free✨ This time around, I provided an illustration themed around pajama parties❣️ Get yours next time you visit your nearest AEON store♡"
おしらせです…
9月26日より本州・四国のイオンさんで開始の「ミク×リコ」コラボキャンペーン「秋の夜長のSWEETS STORY」にて、コラボイラスト描かせて頂きました。もしお見かけした際はどうか…!キャラトリミングUPしてみましたhttps://t.co/zwXvSJjluc pic.twitter.com/X62IUAjVbL

— 松うに (@matsuuni_m) September 19, 2017
"FYI, I provided one of the illustrations for the Miku x LICO collab 'A Long Autumn Night's Sweets Story' being held at AEON stores all across Honshu and Shikoku starting on 9/26. Let me know what you think when you see it in stores! What I uploaded here is a just a cropped version. http://blog.piapro.net/2017/09/u1709191-1.html"
Furthermore, on the back of each folder is an AR code which, once scanned using the COCOAR app, will let users listen to the collab campaign's official theme song "10センチの幸せ" (10cm no Shiawase) by OSTER Project, as well as read the aforementioned "Sweets Story" featuring the Crypton Future Media VOCALOIDs and the LICO & GLI cast! Check out OSTER Project's below tweet for a sample of both!
【グリコポッキー】双子の魔法使いリコとグリ×初音ミクコラボ企画に曲を書き下ろさせて頂きました!フルバージョンはARでお楽しみください! #リコグリ https://t.co/z7dYvqupiC pic.twitter.com/hAOktt6Cp9

— [email protected]/26新アルバム (@fuwacina) September 19, 2017
"I was given the honor of writing the official theme song for the Wizard Twins LICO & GLI x Hatsune Miku collab campaign! You can hear the full version by scanning the AR code! #リコグリ http://tsukino-pro.com/licogli/"
You can also check out the theme songs for past collaborations between Hatsune Miku and Glico below!
Winter 2016: "Magical Session on Rhythm Ocean"
Summer 2017: "Magical★Shiny Picnic"
Information Source