The results of the 27th biannual Vector ProRegi Awards are in, and VOICEROID+ Tohoku Kiritan EX takes top honors in the "Best Creator Tool" category!

About the Vector ProRegi Awards
The awards are held twice a year by Vector Software Library & PC Shop, and are named after their state-of-the-art, completely online software download and distribution service, ProRegi. Thanks to its vast catalogue of download-ready software products, and ProRegi's cost-reducing and product promotion services, Vector is one of the largest domestic online software distribution sites in Japan. The 27th Vector ProRegi Awards were held to give recognition to their most popular products released in the second half of 2016. Vector customers could vote for their favorite products in a variety of categories, such as "Best Accelerator & Optimizer," "Best Media Player," "Best Backup & Restoration," "Best Video Editor," and more.
The "Best Creator Tool" category is for software products that let their users create their own works from scratch. Nominees in this category include Coral Painter 2017, Shade3D Standard ver.16, CeVIO Sato Sasara Talk Starter, and Home Page Builder 21 Standard. But in the end, it was VOICEROID+ Tohoku Kiritan EX from AH-Software that walked away with the most votes, winning the category!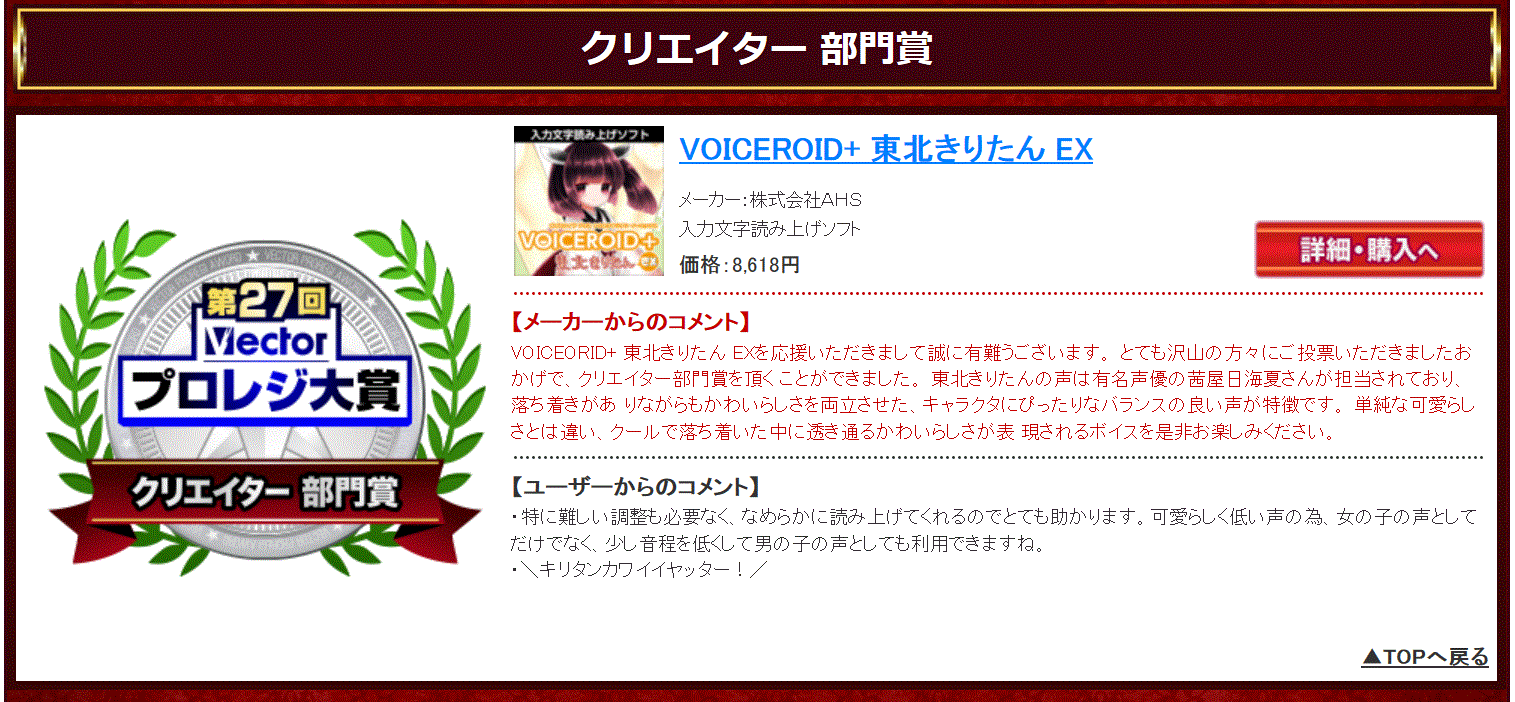 Upon winning the award, the software creators had the following message for their voters:
Thank you all so much for showing such amazing support for VOICEROID+ Tohoku Kiritan EX, and voting her the winner of the Best Creator Tool category. With famed voice actress Himika Akaneya lending her talents, Kiritan became known for her soft and sweet-sounding voice, meshing perfectly with her character. We hope everyone continues to enjoy using her voice.
Furthermore, comments from voters included the following:
・Even without painstaking tuning, she can still read words with such amazing clarity! I can even use her voice for not only girls' parts, but also for boys' parts after lowering her registers just a bit!
・\KIRITAN IS SO DARN CUTE!/
Those whose interest in Kiritan's VOICEROID+ product has now been piqued can purchase her through the AHS Store or through Vector PC Shop. If this is your first time hearing about her, then check out VNN's previous coverage!