Are you going to visit the popular Tsūtenkaku Tower in the following days? If so, be prepared, because Crypton Future Media just announced a new collaboration between Hatsune Miku and the tower that reaches the sky!
About this Collaboration
It is not the first time we see Miku collaborating with the Tsūtenkaku tower in Osaka, and it seems they went go big or go home this time around! We can find a new, awesome illustrator portraying Miku as elevator girl of the location, a lot of merchandise and even her iconic "01" mark on the tower's flag!
Official artworks by Asagao Minoru.
Isn't she an overload of cuteness? Having such a sweet character showing you the way to the observatory and a cutesy set of chibis coming back from last year's collaboration, your day at the twer will surely become memorable!
Merchandise
/No collaboration would be a proper one without some goods being sold at the location, isn't it? Then you might check out the Tsūtenkaku x Hatsune Miku POP UP Corner shop during the collaboration! Lots of items will be available and you will surely find something to grab! Let's check them out!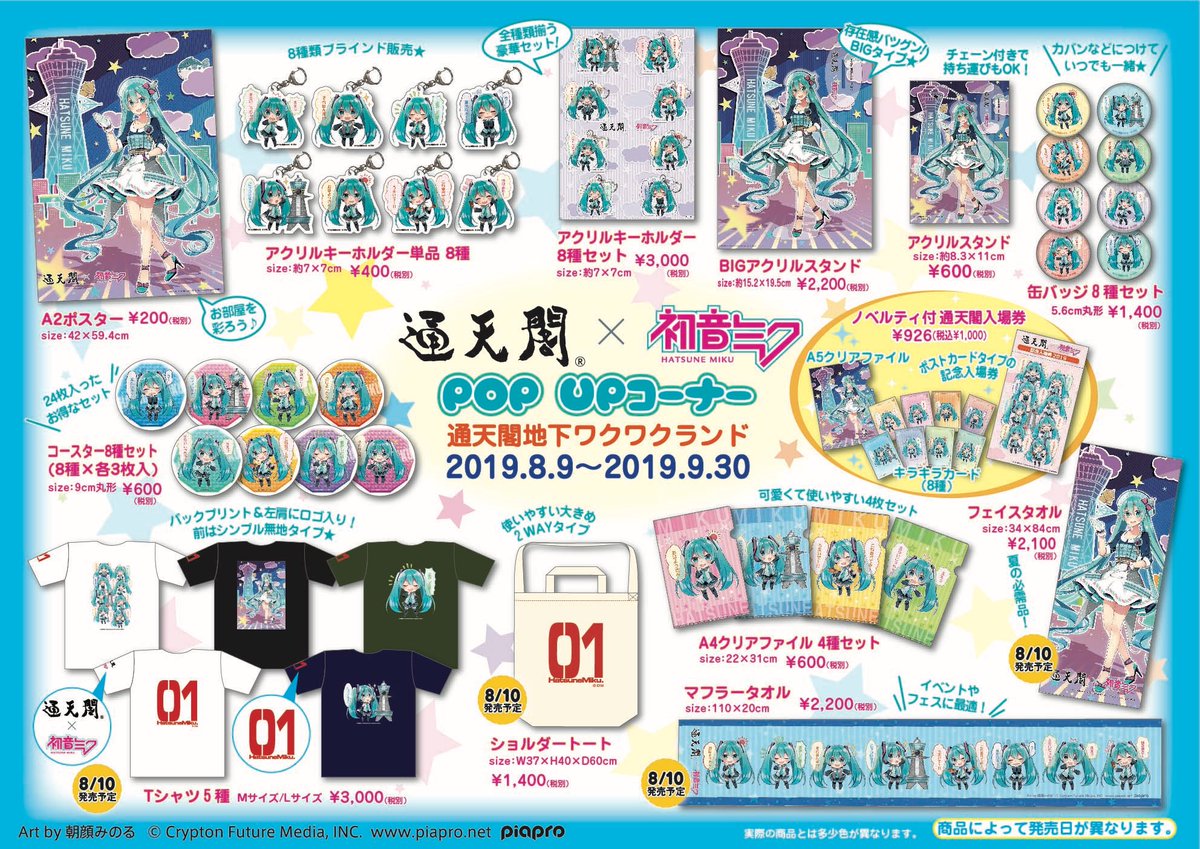 As you can see there is so much choice! Let's check the prices together!
Poster (A2 Format)  – 200 JPY each
Acrylic Keychain (8 variants) – 400 JPY each or 3,000 JPY for the full set
Acrylic Stand – 600 JPY
Big Acrylic Stand – 2,200 JPY
Can Badge set (set of 8) – 1,400 JPY
Coaster set (8 variants, set of 3) – 600 JPY
A4 Clear File set (set of 4) – 400 JPY (sales will begin on August 10th)
T-shirt (5 variants, sizes: M/L) – 3,000 JPY
Shoulder Tote-bag – 1,400 JPY
Face Towel – 2,100 JPY
Muffler Towel – 2,400 JPY
All of the prices do not include taxes!
By spending at least 3,900 JPY of shopping with those goods you will also get a special A5 Clear File Folder!
This shop will start operating on August 9th until 30th of the same month. It will usually be open starting 8:30AM until 9PM during business days, you can find the location down below!
With so many items you can choose between, we are sure you will find something to grab home as souvenir!
Novelty Tickect
But there is more! Guests who purchase a Novelty Admission Ticket for the tower will also receive one of the eight different glittery card and an A5 Clear File as a gift!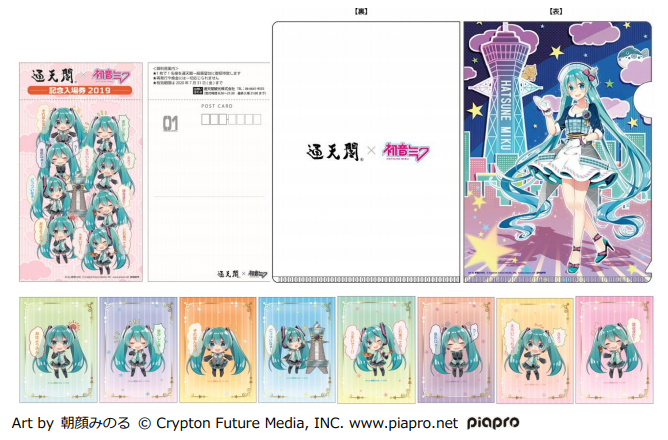 You will find them at Tsutenkaku Waku Waku Land Entrance's ticket counter starting August 1st, priced 1,000 JPY!
Please note, those who purchase the Novelty Admission Ticket will not receive the A5 Clear File when buying merchandise from the shop!
A Number One Flag and Music From the Future!
Last but not least you will find Miku's iconic 01 mark, in red, showed clearly on top of Tsūtenkaku's Tower!
Ah, such an amazing tribute to our favorite virtual singer, isn't it? But there is more coming with this flag!
If you plan to pay a visit to the tower's observatory, chances are you will hear some songs from the Magical Mirai 2019 Official album in background! Those tunes will make you feel home while gazing the amazing lights of the city at Tsūtenkaku Tower!
Source
Wish we could see this event with our own very eyes, but we can only imagine how beautiful the scenary will be! If you ever manage to go to the tower and meet Miku, please tell us how your experience was in the comment section below, okay?
And don't forget to stay tuned with us on VNN to never lose any updates on your favorite virtual singers!
Hatsune Miku is on Facebook (English and Japanese), Twitter (English and Japanese), Youtube and Weibo
Check out Tsūtenkaku Tower's website or their social media, such as Facebook, Instagram, Youtube and Twitter account, too!
Press Release