With Hatsune Miku's Magical Mirai 2019 getting closer and closer each passing day, every new collaboration getting announced is more than welcomed by fans, and it so happens it's now time for Chiba Urban Monorail to step into the party!
Collaborative Merchandise
During the whole period of Magical Mirai 2019, Chiba Urban Monorail will bring some exclusive merchandise featuring the "URBAN FLYER x Hatsune Miku" collaboration design made by Kurojishi.
今回はイラストレーターの #黒獅子 さんに、#アーバンフライヤー とのコラボでミクちゃんを描きおろしてもらったんだ😊これからオリジナルグッズも展開していくよ✨
イラストがかっこいいから、どのグッズも欲しくなっちゃう~!😆
コラボミクちゃんは、駅とかMIKUFLYERで会えるのかな…? pic.twitter.com/NKe396vj1J

— モノちゃん@千葉モノレール (@chibamonoPR) June 27, 2019
This limited line of products will be exclusive to the Magical Mirai 2019 event at Makuhari Messe. Here's a short list of the available products: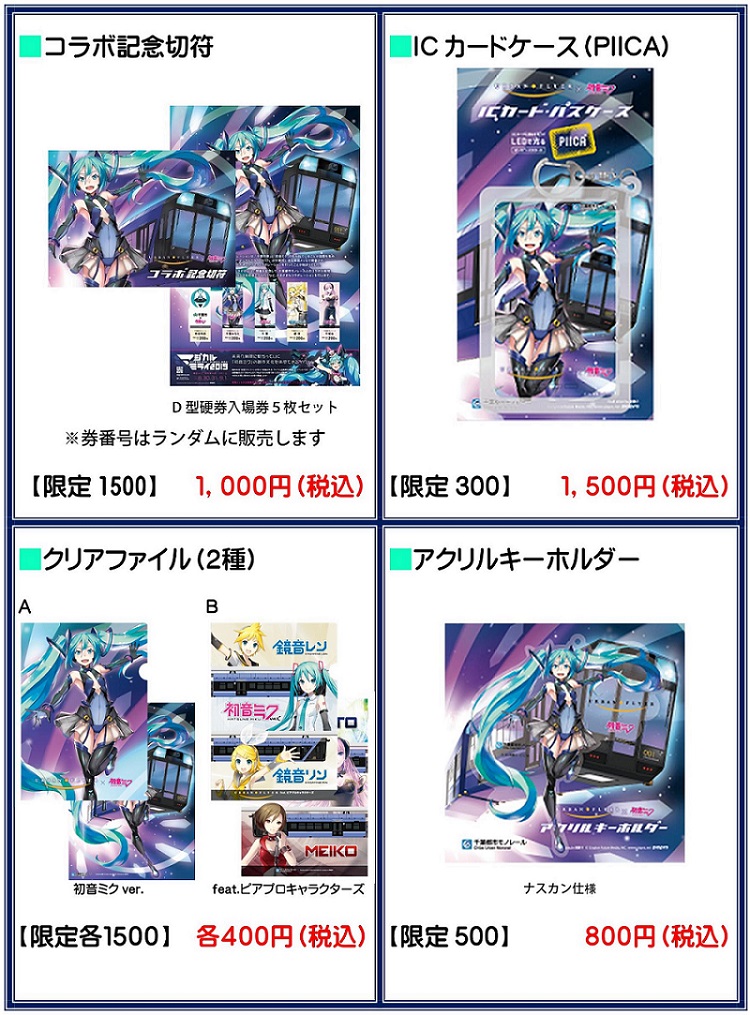 Memorial Ticket (a set of 5 D-type tickets made in cardboard) – 1,000 JPY (limited to 1500 units)
IC Card Pass PLICA (Pass Case) – 1,500 JPY (limited to 300 units)
Clear File (2 variants, "URBAN FLYER x Hatsune Miku" Ver. or "URBAN FLYER x Piapro Characters Cast" Ver. ) – 400 JPY (limited to 1500 units)
Acrylic Keychain – 1,000 JPY (limited to 500 units)
There is a limit of 5 item purchase per person, since they want to satisfy every costumes!
In case you can't get a hold of them during the event, no worries: the remaining units will be available from their selected Chiba Urban Monorail stations afterwards!
Stay tuned with us as they will update us with pictures of their products!
New Special "Miku-Flyer Evo." Vehicle
【お知らせ】今年も『千葉モノレール×初音ミク』コラボ実施!特別車両「MIKU FLYER-Evo.」が7/1から運行中ですよ!近隣の皆様もう御覧になられましたか?コラボビジュアルは「URBAN FLYER」をイメ―ジした衣装の黒獅子さん描き下ろし!詳細はコチラ https://t.co/HhJD78FRbz#初音ミク #千葉モノレール pic.twitter.com/M3mNdN01FI

— 初音ミク 公式 (@cfm_miku) July 3, 2019
Just like their previous collaboration they held last year, they will get one of their monorail cars to become a "MIKU-FLYER Evo.", by changing its design and applying some small changes on the interior as well!
Here's a list of their planned edits:
Their new "URBAN FLYER x Hatsune Miku" artwork and our beloved Piapro characters will be wrapped in both the outside of the monorail car and its interiors.
Its logo will be changed from "Urban Flyer" to "MIKU FLYER-Evo. (Evolution)".
Magical Mirai 2019's theme song by KurageP, "Bless your Breath", will become its departure jingle.
Hatsune Miku will become the vocalist in charge of announcements for this vehicle.
It will be on service for a much longer period of time compared to the past year.
The train will be on service starting from July 1st until October 31th, 2019!
Life-size Panels at the Station!
Various life-size panels featuring Hatsune Miku will be installed at Chiba Minato, Chiba, Tsuga and Chishirodai stations!
Sources
This collaboration and its comeback will be such a fun way to travel for both Japanese and overseas fans! If you ever manage to have a ride on this monorail car tell us how your experience was!
Stay tuned with us on VNN for more amazing news about virtual singers!
Hatsune Miku is on Facebook (English and Japanese), Twitter (English and Japanese), Youtube and Weibo
Don't forget to also check out Magical Mirai 2019's official website and Twitter!
Find Chiba Urban Monorail on Twitter, Instagram and their website!
Press Release