For those of you who follow us, you are most likely familiar with what VocaDB.net is, as we link to this website quite often in our articles and posts. Although we are already partnered with VocaDB, VNN will now be working together with the staff of VocaDB to bring it a step further. Until now, the upkeep and such has been maintained mostly by riipah, who has done an amazing job at making such a great website and keeping it running for a long time alongside the help of moderators. VNN will now be helping to relieve some of that pressure from the main staff. As always, we do not plan to change much as far as how VocaDB runs and it will still be its standalone website, the same as we have done with our latest addition to VNN: ProjectDIVA.wiki and ProjectDIVA.net (more information on that can be found here.) riipah will still be managing it as always, however, VNN will be helping with a lot of things.
What Is VocaDB?
VocaDB is a giant information database for everything related to music in VOCALOID and UTAU, and even more. Not only that, but also anyone can add songs and links to the database. Find a song that isn't on there and know the original source, producer, or any other information? Entry already added but is missing information and know where to find it? Then you can add it yourself.
What Information Can Be Found on VocaDB?
Original sources for songs, albums, and more!
Everything you need to know about artists, producers, VOCALOID, and UTAUs, among other things.
Official accounts (Weibo, Twitter, Facebook, Pixiv, website, YouTube, Niconico, SoundCloud, Bilibili, and any other official account they may have).
Albums (download links, track lists, artist names, album covers, etc.).
Search up any artist, producer, illustrator, song, album, VOCALOID, UTAU, and any other thing you would like to have more information on.
References to find more information on VOCALOIDs, UTAUs, companies, and creators, just to name a few.
Videos can be embedded from multiple sources such as YouTube, Niconico, SoundCloud, and Bilibili for the same song.
Much, much more.
This is only the surface of what you can find on this website.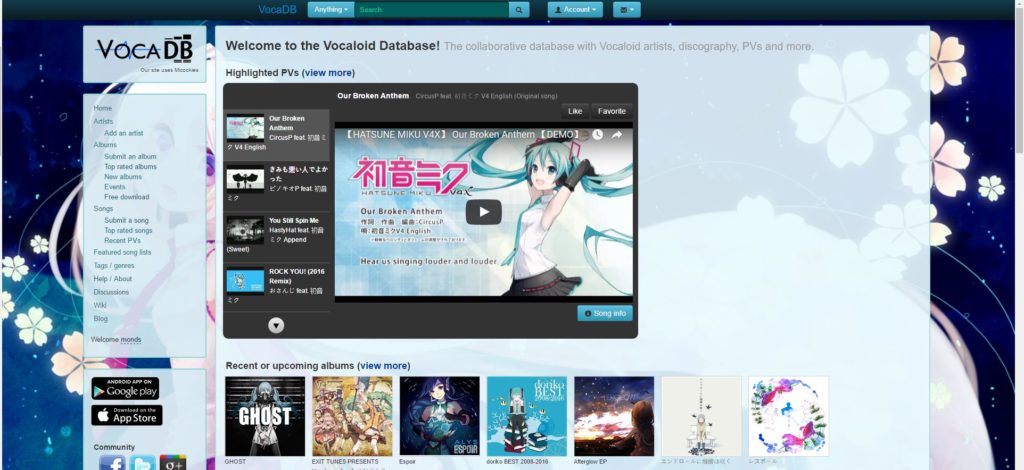 Due to the vast amount of entries being entered on the database daily and the huge amount of content out there, the database is constantly getting bigger and very rapidly. With that being said, anyone who wishes to contribute to the website, please feel free to do so. We need all the help we can get!
Lastly, we hope to translate or finish translating VocaDB in other languages and to add to the ones already available. We are on the lookout for more moderators, translators, and other personnel who are interested in helping. If you feel like you could be of help to the website, please send a message to any of VocaDB's social media accounts (links below) or message riipah on the website. Any help is greatly appreciated.
We hope that everyone who does not know about this website will make great use of it, and hopefully it will help some of you in finding that song you may have heard years ago but do not remember where you found it. We also hope that this will help everyone discover new songs, producers, artists, or albums that you may have never heard of before. For those of you who already contribute to the website or will in the future, special thanks from the staff at VNN and VocaDB for helping out the website to be such a great database for VOCALOID, UTAU, and beyond!
Links
For more information on VocaDB, check the link here.